I really don't know why some people refer to the Pentax 67
as "FrankenMonster". Yeah, it's big. But it's certainly no Fuji 680! Camera and prism weigh around 3.99 lbs. However, to put that in perspective, a Nikon F4s weighs around 3+ lbs with batteries. So, calling it "super big" doesn't really compute. And the F4s is a 35mm camera. Have you ever compared a 6×7 cm frame to a 35mm frame? The difference is startling. In fact, most people who observe the difference side by side question their continued use of the smaller format. That said, I use both formats.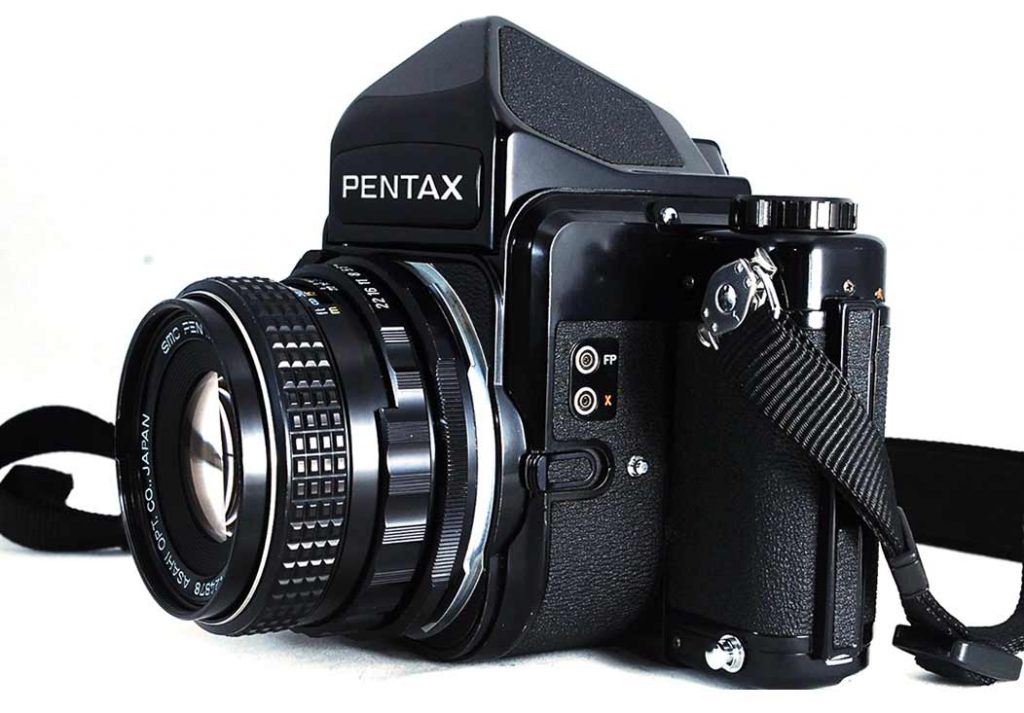 Pentax 67 – Since 1969!
Pentax introduced it in 1969 as the Pentax 6×7. They changed the name a couple of times, (6×7, 67, 67II), and newer models didn't have the 'ASAHI' name emblazoned above 'Pentax'. While I'll concentrate on the 67, (most features and cheaper than the II), many professionals have raved about this camera. And for good reason. The 6 x 7 cm format has been considered the "perfect" aspect ratio, combined with perfect size. This has been, and still is, many photographers workhorse. Especially in fashion. At the time it was released, it was about half the price of a similar Hasselblad setup. And with a bigger negative. It also had as many viewfinder variants as the Blad.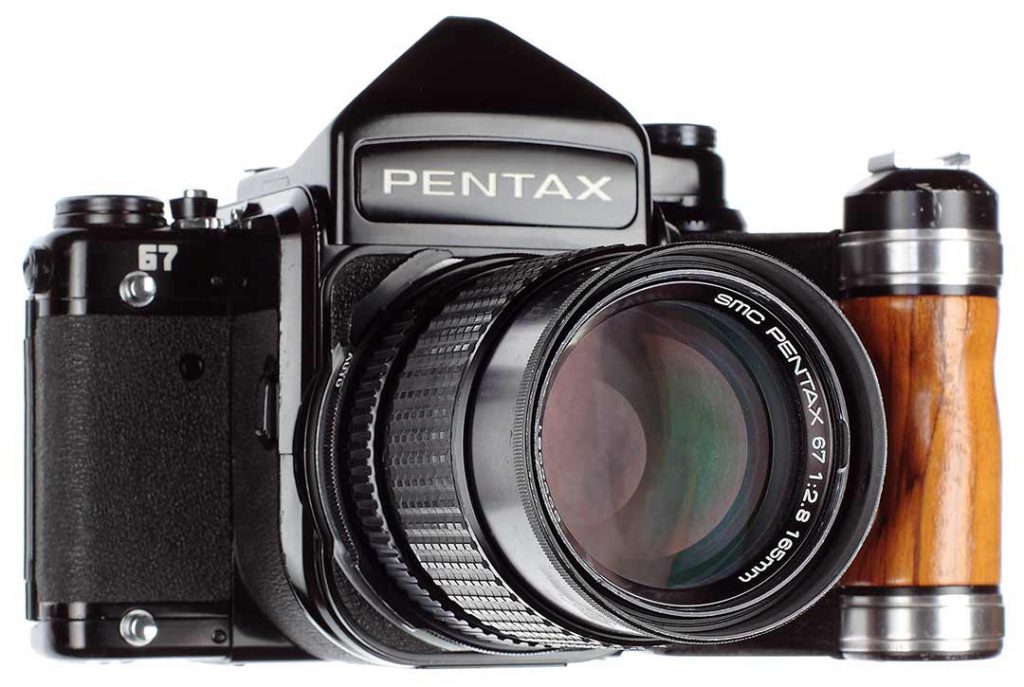 The upgrades included the Pentax 6×7 MU in 1979 which offered mirror lock-up, the Pentax 67 in 1989 and finally the Pentax 67II in 1998. If you're not a tripod and waist level finder kind of guy, (or gal), I advise the wooden grip. While it's not nearly unusable handheld, like a Mamiya RB67/RZ67, it is not an optimal ergonomic experience without it. But when people want me to find a true complaint about the camera,…especially with the 105mm lens, ( and the stellar Pentax f/2.8 90mm!), the only thing I can think of is mirror slap. Holy cow! I know this is an extreme exaggeration,…but have you ever shot a 12 gauge shotgun? Well, transfer that mental image to camera scale.
Still a Cult
Photographers like Tim Walker and Spencer Tunick, plus a bevy of other photographers, are still using this camera. Not quite a 4×5. But most of the convenience and shooting style of 35mm, and as near as large format that you'll get, without actually going large format.
Pentax 67 Specs
| | |
| --- | --- |
| Type | SLR |
| Shutter Speed | 1 to 1/1000 plus Bulb |
| Weight | 3.99 pounds / 1810g with TTL Pentaprism |
| Dimensions with TTL Pentaprism | 7″ x 5.9″ x 3.6″ / 177 x 150 x 91mm |
| Film | 120 or 220 |
| Image Size | 55mm x 70mm |
| Lens Mount | Pentax 67 Double Bayonet |
| Mirror Lock-up | Yes |
| Shutter | Electric focal plane |
| Viewfinders | Folding Waist-level with 3.8x mag, Chimney 3x mag Eyecup, Pentaprism, TTL Pentaprism |
| Focusing Screen | Interchangeable Microprism |
OK. The viewfinder. It's fabulous, and as much as it pains me to say it, it's brighter than my Rollei. And the Hasselblad, too. But there is one thing I don't like about it. The viewfinder, though very bright, is only 90% through the pentaprism.  However,…knew there was a 'however',…when using a waist-level finder it's 100%. Go figure.
Excellent Lenses
When using the TTL pentaprism meter, metering is displayed with an analog indicator. (yay!) Film speed is set on the shutter dial and the aperture is set on the lens. Easy peasy. Focus is accurate and easy with the microprism, and apertures click into place firmly. While I've only tried the 105mm and 90mm lenses, they are easily as sharp and contrasty as my Rollei Zeiss lenses. Not better. But they do 'draw' differently. Although, you do get a bigger negative/positive.
Well, with lenses attached,…I cannot lie. This is a very substantial, "pit bull" of a camera. While not as bad as some would make it out to be, investing in a shoulder type strap is probably a good idea. Unless you're just a studio shooter. Or the Incredible Hulk. The shutter, lens focus, crank and spooling, (loading), are smooth as silk. So no issues there. But like the relative "baby" camera I mentioned above, the Nikon F4s
, it's an all metal tank, and makes a great weapon in a bar room brawl. Remember, the weight above is "without" lens. OK, you got the idea.
Main Differences are Minor
The main difference between the 67 and 67 II, (besides they changed a few parts to plastic on the 2), is;
AE mode and six segment multi-pattern metering with selectable spot or center-weighted metering.
Dial-controlled exposure compensation.
Memory lock.
Multiple exposure capability.
TTL metered auto flash when used with hot shoe on accessory grip.
Large LCD data panel.
There are a couple of other things that were slightly moved, etc., but they are both great cameras. I'd probably stay away from the '6X7', because of age, missing features, and the price difference is relatively small.
(Visited 194 times, 1 visits today)