Spencer Tunick
I saw him on the streets of Manhattan while I was doing a location shoot once. Probably in the 90's, and he was up on a ladder with what I believe was a Pentax 67. I thought it was amazing how he had a large group of naked people, and it appeared he and his friends/assistants were trying to herd cats.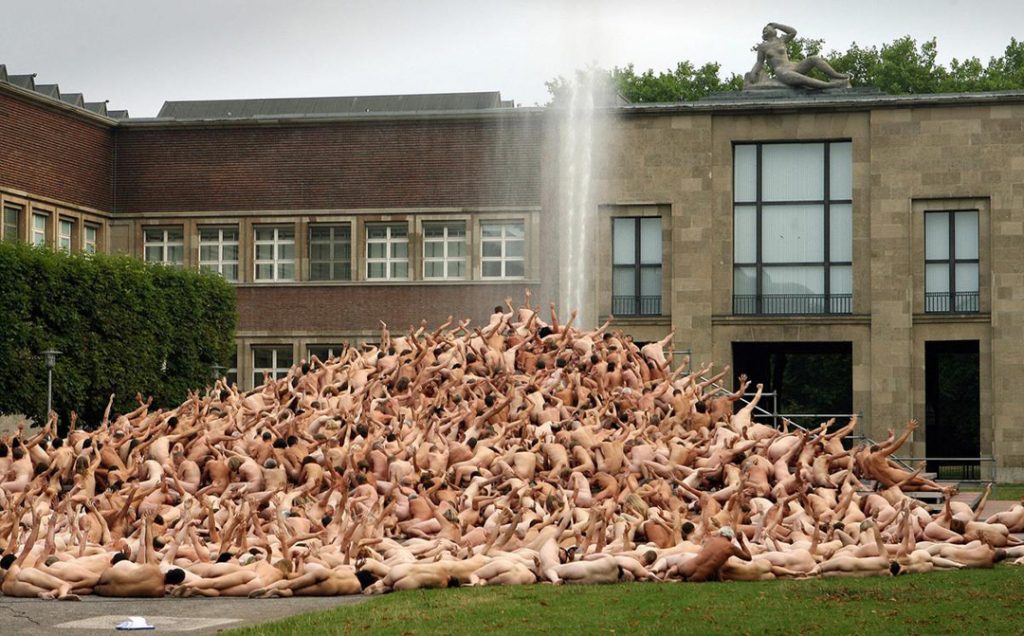 It was after that I found out who he was and what he was doing. Now he's famous and gets 1000's of people to take part in his shoots. But think about how hard it was to originally get strangers to participate in a naked shoot? Whether you like Spencer Tunick or not, the sheer chutzpah of gathering a sizable group of people, male and female, and get them to pose naked publically, is quite amazing. And how many times do you think he was punched in the nose?
Spencer Tunick – A "Happening"?
Public art happenings, and roping off streets for a movie, is fairly common in NYC. To the point of I've actually had to wait to be allowed in my own studio on W. 13th St. in NY, while they finished a 'shot'. The Meatpacking District. (not so much "meatpacking" anymore) Hell, I've had Martin Scorcese come up and start talking to me about my dogs while walking them and picking up poop. (they were 'Westies') I just tell this story to let the rest of the world know,…living in lower Manhattan is weird. It just is.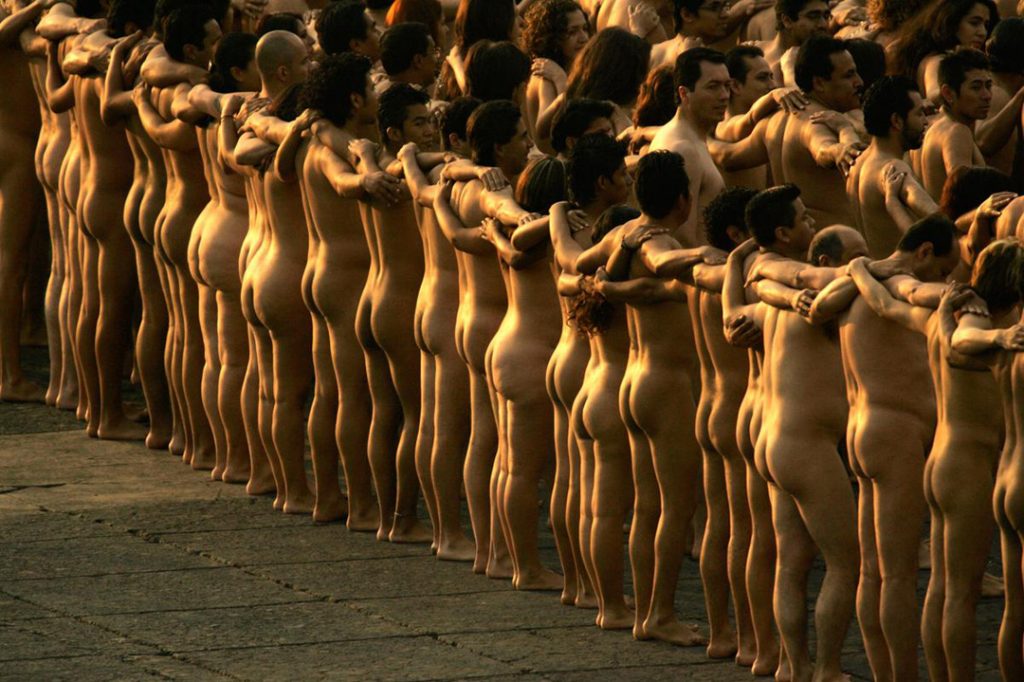 Spencer Tunick was born in upstate NY in 1967 and is a photographer best known for organizing mass public nude shoots. He started this in 1994, and like it or not, you have to admit,…he's a mad genius.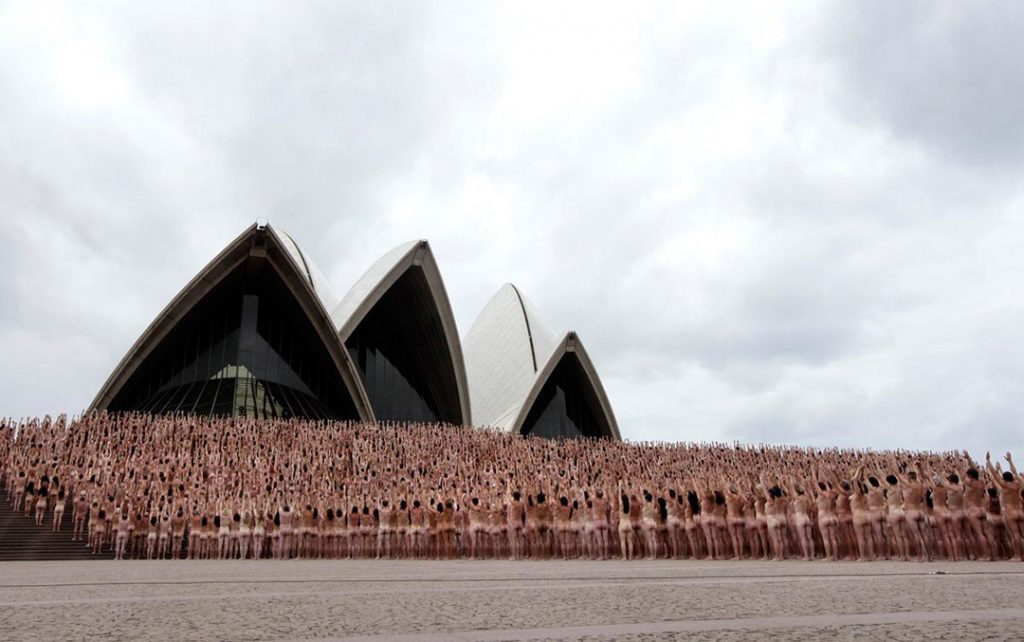 He actually did his first small group nudes in London. But it was back in NY when he began to expand on the idea. It was really, especially at first, more of a documenting of performance art. When it grew, it snowballed, and the sheer organic graphic art concept materialized. He has since organized and photographed well over 65 "installations" world wide.
Philosophy
His philosophy is that masses of nude bodies, of all shapes and sizes, metamorphosize into a new asexual form. I agree. I think it makes us reassess our sexuality and privacy. As if he said, "I'm going to bombard the viewer with something 'naughty' on a scale that makes it lose its' 'naughtiness' and descend into the mundane.
He has already expanded this basic concept to include color, structured shape and inanimate objects to further expand the concept. Even backdrops of architecture and landscape play an important part in each piece.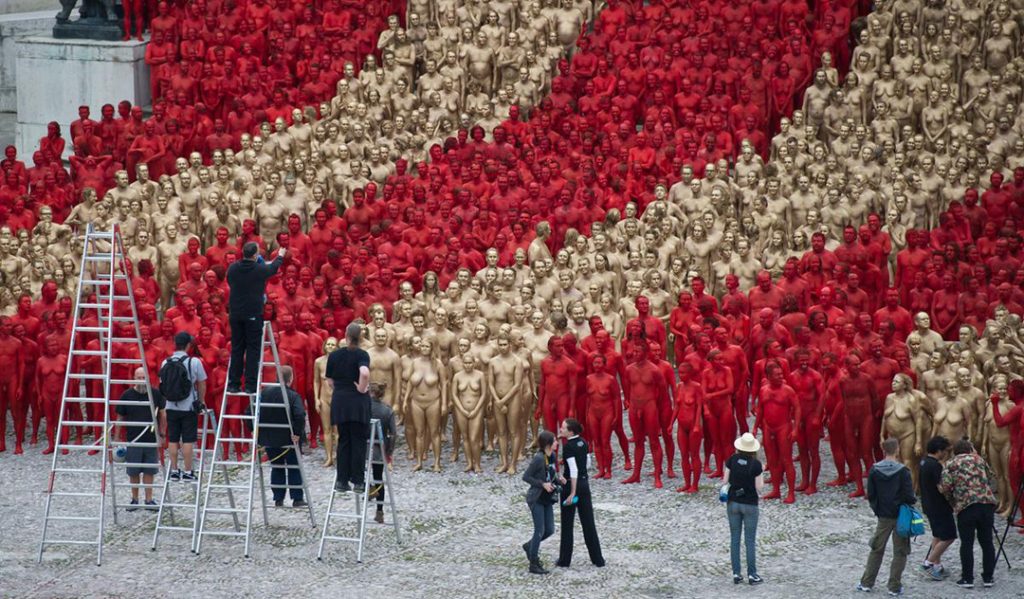 To say each piece and idea to spring from his mind presents a daunting logistical challenge would be an understatement. Like I said above; like herding cats.
First Amendment and Nudity (Art)
Spencer Tunick has been arrested 5 times already. There is still a puritanical resistance to his obviously "art" projects. It wasn't until 2000 that the Supreme court finally sided with Spencer Tunick and his First Amendment rights. Unfortunately, despite this and a lower courts ruling in his favor, NYC is still denying permits. How that works, I don't know. When you see photos on the streets of NY, or in a film, it's usually on a Sunday, or other 'down' day. It's not like he's bothering anyone. Alas, it's a big world, and NYC is a very small part of that world. Nevertheless, kudos to Spencer Tunick for taking on the system. A true David and Goliath story,…and Goliath seems "petty" in this case.
Luckily, most of the world "gets it". His best works have been commissioned by Art Basel, Switzerland, Institut Cultura, Barcelona, Biennial de Sao Paulo, Brazil, The Saatchi Gallery, MOCA Cleveland, Vienna Kunsthalle. When the big boys are behind you, life becomes a little easier. Amsterdam is another accommodating city.
His books are amazing in just trying to figure out,…"how'd he do that?" Invest in one, and be amazed! Pentax 67