Dawn of the Tank
The Minolta SR-T Series of cameras launched in 1966 and was the first time Minolta had released a camera with through the lens metering that, unlike its competitors, did this at full aperture! This is why photographers insisted the Minolta's had the brightest viewfinders. Where other manufacturers were struggling with systems where the photographer would have to stop the lens down to check the metering, the Minolta SR-T 101 enabled metering to be conducted with the lens wide open. This meant that the meter reading in the viewfinder was always clear and bright.
This was also when they introduced the MC line ("meter coupled"). As a Nikon guy I'd like to say it was Nikon. But, in fact,…the 60's Minolta was the 'bee's knees' at the time. All the lenses incorporated a lever that communicated the aperture of the lens to the camera body. (not the Nikon rabbit ears? Oh, well) while their older lenses did still fit and work, they required the photographer to stop down for metering.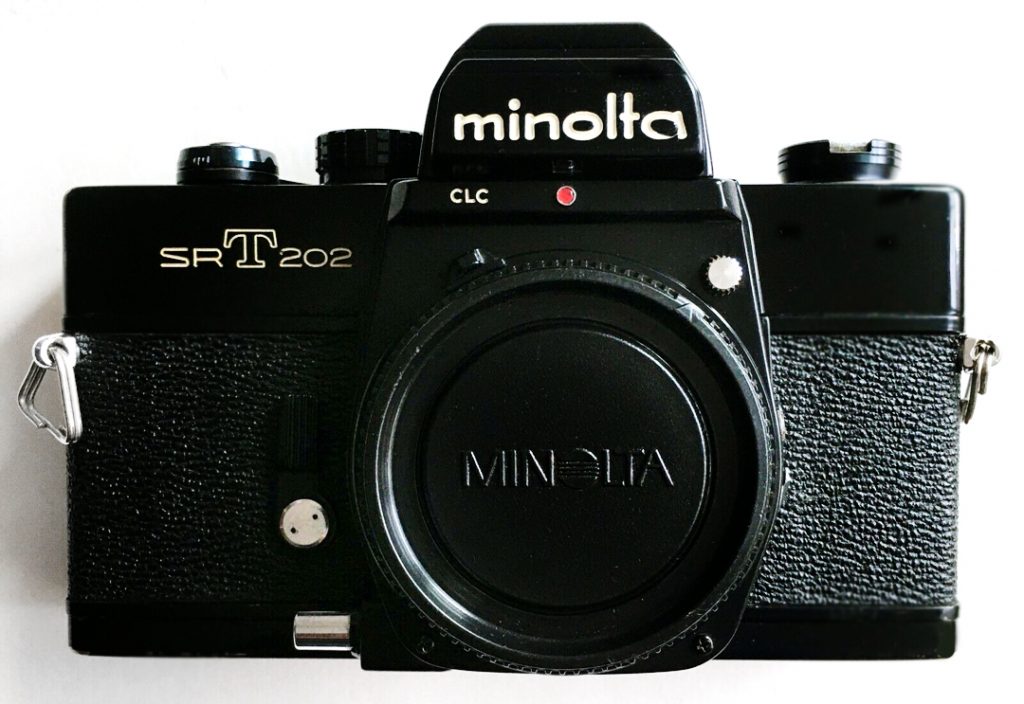 When Men were Men, and Cameras were Metal
The SR-T series was manufactured for 15 years, and had many variations. But the one thing about these cameras,….maybe a 60's thing,…they were built like tanks. And comparing prices between the original Canon A's and Nikon F's are like night and day. Why they never took off for collectors and manual camera aficionados is beyond me. And the lenses are legendary. A Nikon F or Canon AE with 50mm is about $250+ for nice examples. The Minoltas? I've seen SR-T's with 50mm Rokkors for $20 to $40! Weird. I liken it to my Contax G with 45mm that I bought for $200 or so. Now you can't find one under $500. And mint examples are fetching over $1000! (forget about black G2's)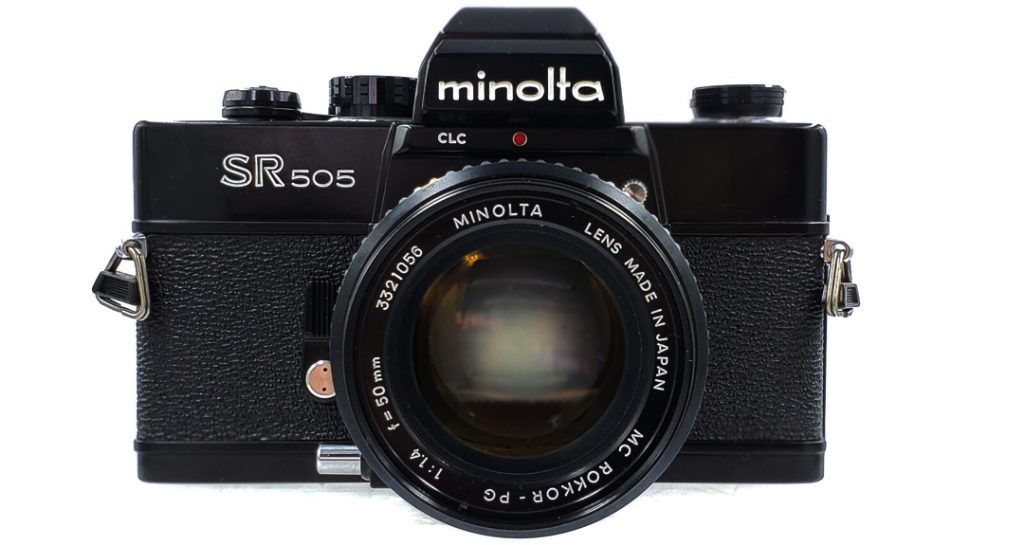 If you wanted to get your first analog manual camera, I'd probably steer you toward a Minolta X-700. A little more modern, (electronic), lighter and some automatic features. Not to mention used by the awesome Ren Hang. However, if you're looking for a mechanical tank, the SRT's are the way to go. Other than checking the seals, (due to age), and changing the meter battery every couple of years, (still shoots without meter), these cameras are indestructible.
The Sad X-370
My first camera was a Minolta X-370. Sadly, the door fell off! (during a shoot) So, from personal experience I can tell you the X series were definitely light weights compared to all the SR-T's.Changes of the SR-T line in 1975 and 1977 were, by my standards, pretty minor. Other than complicating the naming conventions. The FP/X flash switch and a slight change to the metering system. (plus 'eliminating mirror lockup',…see below) The final changes were introduced without a change in model names, (???) which can make selecting a late model SR-T quite difficult. However, name changes included the following; (yes, your head will explode)
SR-T101 (1966-1975)
SR-M (1970-1975)
SR-T 100 (1971-1975)
SR-T 102 / SR-T Super / SR-T 303 (1973-1975)
SR-T SC / SR-T MC (1973-1975)
SR-T 202 / SR505 / SR-T 303b (1975-1977)
SR-T 201 / SR101 / SR-T 101b (1975-1977)
SR-T 200 / SR-T 100b (1975-1977)
SR-T 202 / SR505s / SR-T 303b (1977-1980)
SR-T 201 / SR101s / SR-T 101b (1977-1981)
SR-T 200 / SR-T 100x (1977-1981)
SR-T SC-II / SR-T MC-II (1977-1980)
SR-T 202 – Top of the Line
The SR-T 202 (SR505 SR-T 303b) remains an excellent choice for a serious photographer looking for a mechanical camera to use with Minolta manual focus lenses. Single lens reflex camera with through-the-lens CLC (Contrast Light Compensation) meter coupled to shutter and film speed. So? What more do you need? Sure, a Nikon F5 or Canon EOS 1v smoke these cameras in features, built in diopters, speed, autofocus,….etc., etc., etc. But, believe it or not, the image will be the same. OK,…you're right, you don't have higher sync speeds and 1/8000 shutter speeds, autoloads and autorewind. But when that hand made fiber print is hanging on the wall,….only the lens and your vision will make a difference.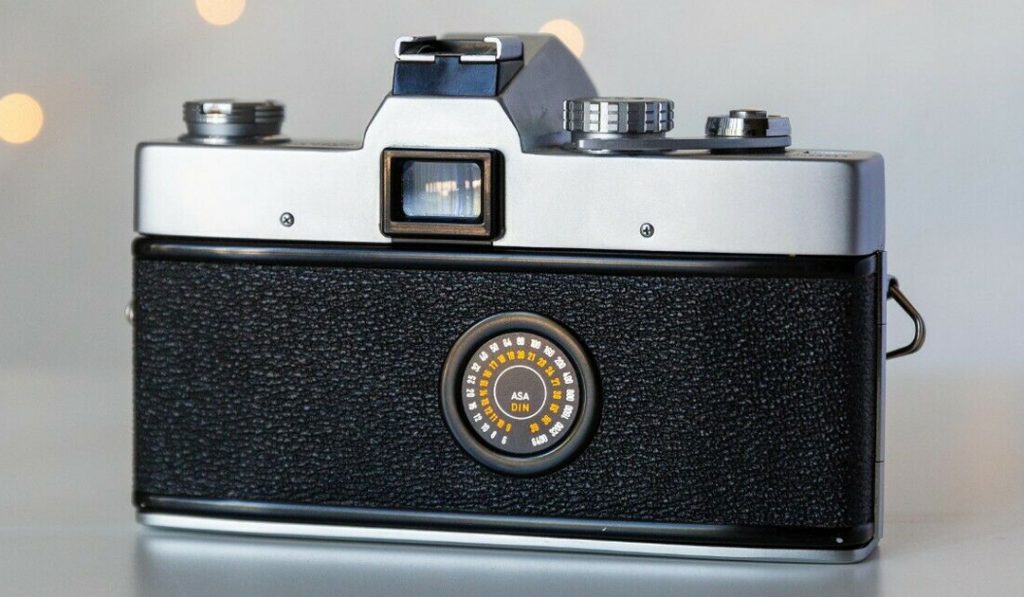 In 1975 Minolta upgraded the entire range with minor new features, and renamed the cameras. The top of the line SR-T 102 became the SR-T 202, or SR505 in Japan and SR-T 303b in Europe. (the only record I could find of varying names) Personally, I hate when camera companies do that. (Nikon F-801 vs N8008, etc.)
The camera remained very similar to the previous model, with some minor changes. Unfortunately, the mirror lock-up feature that had been present on the SR-T 102 was now gone. (dumb, dumb, dumb) In its place was a new feature, a film safe-load indicator to tell the photographer that the film had correctly been attached to the take-up spool. Additionally, the camera now had a film memo holder on the back door to take a film box top to remind the photographer of the type of film loaded.
Specifications:
Single lens reflex camera with through-the-lens CLC (Contrast Light Compensation) meter coupled to shutter and film speed.
Meter sensitivity EV 3 to EV 17 at ASA 100.
Film speeds supported ASA 6-6400
Fully mechanical cloth focal plane shutter with speeds from 1-1/1000 sec plus B
Sync speed 1/60 sec with electronic flash
Over sized quick return mirror for no image cut-off even with supertelephoto lenses
Exposure control needle, selected shutter speed and aperture visible in viewfinder
Flash synchronization (X and FP)
Mat-Fresnel-field focusing screen with split-image spot surrounded by microprism band (super bright)
Film safe-load indicator
Automatic reset film counter
Film memo holder
Accessory hotshoe
Self timer
Depth of field preview button
If you never use the mirror lock up feature, the 202 is better than the 102. (uhhh,…sorta. See "Film Safe-Load Indicator" above.)
One thing to remember. Minolta SR-T series will most likely still be operating in 50 years. Not many electronic cameras could make that claim. Digital or film. Of course, we may all be dead by then. In that case,….nevermind.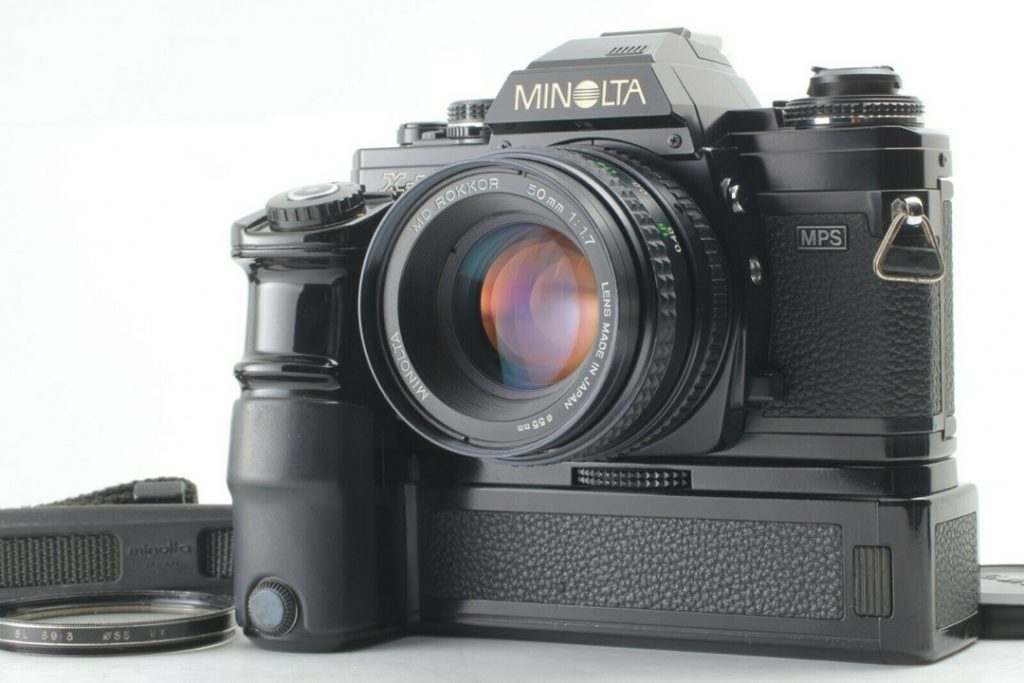 All that said, if you're a motor drive/data back kinda guy, (or gal), go for the X-700. While not totally manual, it's still really cheap. Ya gotta pick your poison and go with it. Either way, those Rokkor lenses are some of the best in existence. And isn't that what it's all about anyway?