The Incantations of Nikon L35
The Nikon L35AF
came out in 1983, and was Nikon's first autofocus compact camera. There were more models to follow, including the Nikon L35AD
, with a time stamp back, Nikon L35 AW AF
, which stood for "All Weather", and eventually the L35AF2 and L35AF3. (slightly improved L35AF's) Despite the general consensus, the AW was NOT an underwater camera. While you could probably drop it in the pool and retrieve it with no harm, I wouldn't dive with it. Also, the lenses between the L35AF and L35 AW were different. The L35AF uses a 35mm f/2.8 "Pikaichi" 5 elements in 3 groups lens and the L35 AW uses a 35mm f/2.8 "Tessar" type lens, 4 elements in 3 groups. Which is better? Eh,…6 to 1, half a dozen to the other. I call it a draw.
The Nikon L35AF Comparison
The Nikon L35AF has some great advantages to other similar era compacts, including the Contax T2
, Yashica T4
and Olympus MJU II
. It renders very beautiful images. Does it have the ultra contrast of a T4? No. Is it as "pocketable" as the Olympus? No. As well built and solid as the Contax? No. But, it has a lot going for it. It takes 46mm filters and lens hoods. The size is not so small as to be annoying. (for me) The image rendering is pure quality and uniquely 'Nikon'. It's a camera you actually 'want' to shoot.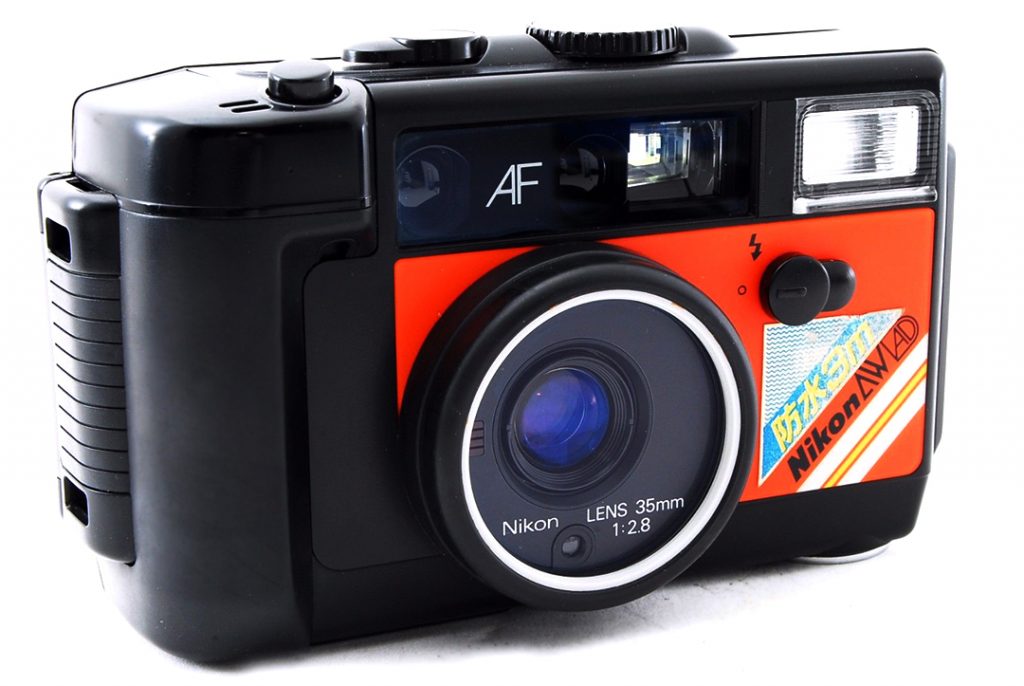 OK. I'm shallow. But with a yellow filter, (for B+W), and a lens hood, it looks really 80's cool. A second advantage is that a mint condition L35 is sometimes a tenth of the price of the compacts mentioned above. Whether you're just starting out with film, or you just have very little money, you can't go wrong with this camera. The shots I've compared with my Contax T2 are easily in the same league. The L35AF renders differently, but still beautifully. There are enough samples on Flickr. So, I won't go into that here. How lenses render is a very subjective thing.
Wide Open Vignetting
Wide open does have a slight amount a vignetting. But since some people find the T4's vignetting as part of it's unique charm, I will again make no assessment, since it's again a subjective like or dislike. The little "eye" below the lens is the meter sensor, so if you put a filter on, it will take it into account. It also has a +/-2EV lever. The ISO speed is a dial on the lens. It's bigger than most compacts, which is something you will love or hate. Personally, I like the size. And the surface has just the right amount of texture for holding. Caveat: The glass in front of the lens on an AW is not easily removable. Make sure it's clean and clear!!

Most of the camera is very well built. I say "most" because there are a couple of little niggles that bother me. Not game changers. More like, "Hey, Nikon, this camera was over $200 new,…so, what's the deal"? You must turn off this camera or you will drain the batteries. And the switch leaves a lot to be desired. The shutter button "half press" focusing is also a little weird. Maybe that's an eighties thing. But once you get use to it, I guess it's "OK".
Great Auto-Rewind
The bottom has the battery door and a tripod mount. One of the great thing that this camera has over some other compacts is the batteries. Just two regular ol' AA batteries, and you're ready to roll. I'm a little 'iffy' about the battery door. It's never broken on the two I've had,…but it feels delicate. Also, some of my other cameras rewind film into the canister. This camera doesn't. How Nikon did that,…I don't know. But it's nice having a little leader on the exposed roll. Another feature is you can see if you're in focus in the viewfinder,… and the focus is very accurate. And, yes, it has a self timer. The lever is right there in the front.
The flash is automatic,…sorta. It will automatically flash if the meter doesn't see enough light. But the cool thing is it can be over ridden. Flash off mode is just pushing the flash down. To turn it on, just put a finger over the meter "eye" for a second and the flash will "turn on".  As far as the image difference between a Nikon L35AF and the others, (Contax, Yashica, Olympus, etc.), the images are different between every one of these. Not better, not worse. Just different. But with the extra features on the Nikon, and the price differentials, it's definitely a compact camera that should be on your short list.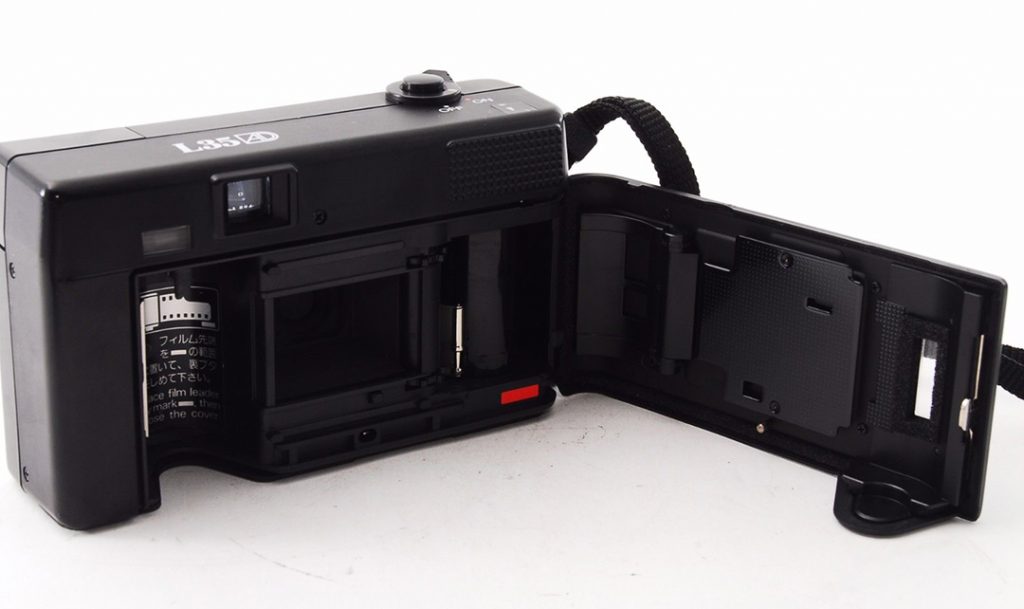 Lot of Camera for Little Money
I've seen a "Mint" Nikon L35AF go for as little as $20. Built in motor drive and auto-rewind, takes filters, AA batteries, sharp lens, simple to use, exposure compensation. What more do you need?
Specifications:
Type of Camera

35mm compact camera with autofocus, auto exposure, auto pop-up flash, auto flash exposure, auto shutter lock, auto film loading, auto film speed setting, auto film advance, auto film rewind, auto film rewind stop and auto ready lens cover. Okay, Nikon, we get the idea… auto is cool.

Film

AF2 and later models take only DX-coded 35mm film from ISO 50 to ISO 1600. First models were manually set on lens ring.

Picture Format

24mm x 36mm

Lens

Nikon lens 35mm f/2.8, four elements in three groups

Shutter

Programmed electronic shutter; also serves as diaphragm blades

Viewfinder

Reverse-Galilean Albada-type bright-frame viewfinder; 0.52X magnification; approx. 85% (at infinity) frame coverage; -1 dioptry

Viewfinder Information

Picture frame marks, parallax compensation frame marks, autofocus frame marks, focus symbols and focus indicator needle

Focusing

Active autofocus system (0.7m to infinity); focus locks when shutter release button is depressed halfway

Exposure Metering

Using CdS, programmed automatic exposure control from EV 6 (f/2.8 at 1/8 sec.) to EV 17 (f/17.5 at 1/430 sec.) with ASA/ISO 100 film

Film Speed Range

ASA/ISO 50 to 1600 (set automatically or manually as described above, depending on model)

Film Loading

Film automatically advances to first frame when shutter release button is depressed once; film advance indicator pole rotates to show film is properly loading and being advanced

Film Advance

Film automatically advances by one frame at 0.8* seconds per frame when shutter is released; stops  automatically

Film Rewinding

Via sliding rewind lock switch and rewind button; approx. 20 sec.* per 24-exposure roll; automatically stops when film is rewound

Frame Counter

Additive type; automatically resents to "S" when camera back is opened; counts back while film is rewinding

Self-Timer

Activated by setting lever and depressing shutter release button; 10-second delay with indicator light

Built-In Flash

Automatic pop-up type with ready-light; guide number 10 (ASA/ISO 100, m), 16 (ASA/ISO 25, ft.); shutter locks if flash is not charged; recycling time approx. 6 sec.

Battery Life

Approx. 100 rolls* of 24-exposure film (without flash); approx. 10 rolls* of 24-exposure film (with flash for each exposure); shutter release locks when batteries are exhausted

Power Source

Two 1.5V alkaline-manganese AA-type batteries (NiCd batteries cannot be used)

Dimensions

125.5mm(W) x 73mm(H) x 48.5mm(D)

Weight

Approx. 320g (without batteries)