The Minox 35
I like lots of analog cameras. And there is a special place in my heart for the Minox 35 super sharp and contrasty compacts. I like lots of the compacts produced during this era. The Yashica T4, the Contax T2 and T3, the Olympus Epic Stylus. And more. Some absolutely remarkable cameras have been made that press all the right buttons and ring all the right bells. But one that seems to always get overlooked are the various models of the German made Minox. OK. I'll be the first to admit it's a bit esoteric, both in ergonomics and the rampant internet anecdotes on reliability. But when it comes to images, it's both sharp and contrasty. When it comes to build,… well, it's a German design, and shows it.
Minox 35 – A Manual Focus Contax?
Usually, they came in black. Although light, their denseness in quality is immediately apparent. More like a Contax as opposed to a Yashica. But, despite it's appearance, this is no point and shoot camera. Other than one very rare Autofocus model, which I know the least about,  (see chart), this is a manual focus camera. It is really for the hard core collector and shooter. And was designed that way. Yet, it's not a rangefinder either. While the viewfinder is bright and clear, you must use the "focus scale". I've always said about the Minox: you have to actually be a photographer.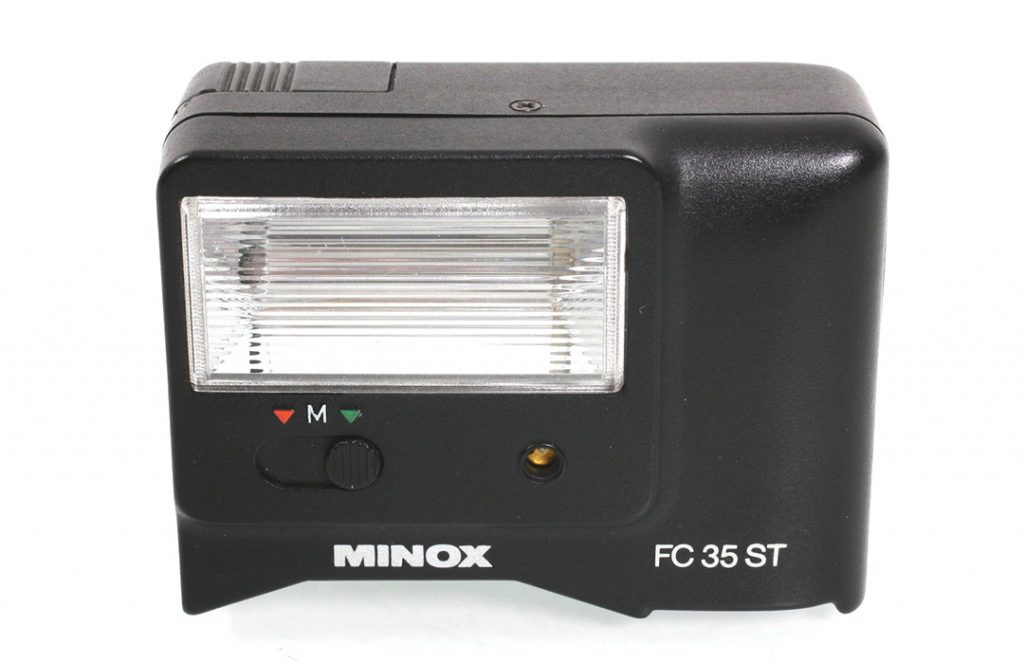 Like the last photographer said about the Ricoh,…"Everybody loves the Ricoh, until it stops working.",…I could say the same thing about this camera. Although I wouldn't say shutter failure is common, it does occur. But I've been informed that the later models didn't suffer from this. (stronger shutter magnet fix?….anyway, that's the skinny) However, with a little time spent with this camera, you will not find sharper and more colorful images produced by any other camera in 35mm,…compact or not. The stealthiness, details and contrast will amaze even the most cynical of shooters. It's a very quiet camera. You could be on a live film set without a blimp!
Skinny Jeans Welcomed
Tiny is also an understatement. Actually, if it were a bit bigger, I'd like it even more. But for those seeking a 35mm that's this small,…well. you found it. It's barely larger than a pack of smokes, and folded will fit into your front pockets,…skinny jeans or not. Lighter than a Rollei 35, and most are made of a very heavy duty composite. While that composite may be plastic, it doesn't feel like plastic. Surprisingly, it feels like metal.
Did I mention that the Minox cameras have many variations? To the point of mass confusion. (I hope the chart helps) That, and some models suffer from reliability issues. Mostly with the electronic shutters and sticky aperture blades. Supposedly, these issues were addressed in the later models, but reliability can be a deal breaker for many photographers. Even if only falsely perceived. But their are a couple of things in it's favor. (besides spectacular images) They are CHEAP, CHEAP, CHEAP! You could literally buy 4 or 5, and still not spend as much as one used manual focus Nikon. (or Canon) Second is, Minox will still repair you camera, and still provides free downloadable manuals for some models. (see link below)      *****If anyone has additional info for chart, please share
At That Price…
Let me be frank. With such spectacular lenses, stealthy qualities, and price, you could literally buy one, (or two), as a throw away, and still come out ahead of the game. It's hard to lose with a $20 to $50 camera. Either way, every collector should have one. Find A Minox
MODEL

LENS

FOCUS RANGE

APERTURE

SHUTTER

MODES

ISO

BATTERY

FLASH

35 EL (1974)

Minotar35mm/f2.8

90cm (3ft) -infinity

2.8- 16

1/500 – 30 sec ASA25

aperture priority

25 – 800

PX27

35 GL (1979)

Minotar35mm/f2.8

90cm (3ft) -infinity

2.8- 16

1/500 – 1 sec

aperture priority

25 – 800

PX27

Minox 35 GT (1981)

Minotar 35mm/f2.8

90cm (3ft) -infinity

2.8- 16

1/500 – 1 sec (30s ASA 25)

aperture priority

25 – 800

PX27

TC 35
FC 35

Minox 35 PL (1982)

Minotar 35mm/f2.8

90cm (3ft) -infinity

2.8- 16

1/500 – 1 sec (15s ASA 25)

program

25 – 800

PX27

Minox 35 PE (1983)

Minotar 35mm/f2.8

90cm (3ft) -infinity

2.8- 16

1/500 – 1 sec

program

25 – 800

PX27

On the Side

Minox 35 GT Golf (1984) green

Minotar 35mm/f2.8

90cm (3ft) -infinity

2.8- 16

1/500 – 1 sec (30s ASA 25)

aperture priority

25 – 800

PX27

TC 35
FC 35

Minox 35 GT Sports (1984) green

Minotar 35mm/f2.8

90cm (3ft) -infinity

2.8- 16

1/500 – 1 sec (30s ASA 25)

aperture priority

25 – 800

PX27

TC 35
FC 35

Minox 35 MB (1985)

Minotar 35mm/f2.8

90cm (3ft) -infinity

2.8- 16

1/500 – 1 sec

aperture priority

25 – 800

PX27

MF 35 ST
MT 35

Minox 35 ML (1985)

Minotar 35mm/f2.8

90cm (3ft) -infinity

2.8- 16

1/500 – 1 sec

aperture priority & Program

25 -1600

PX28
LITHIUM
MF 35 ST
MT 35

Minox 35 AL black (1987)

Minar 35mm/f4.0

Fix focus 5′-infinity

sunny, partly cloudy, cloudly 1:4f=35mm

Minox 35 AL white (1987)

Minar 35mm/f4.0

Fix focus 5′-infinity

sunny, partly cloudy, cloudly 1:4f=35m

Minox GSE (1988)

Minotar 35mm/f2.8

90cm (3ft) -infinity

2.8- 16

1/500 to 8sec

aperture priority

25 -1600

PX27

FC 35 ST

Minox GTE (1988)

MC Minoxar 35mm/2.8

2.3ft to infinity

2.8-16

1/500 to 8 sec

aperture priority

25-1600

2 CR1/3N

FC-E Flash

Minox 35 GTE GOLDKNOPF (1988)

MC Minoxar 35mm/2.8

2.3ft-infinity

2.8-16

1/500 to 8 sec

aperture priority

25-1600

2 CR1/3N

TC-35

Minox 35 GT Decade (1991)

Minotar 35mm/f2.8

90cm (3ft) -infinity

2.8- 16

1/500 – 1 sec (ISO 100)

aperture priority & Program

25-1600

PX27
LITHIUM
FC 35 ST
TC 35

Minox 35 ML Touring (1990)

Minotar 35mm/f2.8

90cm (3ft) -infinity

2.8- 16

1/500 – 1 sec (ISO 100)

aperture priority & Program

25-1600

PX28
LITHIUM
MF 35 ST
MT 35

Minox 35 M.D.C. (1996)

MC Minoxar 35mm/2.8

9

0 cm (3ft)-infinity

2.8 – 16

1/500 – 1 sec

program & aperture Priority

25-1600

PX27

MT 35

Minox 35 GT-X (1997)

MC Minoxar 35mm/2.8

70 cm (2.3ft)-infinity

2.8-16

1/500 to 8 sec

aperture priority

25-3200

2 CR1/3N

FC-X Flash

Minox GT-E II (199)

70 cm (2.3ft)-infinity

2.8-16

1/500 to 8 sec

aperture priority

25-1600

2 CR1/3N

Minox 35 GT-S (1998)

MC Minoxar 35mm/2.8

70 cm (2.3ft)-infinity

2.8-16

1/500 to 8 sec

aperture priority

25-3200

FC-S Flash

Minox 35 AF (1988)

Minoxar 32mm/f.3.5

active infrared autofocus