The Best of Nikon
The first time I saw this lens, Peter Lindbergh was using it while photographing Helena Christensen in Little Italy in NYC. I was using a Nikon 50mm f/1.4 AF-D
at the time. A focal length I still love. But the Nikon Nikkor 85mm F/1.4 D IF
was the coolest lens I had ever seen. OK,…I was very superficial at the time. But with that massive front element mounted on that Nikon F5, it was the most beautiful thing I had ever seen. Alright, maybe a couple of women were better looking. But, not many. I had to have one. What I didn't know was how spectacular the performance would be. And when it came to portraits, it left the 50mm in the dust. Sharp? Yes. But it was the slight compression that made everyone look good,…other than Quasimodo. Why short telephotos fell out of favor I'll never know. Short telephoto lenses were the staples in the arsenals of Avedon and Penn. (and most others in the 70's, 80's, and 90's)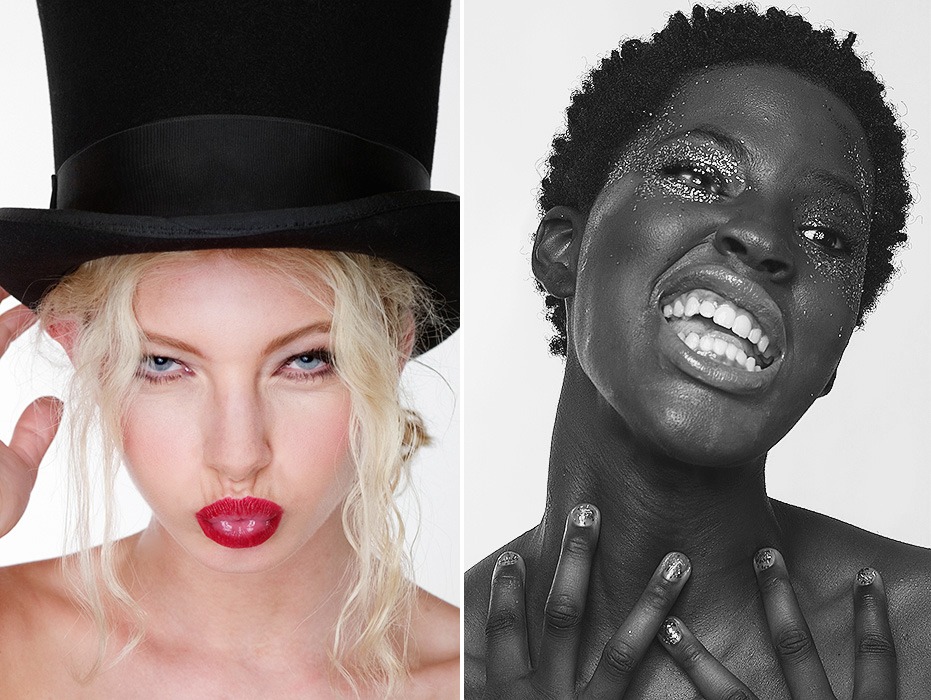 Humongous 77MM Filters
The only weird thing about this lens is the 77mm filter size. And the AI version is 72mm. Very strange sizes for Nikon. And you would think flare would be a problem with such a massive front element. But the included hood is quite deep, and more than sufficient to abate flare and keep contrast high. On the AF version, the 'IF' stands for internal focus. The length never changes in use. And the front doesn't rotate on either version. Using a polarizer? No problem. Of course, it is not an AFS lens, so if you're digital and have a lower end body, it won't work. It needs a body with an auto focus motor.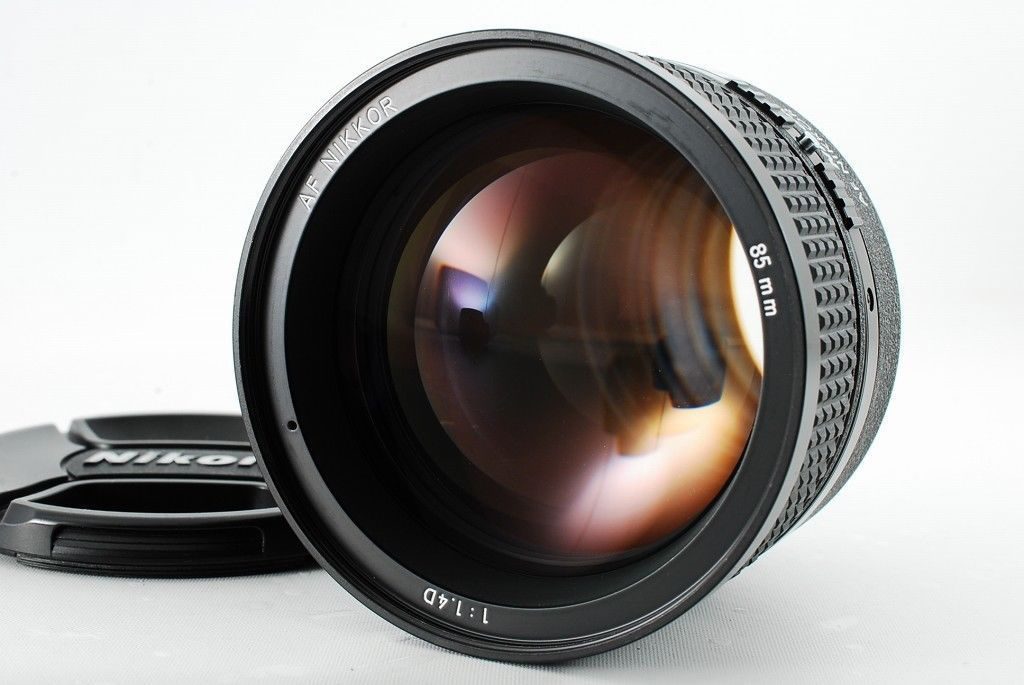 The smallest aperture is f/16. But for reasons unknown to me, diffraction is non-existant in use. Same with distortion. I've tested it 6 ways of Sunday, and I cannot see any type. Very slight chromatic aberration and vignetting at f/1.4. But when I say slight, I mean you have to really enhance it artificially in Photoshop or another digital program to see it. Since I work in the darkroom, I never see it. I've checked other reviews, and the conclusions I've reached seem pretty universal. But then, I'm not an MTF guy. I know a Leica 50mm Summilux is very sharp with high micro contrast. I don't need to see some stupid chart. My eyes are my chart. That said, the Nikon Nikkor 85mm F/1.4 D is at the top of that MTF list, if you're into such things.
Mama, Don't Take My Aperture Ring Away…
I think I should tell you I hate 'G' lenses and love a lens that has focus and depth of field markings. Plus an infrared focus mark. Foot markings are in yellow and meters are in white. Call me an old fashion guy, but I actually use that stuff. Build quality on both is more than just solid. And if you've just become accustomed to using all these modern day lenses,…well, prepare to be surprised. The AF version has a small amount of composites. The AI-s version is solid metal. (explaining the difference in weight) They are both in the class of the old Nikon "pro equipment". Both are made in Japan.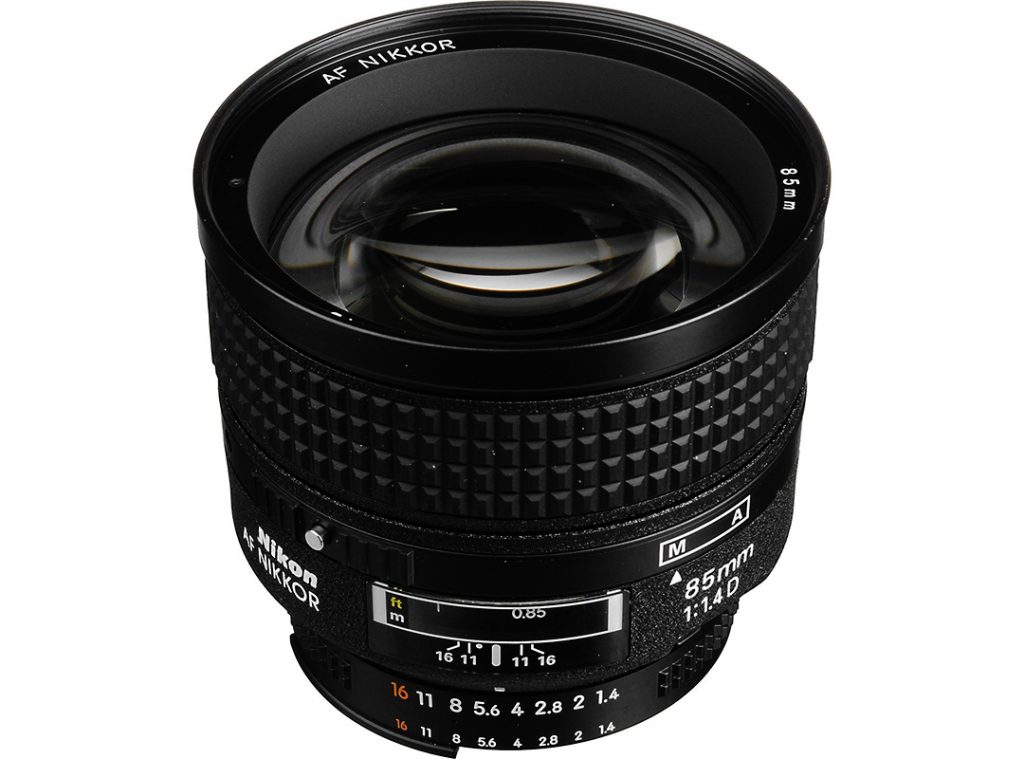 While the Nikon Nikkor 85 mm f/1.4 AI-s
version is slightly better at manual focusing, using the ring-based M/A switch to set the AF lens to manual focusing is easy. And it does focus exceptionally smoothly. The difference is infinitesimal. And the focus ring is quite large for a AF lens. The aperture ring is the typical Nikon, with firm clicks at the full stop markings only. But, of course, if you have an F4, F5 or similar model, the aperture settings are pretty extensive with the camera wheel adjustments, program modes and shutter priority.
Plenty Fast
One thing I advise people to upgrade is the lens cap. The hood is quite deep, and I don't know how you're suppose to remove the cap without removing the hood, unless you use the newer "pinch caps". Just a pet peeve. As far as auto focusing speed goes, I borrowed a newer AFS lens for comparison. While the AF is not super fast, (by today's standards), it's certainly not slow. It doesn't hunt at all. Maybe if it's dark and you're just using a flash infrared beam it may. But it hasn't for me. Snaps right into focus. At least on my F4s and F5 cameras.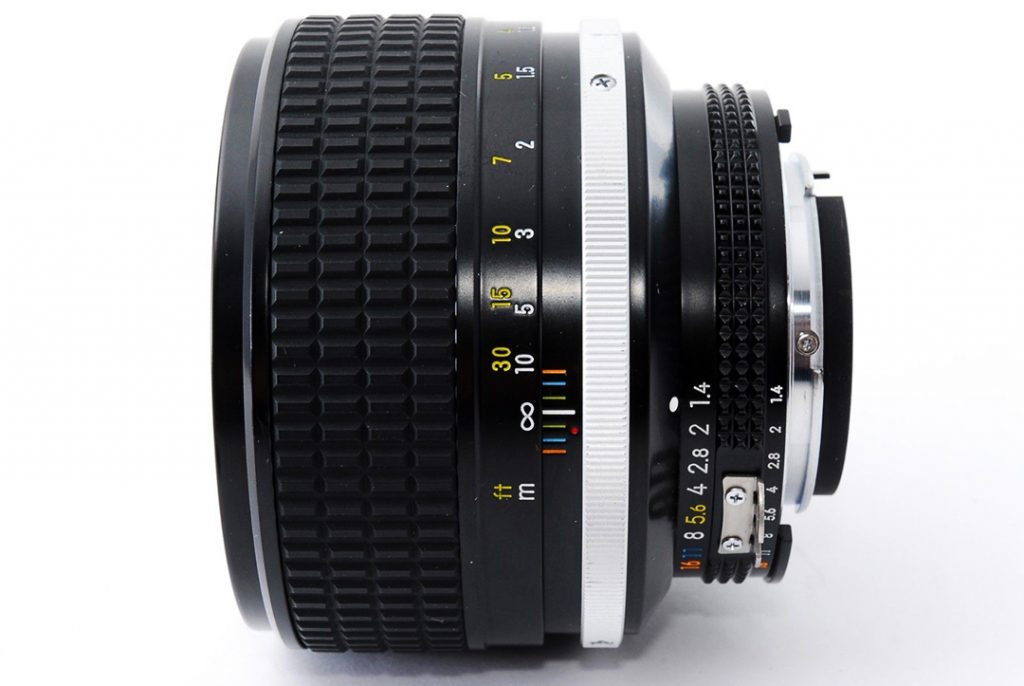 Sharpness on this lens is a given. Remember, if that's your criteria, it's at the top echelon of all those MTF charts. So, no worries. Now, I'm not a "bokeh" guy myself, even though tho 50mm f/1.2 is pretty much married to my camera. I just prefer greater DOF when possible. However, the creamy bokeh produced from 9 rounded blades is what makes this lens a legend. Out of focus backgrounds don't look artificial. No weirdo "octagon and hexagon" highlights. Just 'smooth, creamery butter'.
The Nikon Nikkor 85mm F/1.4 D IF,…A Keeper
So, although I am guilty of first buying this lens to "look cool", (and because Peter Lindbergh had one), it is one lens I would never sell. And one thing portrait photographers should understand; mistakes are harder to make with this lens. (actually, any short telephoto) And people,…especially "regular people",…always look better slightly 'compressed'. There are people you can shoot with any lens and they look good. Then there are us "normal" folks. It is a "forever" lens.
Specs
| | |
| --- | --- |
| GLASS | 9 ELEMENTS in 8 GROUPS |
| DIAPHRAGM | 9 ROUNDED BLADES (Beautiful Bokeh) |
| APERTURE RANGE | f/1.4 – f / 16 |
| MINIMUM FOCUS DISTANCE | 2.81 FT / 85.6 CM   Both CRC |
| DEPTH OF FIELD SCALE | Yes |
| WEIGHT (according to Nikon,…actually less without hood) | 550 GRAMS /19.4 OUNCES    (AI-s 620 GRAMS / 21.9 OUNCES) |
| DIMENSIONS | 83MM DIAM x 88.5MM L  (AI-s 80.5MM DIAM x 72.5MM L) |
| FILTERS | 77MM (72MM on AI-s) Neither rotates when focusing |
| MAXIMUM REPRODUCTION RATIO | 1:8.8   (AI-s 1:7.9) |