Nobuyoshi Araki – A Consistent Vision
Nobuyoshi Araki is a quite polarizing figure. Not only in photography, but art in general. He's worked almost exclusively in black and white film. Is he really the pornographic bondage photographer his detractors elude to? Well, not according to Bjork, Lady Gaga and a plethora of other celebrities and art critics. The thing about Nobuyoshi Araki is that, like his Japanese contemporary, Daido Moriyama, he is visually consistent and brings joy to an otherwise taboo subject.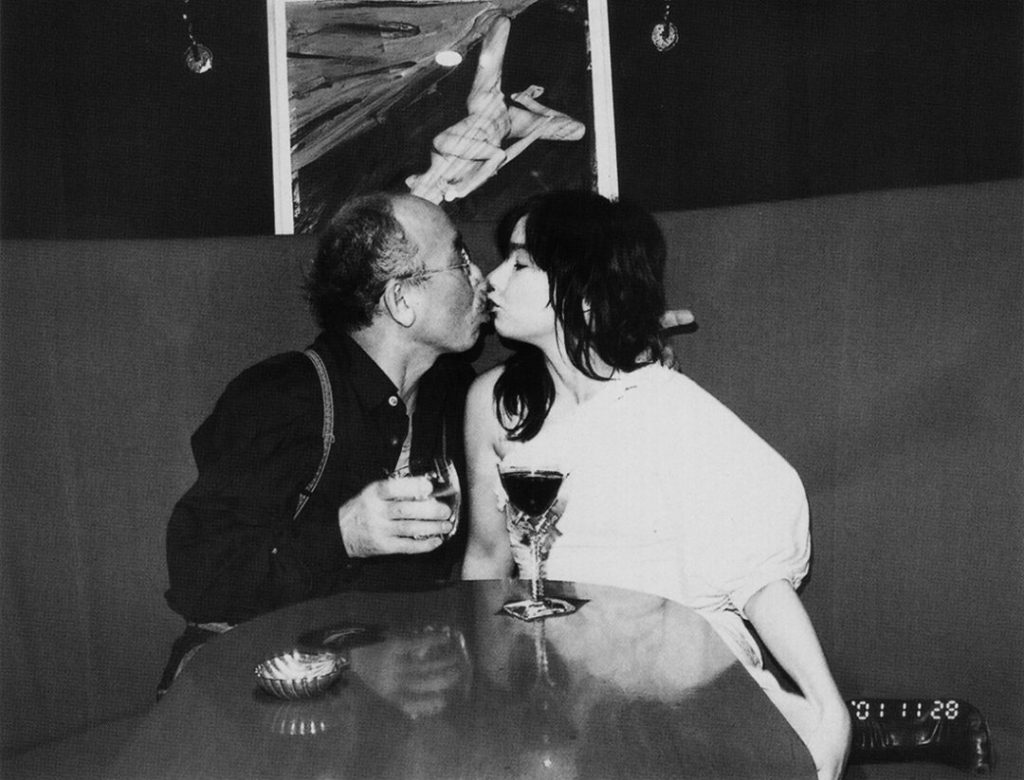 Nobuyoshi Araki
His  contemporary work is known for both for his prolific output and his erotic imagery. While his photographs often focuses on activities and traditional practices in his native country, it is Araki's sexual imagery that has elicited particular controversy and fascination.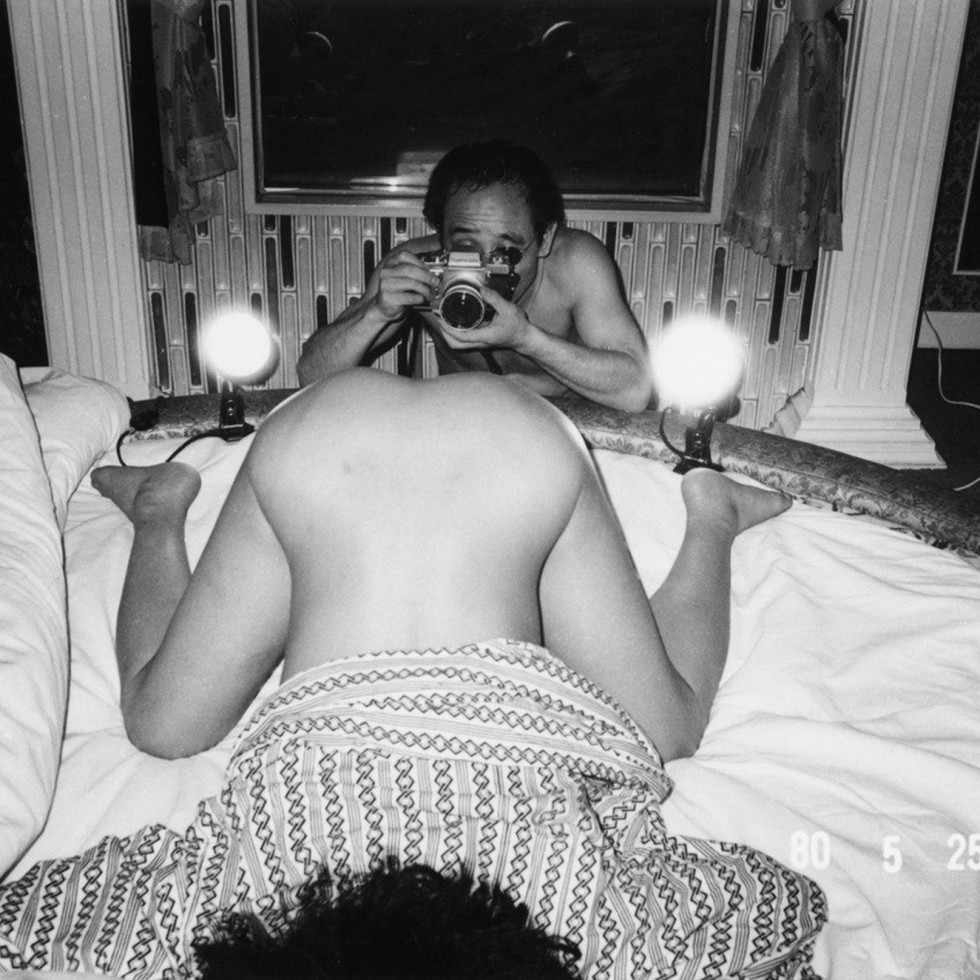 While similar to Helmut Newton, Araki has often addressed subversive themes—such as bondage in the Japanese style kinbaku—in his provocative depictions of female nudes. A student of photography at Chiba University, he pursued a career as a commercial photographer upon graduating in 1963. He went to work at the advertising agency Dentsu, where he met his future wife, the essayist Yōko Araki. He began to publish numerous photography books. "Sentimental Journey" (1971) is a visual narrative of his honeymoon with wife Aoki Yoko, whom the artist credits for making him a photographer. Araki was born on May 25, 1940 in Tokyo, where he currently resides—the city that has served as a constant source of inspiration throughout his career.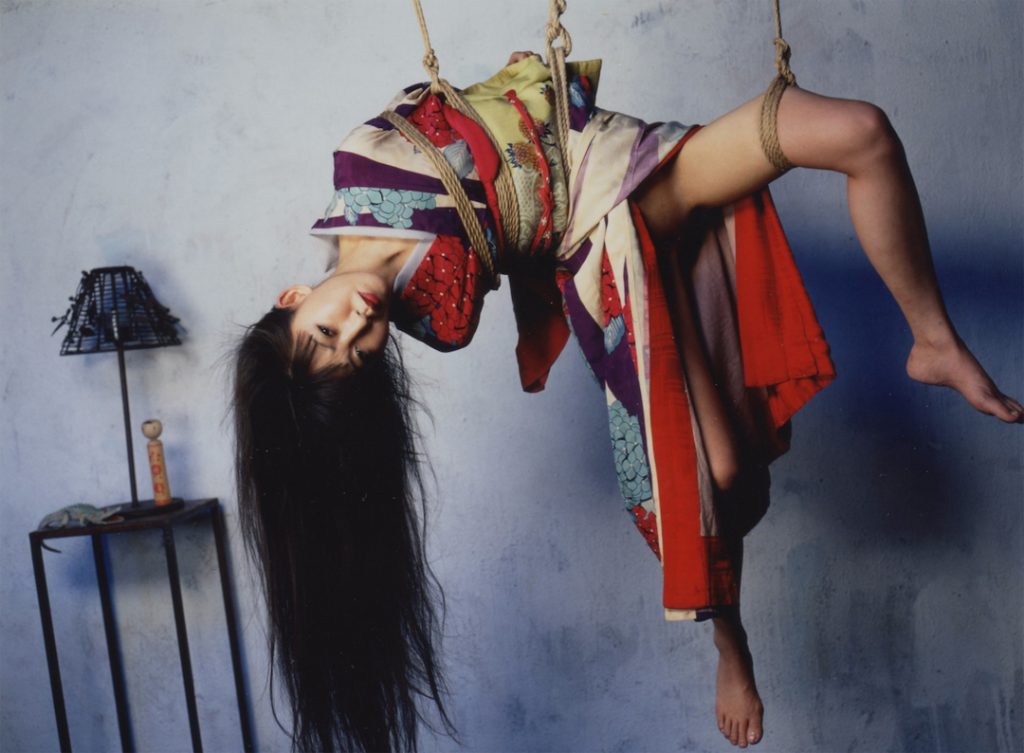 Erotica in Art
A number of his works feature young women in erotic situations: "Kinbaku", a series from 1979, features 101 photographs of women in rope bondage. He typically works in black-and-white photography, and his hallmark style is deliberately casual. "Rather than shooting something that looks like a professional photograph, I want my work to feel intimate, like someone in the subject's inner circle shot them," he says. More recently, Araki has been working on a series titled "Faces of Japan" (2009-) in which the artist photographs 500 to 1,000 people in each of Japan's prefectures.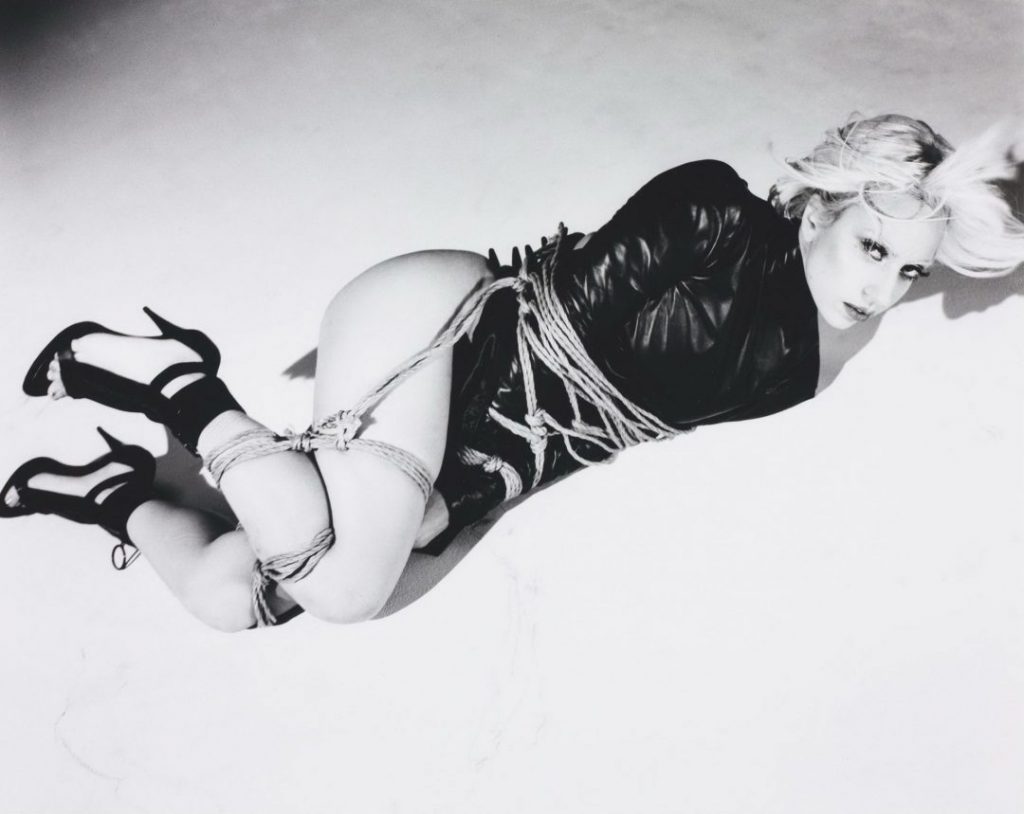 Having published over 350 books by 2005, and still more every year, Araki is considered one of the most prolific artists alive or dead in Japan and around the world. Many of his photographs are erotic.  Among his photography books are "Sentimental Journey" (1971, but later reissued), and "Tokyo Lucky Hole" (1985). "Sentimental Journey"  was a diary of life with his wife Aoki Yoko until she died of ovarian cancer in 1990. His book, "Winter Journey", (extremely rare), were his images taken during her last days. Later color volumes included the illustrious "Araki Gold".
Icelandic musician Björk is an admirer of his work, and served as one of his models. At her request he photographed the cover and inner sleeve pages of her 1997 remix album, Telegram. And more recently, he has photographed pop singer Lady Gaga. Araki's life and work were the subject of Travis Klose's 2005 documentary film "Arakimentari".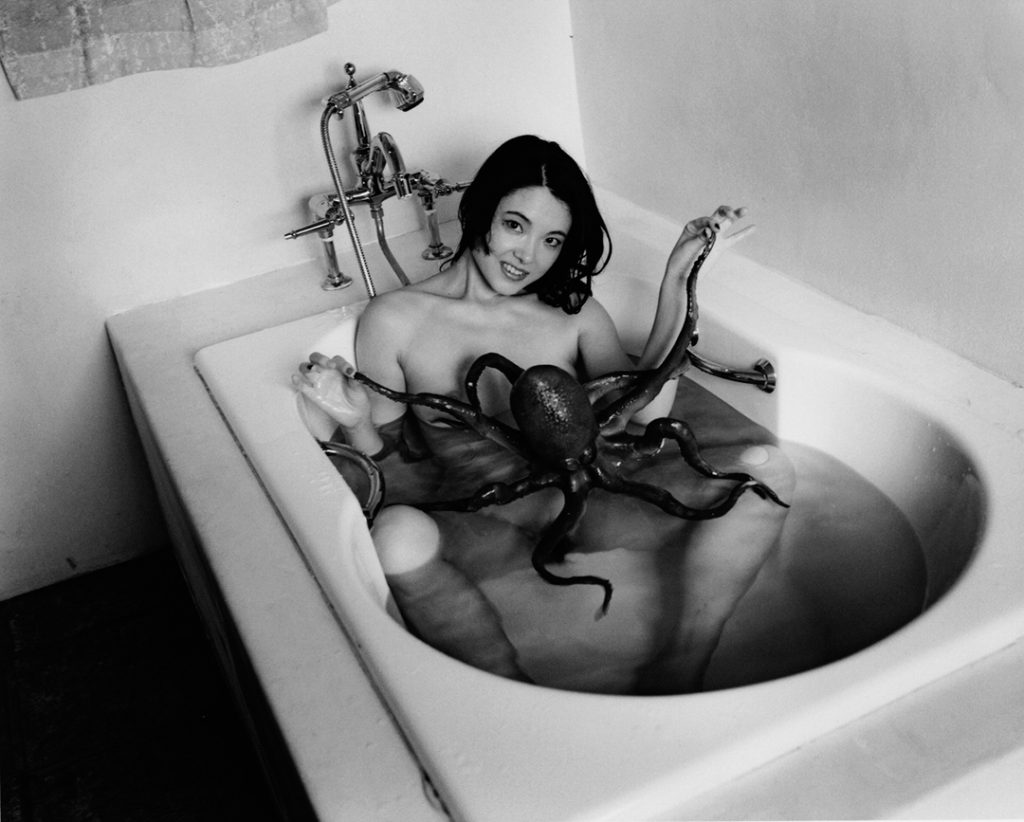 Commissions
Commissioned by Italian luxury label Bottega Veneta, Araki photographed Saskia de Brauw and Sung Jin Park in Tokyo for the brand's spring/summer 2015 campaign. In 2014, the Italian philosopher Mario Perniola wrote the essay Araki's Hell, included in the volume "Photography for the Afterlife".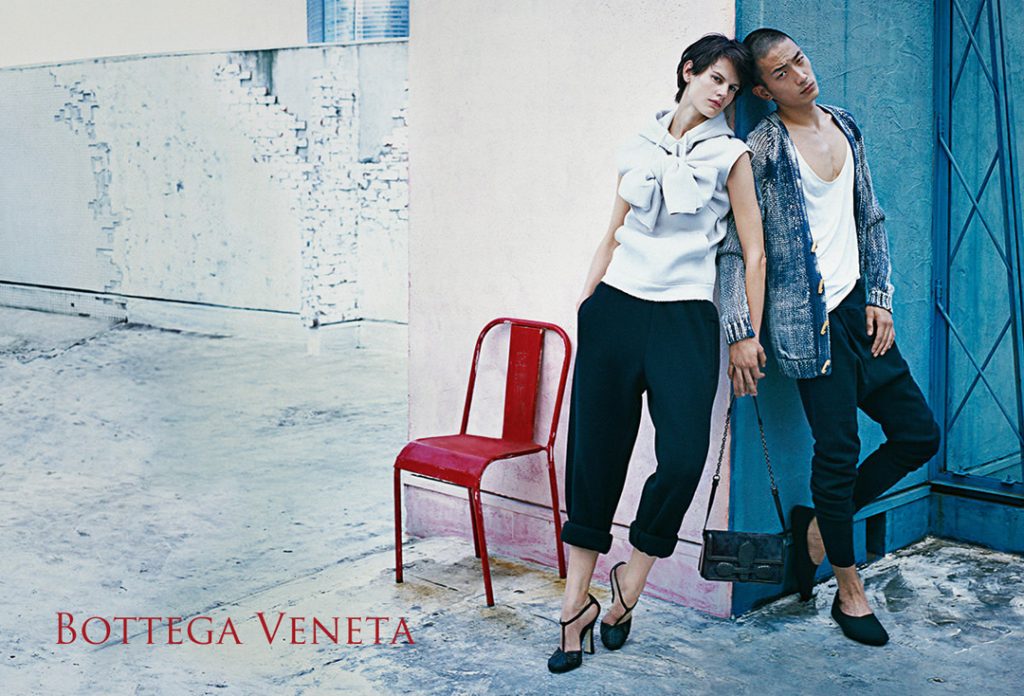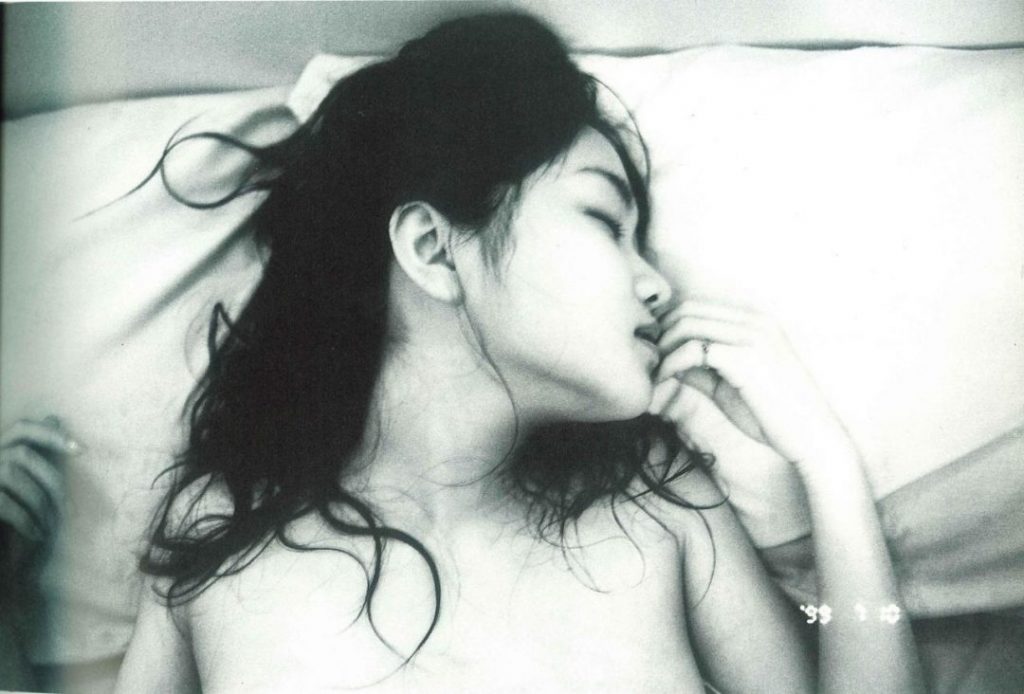 They diagnosed Araki with prostate cancer in 2008, and he has since undergone surgery which successfully removed the tumor. We hope he enjoys many years of continued health and success. In October 2013, Nobuyoshi Araki lost the vision in his right eye due to a retinal artery obstruction. Being 74 years old at that time, he utilized this as an inspiration. The Taka Ishii Gallery in Tokyo held the exhibit "Love on the Left Eye". Now that's dedication to ones' art.
Although he doesn't seem married to any brand, I would guess the Pentax 67
is his most beloved camera. But I've seen him using everything from a  Yashica SLR
to the Fuji Klasse
. But, irrespective of what he uses, the image still looks like an Araki.