Dorothea Lange and her Graflex
They were the best of times and the worst of times. And Dorothea Lange and her Graflex were there to record it. From portraits of displaced farmers to portraits of the unemployed men who on the city streets. This was the Great Depression, and recording both the hope and despair of the times was seemingly Dorothea Lange's passion. While Walker Evans and others were interested in a more structured beauty, it was Dorothea Lange who almost single handedly invented true, raw documentary photography.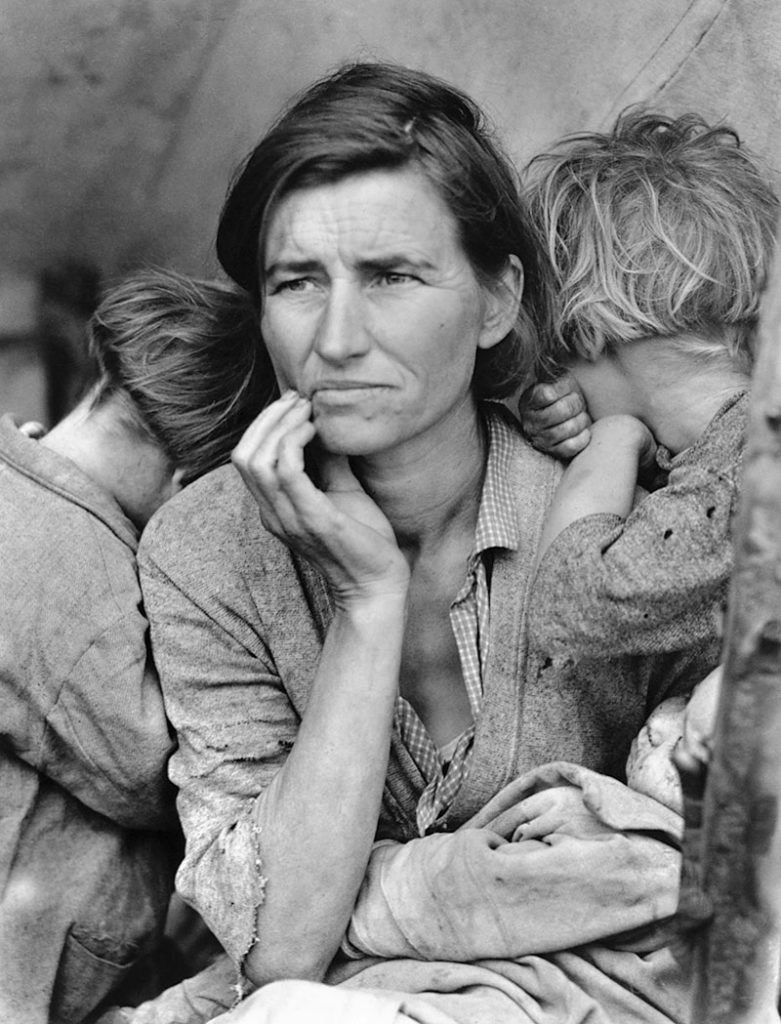 Dorothea Lange – 20th Century Woman
Dorothea Lange was born in 1895. Because she was stricken by polio when she was only 7, leaving her right leg obviously weakened, she was subjected to bouts of humiliation and sadness that directly affected her work. After working in a photo studio in 1914-1915. In 1917, she studied with Clarence Hudson White at his school of photography. That, along with studying art at Columbia University, gave her a breadth of photographic knowledge usually reserved for men in that era. After all, cameras were bulky and heavy, and the chemicals corrosive. Not a very ladylike endeavor for an early 20th century woman.
By 1918, she was living with her husband, muralist Maynard Dixon, while she ran a fairly successful portrait studio.By the 1930's, she ditched the hubby and started documenting the San Francisco neighborhoods, labor strikes and breadlines. It was the start of the Great Depression and the subsequent start of her formidable documentary career.
Documentary and the Graflex
Over the next five years she documented rural hardship as she traveled around the country for the Farm Security Administration. This body of work included Lange's iconic most image, "Migrant Mother". It was her Mona Lisa. All the while using a Graflex D,….a monster of a camera. She eventually settled on a Graflex press camera for most of her images. Much less unwieldy, but still 4×5 negative. Later documentary and war photographers, like Robert Capa, mostly changed over to the first 35mm cameras. But Dorothea pretty much stuck to the 4×5 even after this "revolution".
Much of her work now hangs in the Library of Congress. She had her first show at the Guggenheim in 1934. But in 1940, she was the first woman ever to receive a Guggenheim fellowship.
A Shameful Era
Her importance in the war effort included documenting the Japanese internment camps, and the conference that eventually created the United Nations. She sometimes grew frustrated that her work didn't inspire more social change and address the myriad of injustices she had witnessed in her travels across America's great dust bowl.
In her later years, Dorothea Lange co-founded the publishing house Aperture, and went on many assignments for Life magazine to places as far as Pakistan, Vietnam and Korea. She died in 1965. But her work is a great inspiration for many documentary photographers to this day. Graflex Cameras