Andre de Dienes – Love Affair
I'm not sure why everyone thinks that Bert Stern was the exclusive photographer of Marilyn Monroe. But way before Bert Stern was Andre de Dienes, one of the first Marilyn photographers. Even when she was still Norma Jean. He was born in Transylvania, (Hungary), in 1913. At age 15, with the death of his mother, de Dienes packed up and left home, heading west across Europe in 1928, mostly on foot, until he arrived in Tunisia. His first camera, a 35mm Retina, started him on his photographic journey about this time. He continued on his travels, and arrived in Paris in the year 1933 to study mostly art. It was at this time he would purchase his second camera, a Rolleiflex TLR
. It was with that Rolleiflex that he turned from art to film. Luckily, that switch, along with the new camera, resulted in his working for publishing companies such as the communist newspaper La Humanite and The Associated Press until 1936, when Parisian couturier Captain Molyneux saw his work and urged him to take up a role as a fashion photographer.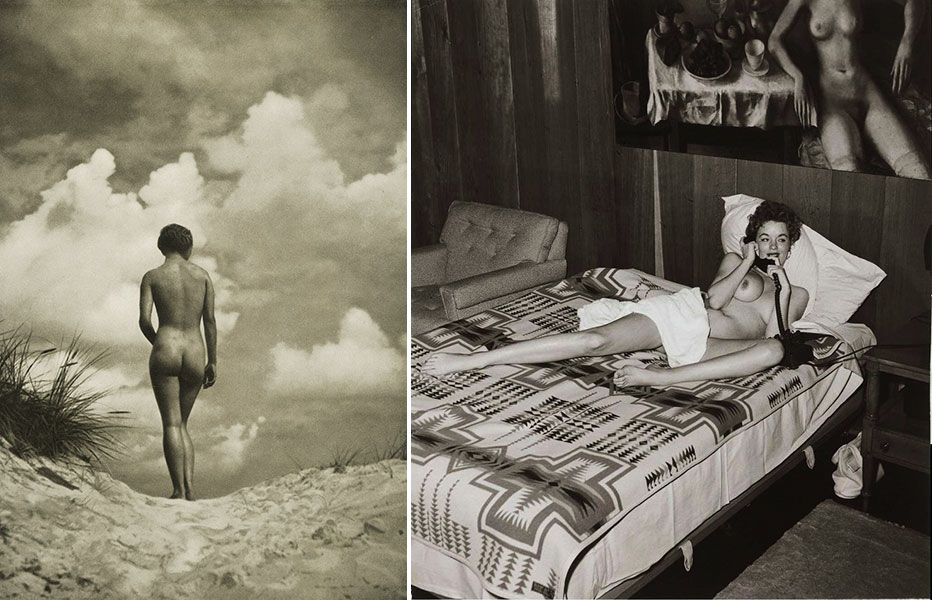 Andre de Dienes – From Fashion to Nudes
1938 would be the year in which de Dienes received his big break when the editor of Esquire magazine gave him an assignment with the magazine in New York, even financially helping with the cost of the trip. Upon his arrival in New York, he began working for Esquire, Vogue, Life magazine and also Montgomery Ward. When Andre de Dienes grew dissatisfied and bored with his role as a fashion photographer, he packed his bags for Hollywood, California, where he began his work on nudes and landscapes. He considered it bad form to alter or manipulate any photograph, citing that it was the endurance, the skill, the patience and the imagination of the photographer that made his work great. Something not in vogue at the time. Especially in Hollywood.
The year 1945 would be a highly notable one for Andre de Dienes, for this was the year he would first meet and work with the young lady the world would later come to know as Marilyn Monroe. At the time, the nineteen year old Norma Jean Baker was a model on the books of Emile Snively's Blue Book Model Agency, and after taking a call from de Dienes and being informed of an idea for a project involving artistic nude shots, Ms. Snively informed him of Norma Jean, a new name on her books, who she thought might be interested in the job with Andre de Dienes.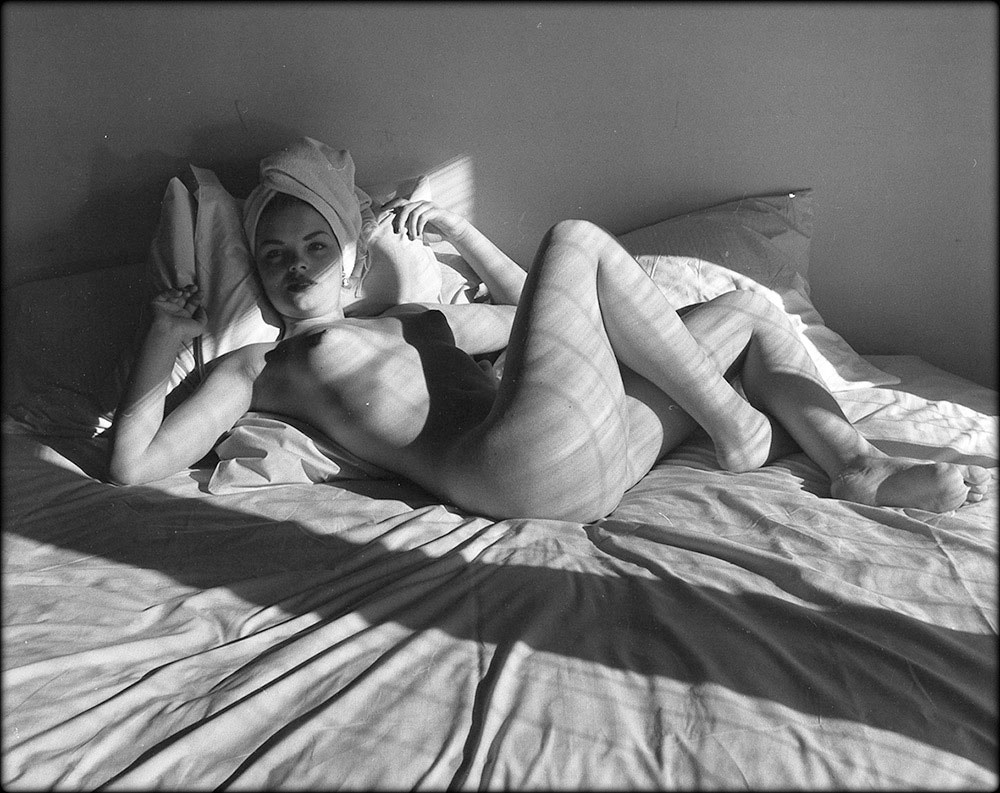 Love at First Sight
In his memoirs he remembers the first time he met Norma Jean vividly and with much affection and enthusiasm; "When Norma Jean arrived at my bungalow later in the afternoon, it was as if a miracle had happened to me. Norma Jean seemed to be like an angel. I could hardly believe it for a few moments. An earthly, sexy-looking angel! Sent expressly for me! The impact Norma Jean had on me was tremendous. As minutes passed, I fell more and more in love with Norma Jean; there was an immediate rapport between us. She responded to everything I said. She started to look around in my room examining all the pictures I put on the walls and began asking questions. I had the immediate feeling that she was something special, something different from most girls and models I had met before her, mainly because she was so eager to ask questions about me and the pictures I put on the walls. She wanted to know many things right away, she was interested in me! She was utterly sincere; she did not wish to speak about herself, except when I asked her my own questions. She was sincere in wanting to know who I was and what I was doing with my life, and I began to amuse her exceedingly with all sorts of stories that ran through my mind and I just kept dishing them out to her. I still remember it as clearly as if it happened just recently"
.
She explained that modelling was her new goal, and also expressed interest to him in becoming an actress. He proposed an idea to her, and that was to pack up and leave town for a road trip with him, to find the most beautiful natural scenery to take the most beautiful natural photographs of Norma Jean. She excitedly agreed and a few days later they left Los Angeles and their journey of discovery began. It was at all the places they stopped along the way, from farms to haberdashery stores, gas stations to diners, that Andre de Dienes noticed how Norma Jean seemed to attract men like bees to honey, and felt quite proud to be the one spending time with her in the role of photographer.
More Than Just Marilyn
By 1946, they worked on a shoot again, but by this time she was Marilyn Monroe. The next time Andre de Dienes and Marilyn were to work together was in 1952, just after her nude photograph scandal had broken. (the set she had posed for in 1949 with Tom Kelley). As well as the iconic Marilyn Monroe, Andre de Dienes also photographed Hollywood celebrities such as Elizabeth Taylor, Marlon Brando, Henry Fonda, Shirley Temple, Ingrid Bergman, Ronald Reagan, Jane Russell, Anita Ekberg and Fred Astaire. He was considered one of the best glamour photographers' working in Hollywood at the time, and his pioneering techniques, from behind the lens to in the darkroom, were well documented in major publications such as Classic Art Photography, and many other periodicals of the day.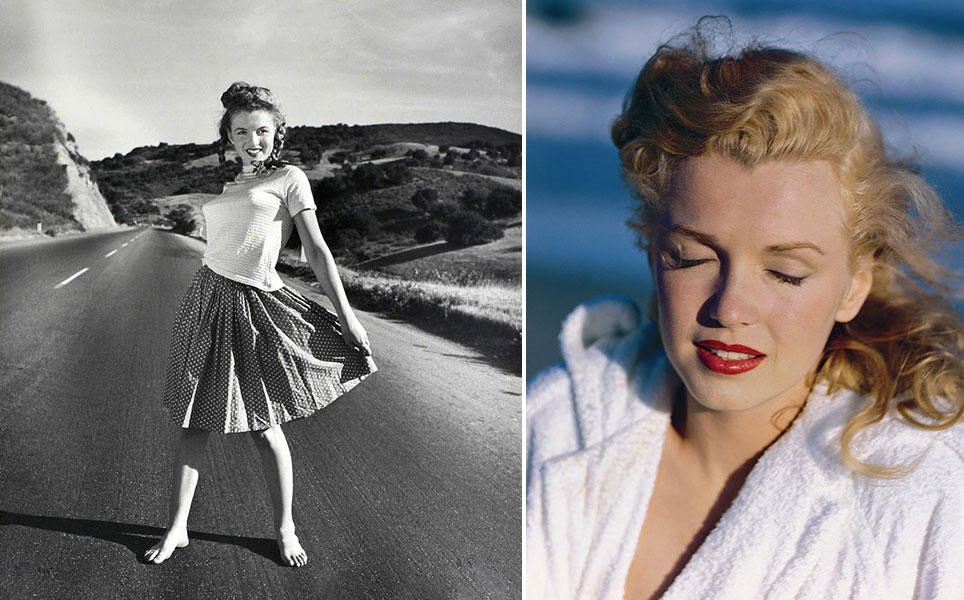 Andre de Dienes died in 1985. His work, can be summed up no greater than in the following quote; "Andre de Dienes was a man not interested in the glamour or the politics of his work. For him it was about creating …. the feminine ideal." If I had to pick a favorite of all his books
, it would be "Best Nudes
". But my favorite Marilyn book was "Marilyn, Mon-Amour
". Click the Artnet link below to view more work by Andre de Dienes.