The Chamonix
"The CHAMONIX View Camera manufacturer is actually a small workshop of eight experienced craftsmen located in the Land of the Rising Sun: Haining city of Zheijiang Province, China. The founder of the company is himself a Chinese photographer and mountaineer. The mission is to design and build the lightest, most rigid and yet aesthetic cameras for large format landscape photographers. Chamonix can rightly claim to offer cameras designed by photographers for photographers."
Well, I thought that Japan was the "Land of the Rising Sun". Guess there's more than one.  Anyway.
The Chamonix View Camera -Sizes!!
This is an observational treatise on the Chamonix 4×5
45F-2. But, in fact, Chamonix makes a lot of view camera models and sizes. Since they are made by a small group of craftsmen, I would assume some of the sizes are only ordered very infrequently. How infrequently? Well their sizes include, 4×5, 5×7, 5×8, 4×10, 6.5×8.5, 8×10, 7×17, 8×20, 11×14, 12×20, 14×17, 16×20 and 20×24! Oh, yeah,…and "custom". Pretty much anything a wild-eyed photographer with an equally wild-eyed imagination can think of. "Yeah,…but you can't get film for those sizes!" Trust me,…if you're shooting 20×24, you have already committed to glass plates, tin types, Liquid Light and other Alternative Processes. In fact, it wouldn't surprise me to finding a Chuck Close or Gregory Crewdson blowing everyone away with a 12×20 format. Or, better yet, a brave, unknown soul.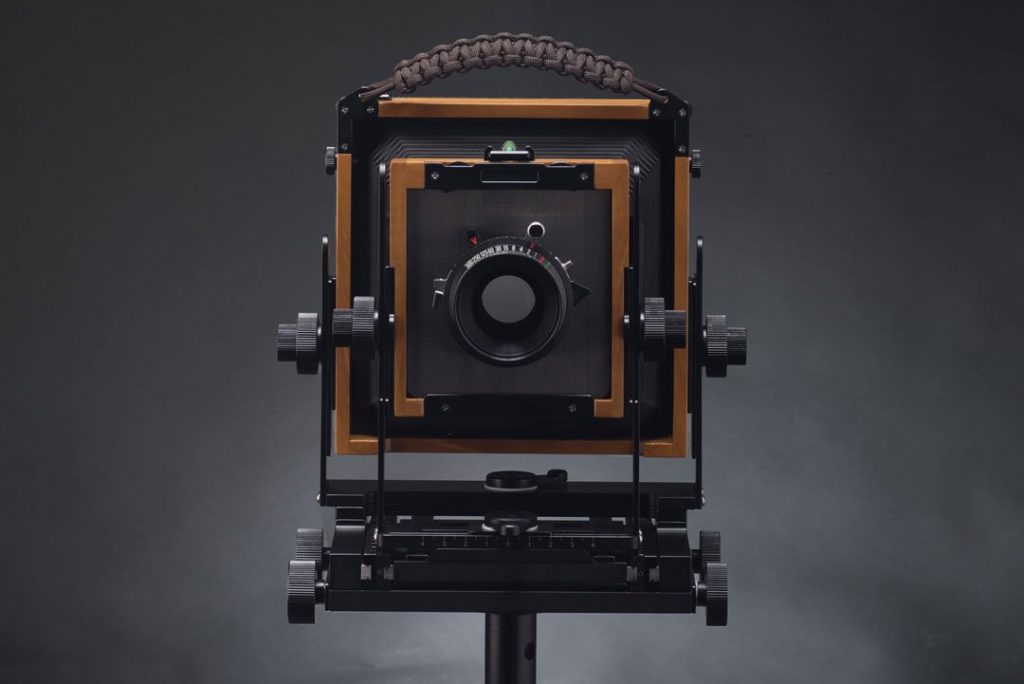 However, getting our heads out of the clouds,…the rear standard lifts up on the Chamonix view camera 45F-2 and is locked in place with two knobs on either side. Probably the same on any size. Lugs are in place to hold it at 90°. They can move forward or backwards with minimal effort. Weirdly, the front standard is not attached to the base plate. I would refer to this as a true view camera, with extensive movements. (as opposed to a "field camera") The front standard screws into one in a row of screws on the base plate. Which makes sense when wanting to accommodate a variety of lenses.
How Wide Can You Go?
The camera bellows can be used for very wide angle lenses and long lenses. You can attach a bellows bag, but I'm unsure what the lens would be to need it. The bellows minimum and maximum settings can easily be used with a 75mm to 210mm lens. In 35mm camera terms, a 75mm
lens is about a 23mm lens. I have seen large format lenses go down to 47mm. Which would be a 14mm equivalency. Anyway, the option is there. The lens boards are the fairly common Linhof type. (99mm x 96mm)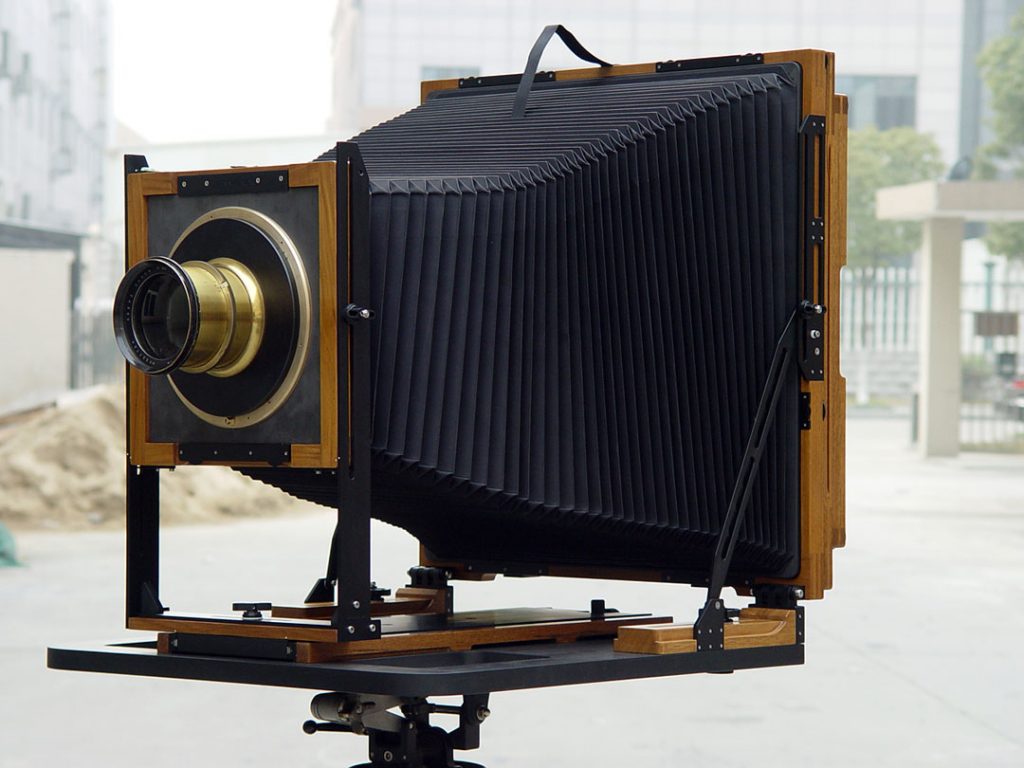 The Chamonix view camera has 5 spirit levels attached to it. I'm unsure if all sizes have the same, less or more. Since I've never owned a view camera with levels, (other than add-ons), I was impressed with the forethought in the design. As you can tell from the chart, movement is only limited by the bellows. I can't imagine a situation where you would need more movements. (I'm sure they exist, and someone will chime in)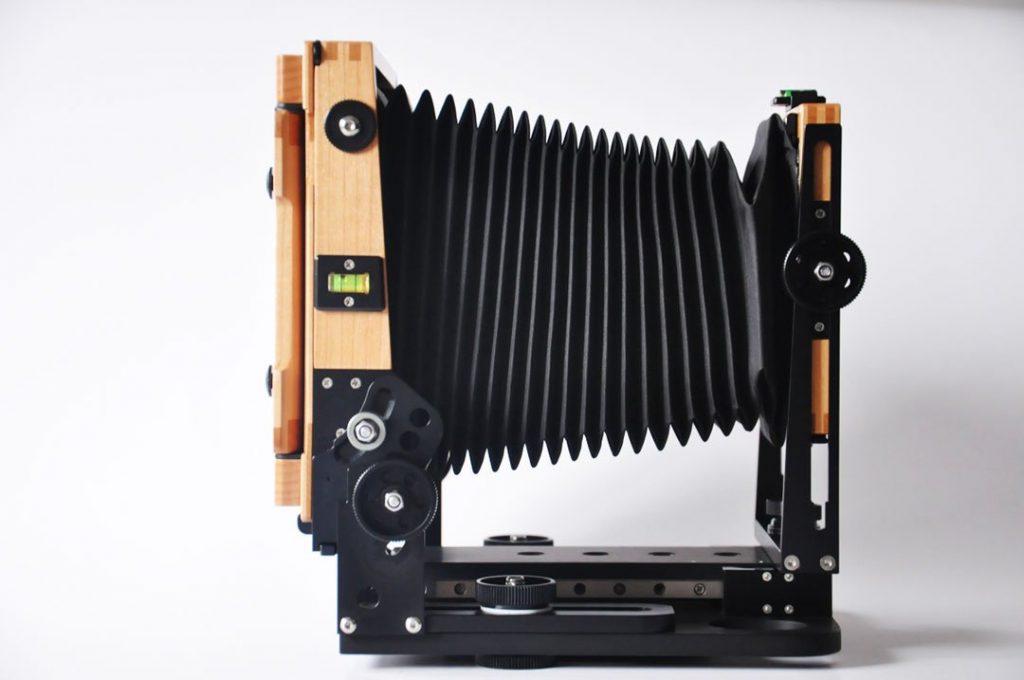 The Beauty of Wood
While the camera is made of either teak or cherry, it has a sufficient railing and knobs/levers of metal to make it structurally stiff. Yet, like a good field camera, is light enough to take backpacking. But it's versatile. So, it can be used for general work, still lifes, food photography or architectural. If I had one thing to pick about the camera that most impressed, (besides it's beautiful), it would have to be the focusing knob on the rear of the camera. With tight tolerances, Chamonix has been able to provide a focusing mechanism that works, is ergonomic, and doesn't require 'stretching' to blindly focus with front knobs. Why it took so long to figure that one out is beyond me.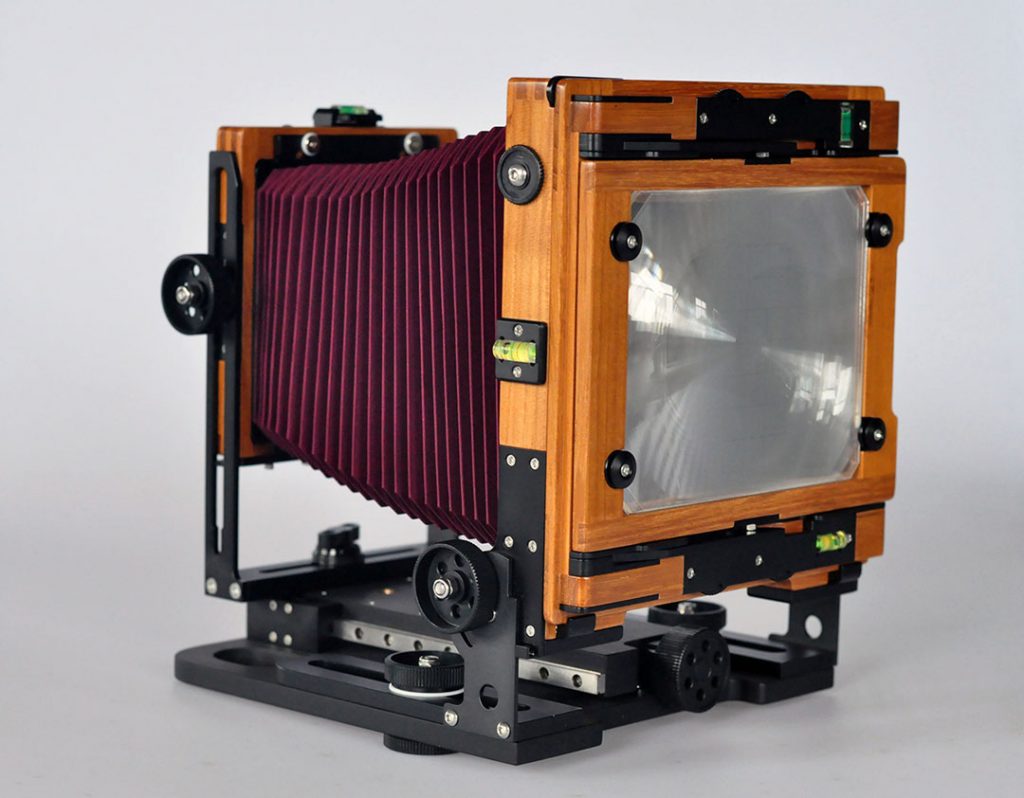 And, yes, there are lots of accessories available. Including extension boards, (macro), roll film holders with a Gaflok holder, a wider angle bellows and a few different viewers. Backs are easily moved from portrait to landscape orientation with simple locking mechanisms. Folding it up is a little clumsy, but probably just takes practice. But everything else, from bellows to viewers are easy changes in the field. Being a bit shallow, my first response is to comment on it's beauty. But this is actually an excellent camera for day to day photography. Check out the site link below, and the little video on the differences between the Chamonix View Camera 45F-2 and 45F-1.
 45F-2 SPECIFICATIONS

Accessories

 Focus Hood, Lens Shade, etc.

Bellows

Maximum

 395 mm

  Minimum

   52 mm

Movements

Front

Rise : 45 mm

 Fall  : 30 mm

 Shift : 20 mm

 Tilt   : Limited by Bellows

 Swing: Limited by Bellows

 Rear

Tilt : 20 degree Backwards, Forwards Limited by Bellows

 Swing : 20 degree Total

 Shift  : None

 Weight

 3.52 lb/1570 gr

 Comes with  : Ground Glass with Intensify Screen, Carbon Fiber GG  Protector, Camera Wrap.