Vivian Maier – Street
I've see the story of Vivian Maier a thousand times, and I come to the same conclusion each and every time. She was an extremely talented photographer with very low 'self worth'. People get mad at me when I say that, but like it or not, it's true. What serious artist would not promote themselves in some manner to get public exposure? Would you have me believe she was an undercover nun or monk who had taken a vow of poverty? I do understand that she wasn't fond of mingling with people,…especially adults. In effect, she was an 'urban hermit'. I don't say this without a touch of sadness. With artistic support, could she have been even more?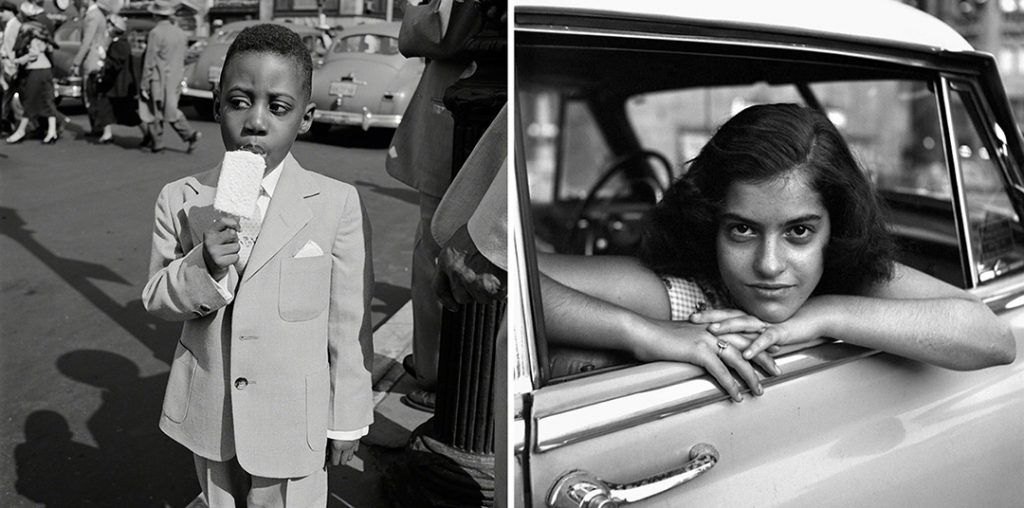 The Brilliance of the Work
Her subjects are a curiosity to many when trying to rectify her apparent voluntary arms length demeanor from people. However, she almost exclusively used a Rolleiflex. So what you think is intimate eye contact is actually a subject looking at a lens. She is peering downward into a viewfinder at the 'decisive moment', thereby not engaging directly with her subject. Maybe another ploy to keep her distance from a humanity that she obviously wanted to intimately, (and brilliantly), engage with. But I'm not a qualified psychiatrist,…so, forget my ramblings on the inner workings of Vivian Maier and her psyche. All that matters is the work.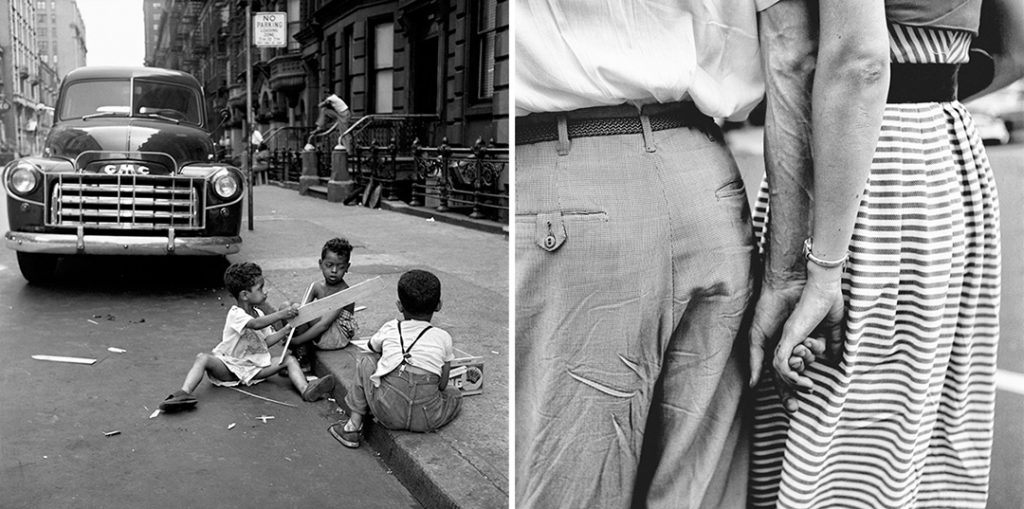 John Maloof was co-writing a book of his Portage Park neighborhood of Chicago, for historical and real estate reasons. (he was a realtor) In his hunt for vintage architectural imagery, he purchased a box of negatives at an auction house. He hoped a few vintage photos of his neighborhood of Portage Park would be in the mass of negatives. Alas, no Portage Park. Although not a photography aficionado himself, (he probably is now), he posted about 100 of the images on Flickr. The response was overwhelming. At that point, he realized what he found probably held even more importance than he imagined.
The Cameras
She did use other cameras, and in fact started off using a simple Kodak Brownie box camera. But soon, she graduated to a Rolleiflex. She wasn't a particularly sneaky street photographer, as she always carried the Rolleiflexes around her neck, while simultaneously taking care of children. (for whom she was a nanny) First in New York, and then from the late 50's, in Chicago. She mostly used a Rolleiflex 3.5T
, Rolleiflex 3.5F
, Rolleiflex 2.8C
or Rolleiflex Automat
. But she did have other cameras she used once in a while, including 35mm. I even have a pic of her with a Leica around her neck. But I think she was most comfortable with the Rolleiflex.
She seemed to make photographs for the reason all photographers should take photographs. She had no choice.But her work was never exhibited while she was alive. In fact, she never showed her work to anyone! So, I'll just say it. She was probably the most ego-less photographer that ever existed. Joel Meyerowitz said of Maier's images: "They are full of wit and surprise and playful spirit. Her basic decent humanism is evident everywhere in her photographs." Her name is now bandied about in the same circles as Henri Cartier-Bresson, Garry Winogrand, and Diane Arbus. She was aware of their work, as indicated by the books she left behind. How much they influenced her is hard to say. But she definitely didn't directly emulate any of them. Vivian Maier stayed true to Vivian Maier and her surroundings.
Favorite Books
There are still 10's of thousands of images to see the light of day. But John Maloof seems to be doing a fine job on this monumental task. I have 3 favorite her books. Each amazes more than the last. 'Finding Vivian Maier
', 'Vivian Maier-Photographer' and 'Vivian Maier Self Portraits'. All are exceptional, and all have close to 5 stars on amazon. To view more work from Vivian Maier, and view upcoming exhibits, check her website link below. Yes! She has made it to the 21st century with a website.