Toyo 4×5
field camera being "cheapo" may be stretching it a bit. But, amazingly, you can still buy this camera new! And for just a little over $900! And used,…they're a giveaway.
Toyo 4×5 field camera – Still in Business
Now for anyone who's seen a 4×5 negative or positive and held it in their hands, they'll tell you there is no experience to compare. (except maybe an 8×10,…like manna from heaven) A lensboard with a nice 150mm Fujinon or even Schneider lens is the formula for magic. Now I know there's the "inconvenience" of large format, and the whole setup routine for every image. I certainly wouldn't advise a "street" shooter to go this route. (though it would certainly make you "special" in the eyes of your subjects) But for those with the will and dedication, there are few greater rewards in photography.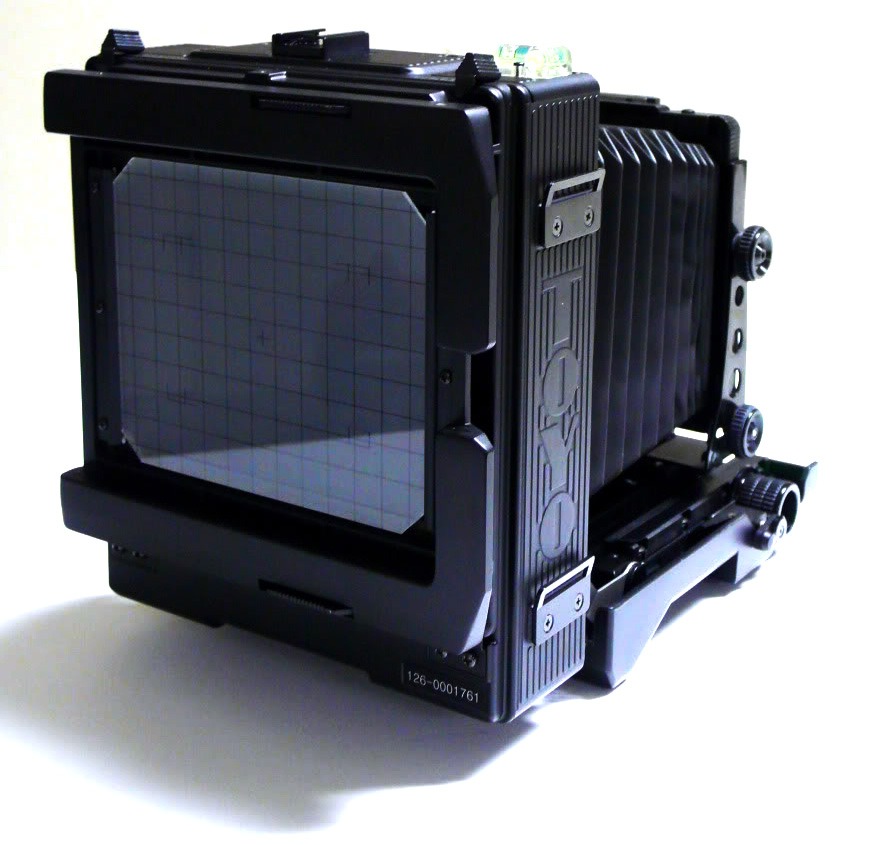 Mercedes or Honda?
The 'Mercedes' of view cameras are probably the Sinar,…uhhh, or the Arca Swiss and Linhof. Hmmm, maybe the Deardoff. Hell, I don't know. Anyway, I own an old wood Wista, and like the Toyo, they are considered the 'Hondas' of view and field cameras. (similar to Tachihara) If you like wood, they are great, too. Mostly because you have a little less super precision control of movements, and the "quality" of the build. That said, I've never had an issue. Maybe because I'm a 'people' photographer, and don't require the excessive movements usually reserved for the architectural and still life guys. The main difference between the "views" and the "fields" is a little less in the movements department. But I prefer the field versions for their portability, lightness and compactness.
No Complaints,…Cheap or Not
The Toyo 4×5 field camera has all the capabilities of any large format camera but in a much more affordable package and lightweight housing. Toyo, a Japanese company, is probably the leader in large format cameras, no doubt due to reliability and cost. Like I said, the 'Hondas' of large format. Now, that's not a bad thing, as you with Hondas can attest. Gets you from point x to point y with no problems.
It's actually great for location shooting because of its Carbon Fiber construction. (weight) It's quite a bit lighter than  the all metal models out there. It's great in the studio or location. No complaints in that department. (one caveat,…get a sturdy tripod) But I have seen Albert Watson shoot 4×5 "handheld"!
Beginner or Pro?
It's great for beginners because of cost, but equally at home with the pros because of weight.
Camera movements are extensive for most (99%), with front standard rise and fall, tilt, swing and shifts, along with drop-bed adjustment, offering control of depth-of-field, perspective and distortion. The Toyo 4×5 field camera includes a versatile tapered bellows, which provides extensive front standard movements while enabling compact bellows compression for portability. A full range of focal length lenses ranging from a 90mm wide angle to a 400mm telephoto, are fully compatible when mounted on a flat lens board with the 45CF. A unique lens window shows which lens is mounted without the need to open the camera.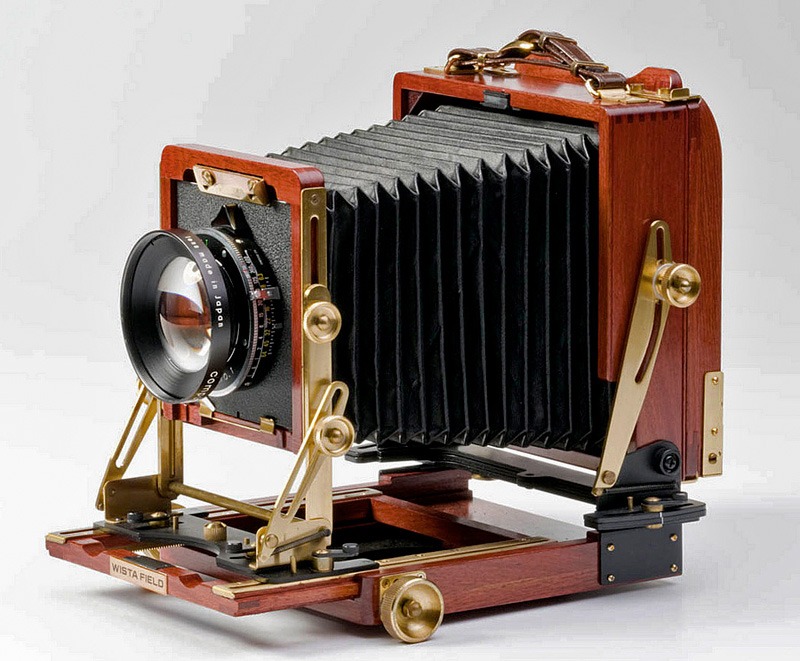 Swings, Tilts and All That Stuff
The front and rear standards offers tilt and swing. With these controls, correction of distortion, adjustment of depth-of-field, and manipulation of selective focus are all possible. Tilting the lens stage forward or backward will extend the plane-of-focus far beyond the effects of using small lens aperture. For ultra close-up photography, the extended bellows provide macro magnification capabilities without the need for accessory extenders or macro lenses. And, of course, there's the Graflok back, making film loading a piece of cake.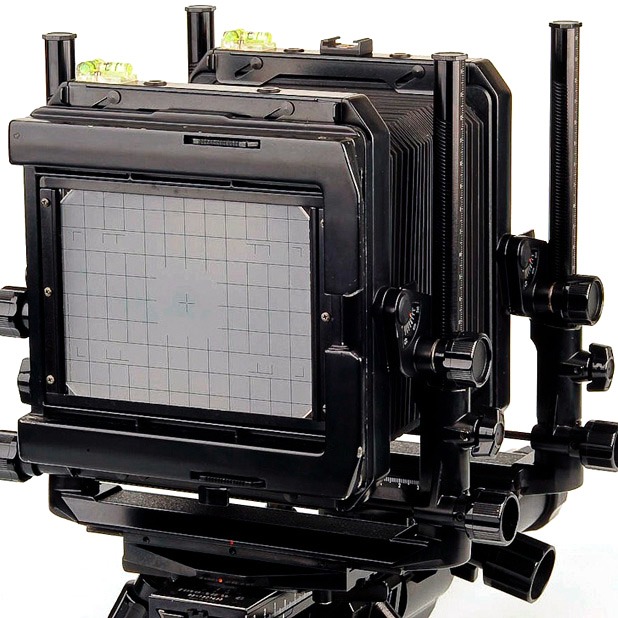 Extensive Pros
Lightweight, compact, all polycarbonate/carbon fiber folding field camera.
Compact folding design.  (with lens attached, too)
Stainless Steel, Aluminum die cast hardware.
Vertical/Horizontal reversible back.
Rack and pinion, front bed focus with locking lever.
Drop bed capability for use with ultra-wide angle lenses.(I've never done this)
Calibrated front bed for use with infinity stops.
Front standard movements all have default markings and detents.
14″ maximum bellows extension.
Built-on accessory shoe.
Includes both 1/4″ and 3/8″ tripod sockets.
Accepts almost all Toyo 4×5 system accessories.
From Toyo Website
Tilts Front: 15° backward, Rear: 15° backward
Base Tilt, Front & Rear: 90 + 15°
Swings Front: 20° right and left
Rise & Fall Front: 28.5mm rise, 20.5mm fall
Bed drop: : 15°
Shifts Front: 28.5mm left, 28.5mm right
Camera Back Reversible Vertical/Horizontal International Standard Graflok
Ground glass with acid etched grid-lines, 6×7 and 6×9 markings
Interchangeable Bellows No
Minimum Extension 3.16″ with flat lensboard
Maximum Extension 14.04″
Lensboard Toyo 110 x 110mm flat or recessed boards, or misc lensboard adapters
Weight 3.42 lbs (without lens or accessories)
Of course, you could always go for the 45A,…better built,…otherwise, pretty much the same. (better controls) Find Toyo 45CF