The Rolleiflex…
35mm Rollei cameras have been pretty normal fare,(sorta)…until the Rolleiflex SL 2000 F. While production seemed painful after the fanfare at Photokina, it eventually got done. The biggest problem with this camera? (and subsequent 3003) Tradition. Photographers, whether they like to admit it or not, are a pretty reactionary bunch. Anything too radical, and their hair catches fire.
A Rollei 35mm SLR
But, enough with the op ed. Most would agree the SL 2000 F
was way ahead of its' time. Electronic shutter, built in winder, regular viewfinder plus chimney viewfinder and interchangeable dark slide magazines. All in a body smaller than an F3 with winder! If you want my opinion, the woeful lack of marketing was a pre-cursor to the death knell for this amazing camera. I doubt 1 in 10 photographers even knew about this beauty. Sadly, after the 3003, Rollei left the 35mm SLR market for good.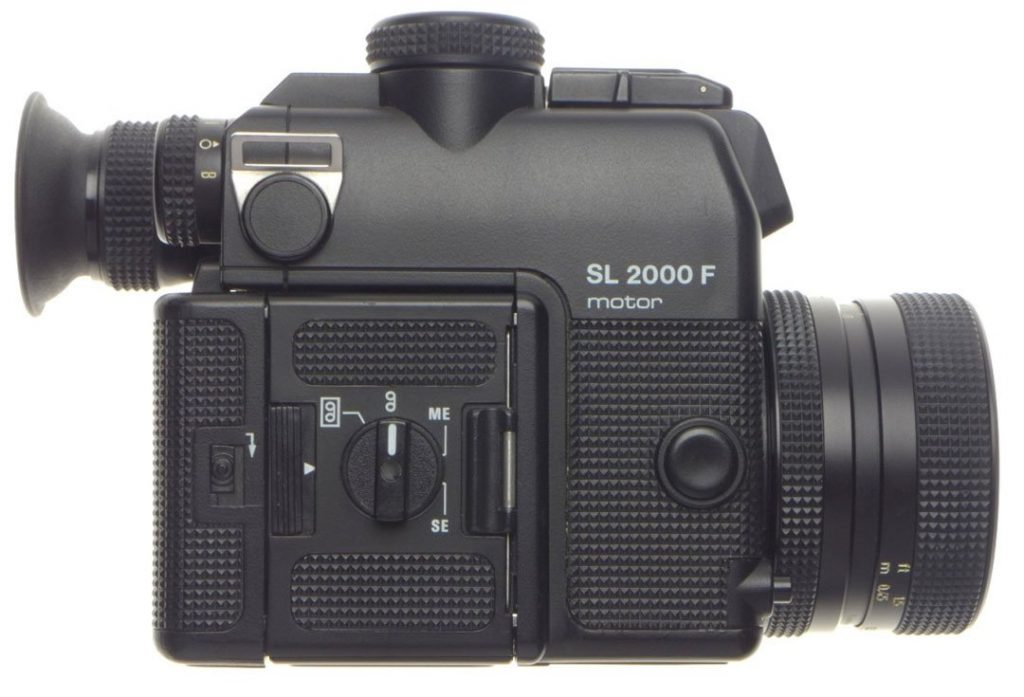 Both a chimney and eye-level viewfinder with adjustable diopter was part of the body. The interchangeable film magazine, (including darkslide), was a great improvement over the only other camera ever to have one. (the Zeiss Ikon Contarex) The Rolleiflex 3003 was basically an upgraded version of SL 2000 F. The main differences were small.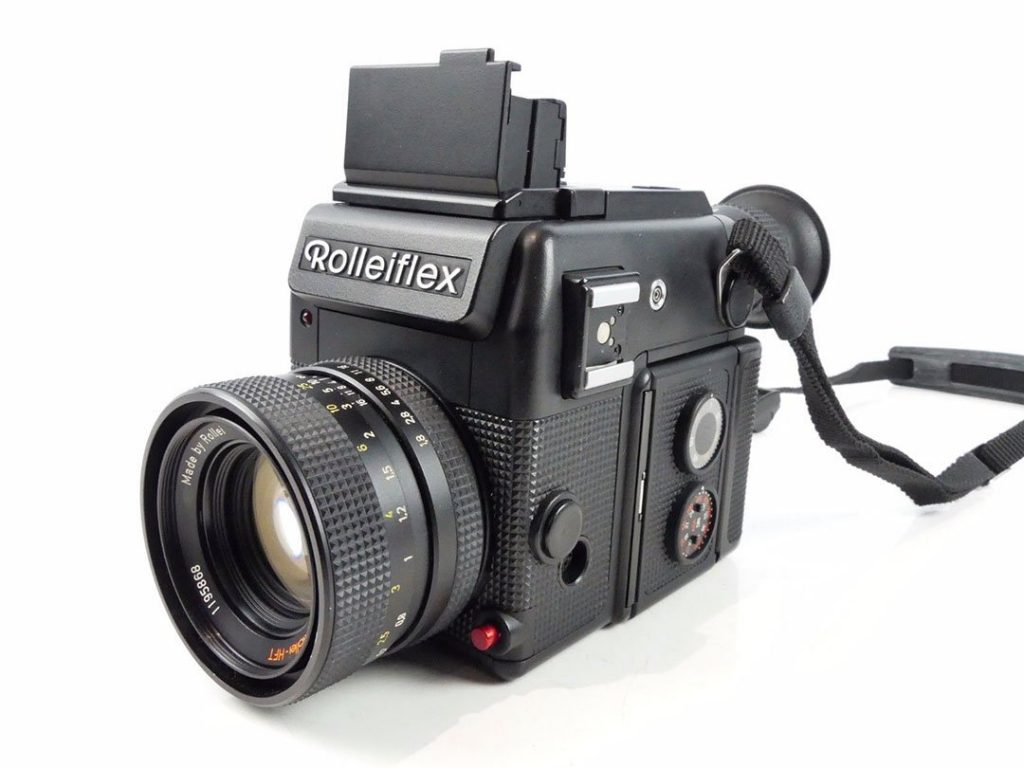 SL 2000 F vs. 3003
'Rolleiflex 3003' logo instead of a plain 'Rolleiflex'.

A video camera type of handgrip was installed on the 3003.

Shutter speed increased to 1/2000 on 3003 as opposed to 1/1000 on SL 2000 F.

Flash indication in viewfinder as flash symbol instead of a red dot.
The biggest user complaint seemed to be occasional magazine jamming. Rare, but it did happen sometimes. Other than that, it was a very reliable camera. Built to the normal Rolleiflex high standards, and sporting the exquisite Zeiss lenses. Most people weaned on traditional SLR's found a small learning curve on using the camera.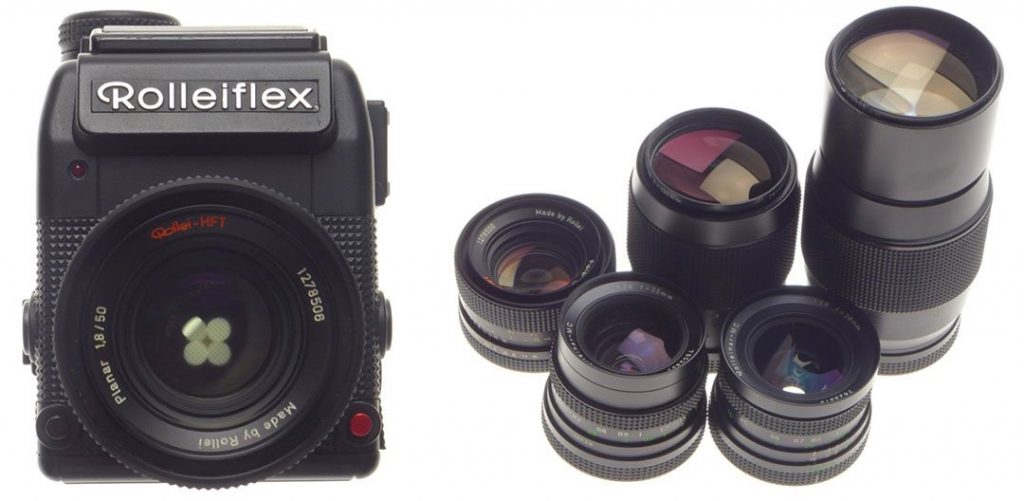 Rolleiflex SL 2000 F Metering
The metering system used on the Rolleiflex SL 2000 F (and 3003) was quite different from the rest of the Rolleiflex medium format models. Rollei has always used a basic center weighted metering. The meter used more of an scene based meter, combined with a spot meter. Both aperture priority metering and full manual metering, plus exposure lock and EV adjustments.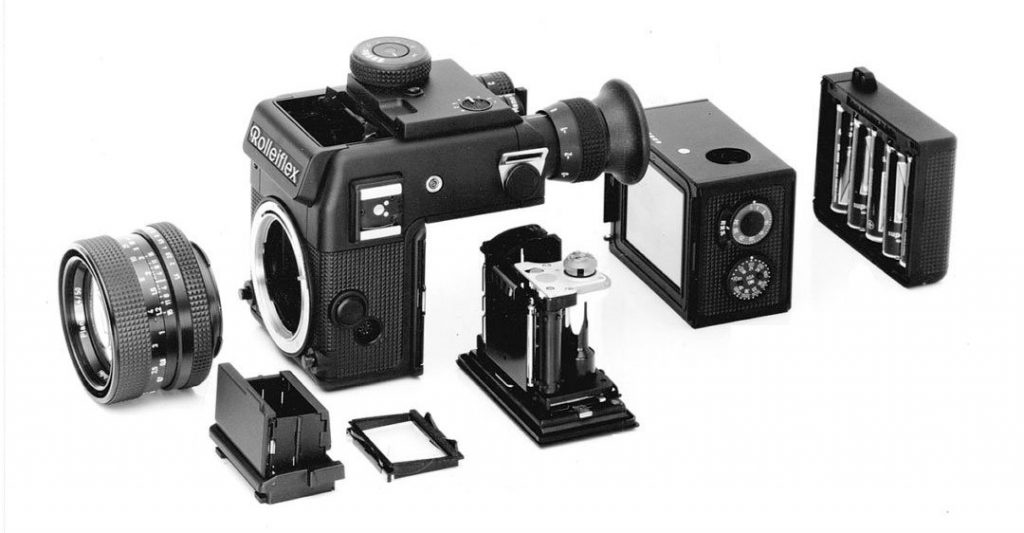 Only an electronic cable release was available for both cameras. However, using the ME2000, mirror lock up is possible. A great addition to a 35mm camera. Both models use 5 AA batteries. While it can use alkaline batteries, NiCd rechargeable batteries actually work better than alkaline ones. NiMH batteries can also be used. The original release provided empty battery housings. However, later models supplied only intergrated NiCD battery packs. I feel this was not an improvement. What do you do when they go bad? I suppose replace them with the original empty battery housing. 😒
Even Rarer – The Simplified Version
There was also a 3001 model, which was a simpler version of the 3003. The 3001 body only came with the top release button. The 2 side release buttons were removed, as well as the chimney finder. Otherwise,….the same camera.
Despite the awesome licensed Zeiss optics, I'll concede these cameras are not for everyone. If you're a manual camera aficionado, and auto film advance or reliance on batteries, will probably freak you out. Although this is a manual focus camera. Think of it like having a Nikon F5 and using a manual focus lens. Either/or, this is an exceptional, (but rare), camera.