The Leica Z2X
Like Rodney Dangerfield, this is the only Leica that seems to get "no respect". Why? I have no clue. I guess because it's not a solid metal $8000 camera. Certainly no Leica M. In fact, I was a skeptic myself. Build quality is about on par with an Olympus Stylus. And, like the Stylus "zoom", the picture quality is good. Color is good and sharpness is superb. On par with a Yashica T4 or Contax T2? No. But probably about the same as their zoom versions. (I know,…Apples and Oranges) A plus would be the camera is very light and compact, fitting nicely into a jacket pocket.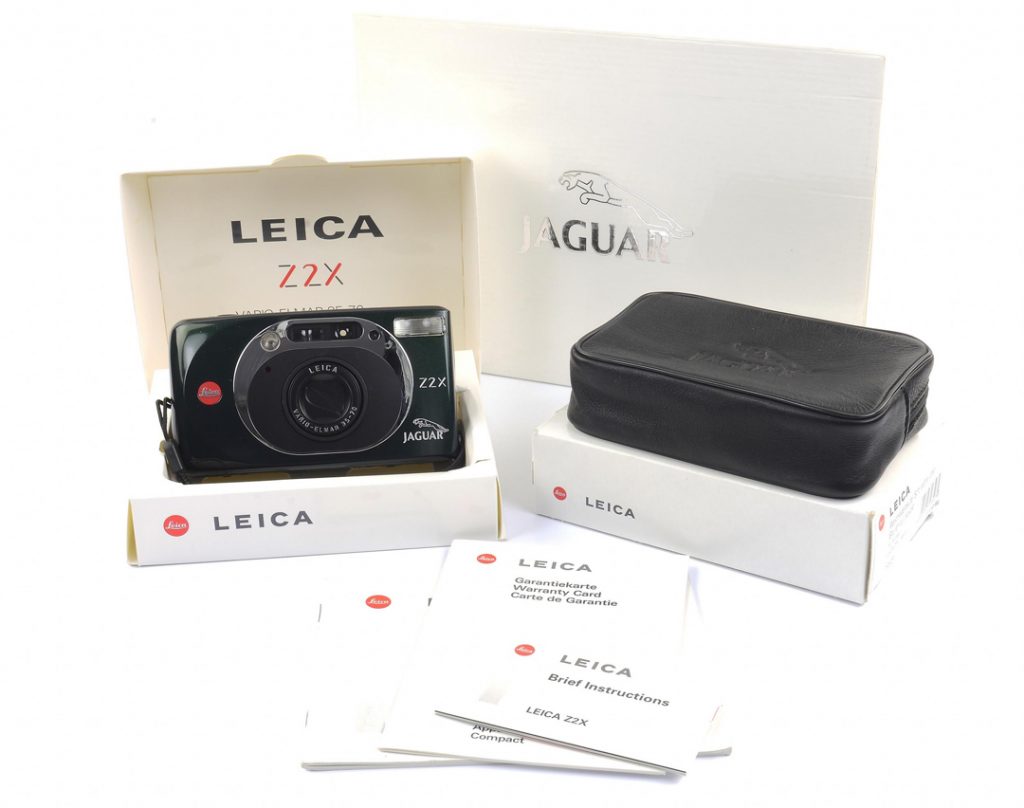 Cons
I do have a few complaints. The lag-time between the red-eye reduction flash and photo flash is quite long. The camera is very noisy when zooming and shuttering, and the "mode" button is anything but "ergonomic". Except for the smart circle of chrome around the lens, the outer case of the camera looks cheap for the price. Well, on par with a Yashica 'T'. The Z2x does not have the "rock solid" feel of more expensive Leica's. But, alas, one buys a camera for picture quality, and the Leica Z2x actually delivers.
Zoom Lens? Eh….
The Leica Z(oom) 2X (with double focal length range) is an exceptionally elegant, handy, fully automatic 35mm-format camera with an excellent 35-70mm zoom lens. It is small enough to be stowed away in just about any pocket and thanks to its minimal weight it`s a pleasure to have around all the time. With it`s reliable passive autofocus-system, the Leica Zoom Z2X
focuses quickly and precisely even at greater distances. The programmed exposure control is combined with center-weighted metering and also fully automatic, ensuring well-balanced exposures. If considered necessary however, it is also possible to intervene manually. Flash-photography is also very easy with the Leica Z2X: as soon as the ambient light deteriorates, the flash is activated automatically. The flash can also be switched on or off manually to influence the mood created by the light. Whether with or without flash, even the very last bits of ambient light can be effectively captured with the help of shutter speeds of up to 99 sec. In such cases the possibility to attach an electric cable release proves helpful to prevent camera shake. It is easy to concentrate on the composition of the image with the Z2X since everything visible in the very bright real-image viewfinder will also appear on the photograph. But technically it's 83%. The Leica Vario-Elmar 35-70mm is a special Leica calculation. The use of high quality optical glass only and the individual lens surface coatings ensure true color -as well as high contrast rendition and exceptionally sharp exposures in any light. With a focal length range reaching from moderate wide angle to moderate telephoto, this lens can capture most of the usual photographic situations: Landscapes and indoor scenes with the distinct wide angle coverage of 35mm, natural looking shots of people in their surroundings with 50mm, and details and individuals that are to be emphasized with 70mm. At f/4.0 to 7.6, it is neither the fastest lens or a lens capable of extended DOF. But, it's kind of normal for P&S zooms of the era.

The Upside?
You really, really, really want a Leica? Well, I've seen these on Ebay anywhere from $50 to about $200 for a packaged mint example. And if you like shopping thrift stores, keep your eyes open. Getting a $5 Leica is not unheard of.
Specifications;
| | |
| --- | --- |
| Lens | Leica Vario-Elmar 35-70mm zoom lens f/4.0 to f/7.6 (7 elements in 6 groups) |
| Camera Type | Point & Shoot |
| Battery Type | Lithium Battery (CR123A) |
| Film Type | Film speed automatically set for DX-coded films from ISO 50 to ISO 3200. With film without DX-coding or with coding lower than ISO 50, the camera is automatically set to ISO 100. With films with coding higher than ISO 3200, it is set to ISO 3200. The settings are as follows: ISO 50, 64, 100, 125, 200, 250, 400, 500, 800, 1000, 1600, 2000, 3200. |
| Minimum Focus Distance | 24 in. |
| Red-Eye Reduction | Yes |
| Autofocus | Passive autofocus system with automatically activated flash |
| Exposure | Modes with automatic flash activation or "ON" (manual flash on). At 35 mm focal length: from exposure value Ev9 (1/30 sec. and f/4.0) > Ev17 (1/300 sec. and f/20). At 70 mm focal length: from exposure value Ev11.6 (1/50 sec. and f/7.6) > Ev17 (1/200 sec. and f25). For manual "flash-off" modes or manual flash activation with long exposure, "SLOW/ON". At 35 mm focal length: from exposure value Ev6 (1/4 sec. and f/4) > Ev17 (1/300 sec. and f20). At 70 mm focal length: from exposure value Ev7.9 (1/4 sec. and f/7.6) > Ev17 (1/200 sec. and f/25). |
| Viewfinder | Bright 83% |
| Additional Features | Self Timer, Auto Exposure, Focus Lock, Panorama Mode |
| Shutter speed | 1/4 sec. > 1/300 sec. "B" setting |
| Width | 4.9 in |
| Height | 2.7 in |