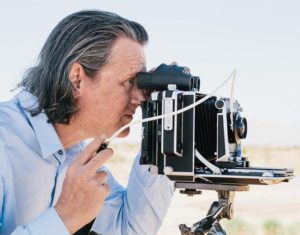 Jeff Wall
was born in 1946 in Canada. He is best known for his large-scale back-lit photographic transparencies. Something that had been formerly reserved for high-end department store advertising. His west coast sensibilities, namely Vancouver, have made him an important artist throughout Canada and the world.Vancouver is a beautiful backdrop, but as most cities around the world, has had its' issues with urban decay, and now over gentrification.
Jeff Wall and Academia
Jeff Wall received an MA from the University of British Columbia in 1970. His penchant at the time appeared to be sending him in a direction of writing and acedemia, as opposed to photography. With his English wife, they moved to London, to continue his post graduate work. His studies on Manet, and becoming an assistant professor at the Nova Scotia College of Art and Design on his return, and subsequent teaching positions, landed him right back in Vancouver. Most people who new him during this period, (mid 80's), would assume he would continue his writings and professorship. However, Walls did experiment in the 70's with the concept of these backlit transparencies as art. Most were staged implementations of writings, as opposed to some sort of outward visual stimuli.

His first exhibitions were in the late 70's and early 80's. Although they were photographic in nature, his concepts were really to present them as "installations". They were large, detailed and even more saturated and 3-D appearing just by the nature of the backlit presentation. All of his work was placed squarely in the genre of "art". Jeff Wall treated the photographic aspect as almost incidental. While much of his work appears candid, and may in fact be a recreated actual scene he has witnessed, they are all staged.
More Work
By the late 90's, art critics began to warm up much more to these large, (5'x7′), displays, and it wasn't long for the word to get out and the art world itself to jump on board. Although he was recognized since the 70's as an innovator/artist. "Picture for Women" is a 4.6′ × 6.7′ transparency mounted on a lightbox. Along with "The Destroyed Room", they became some of his first major successes that challenged the tradition of photography. (presented on paper) It essentially combined the large scale of classical painting with the pop culture of a back-lit Las Vegas sign. As a lightbox, they also took on a sculptural quality, as opposed to a flat 2-D image.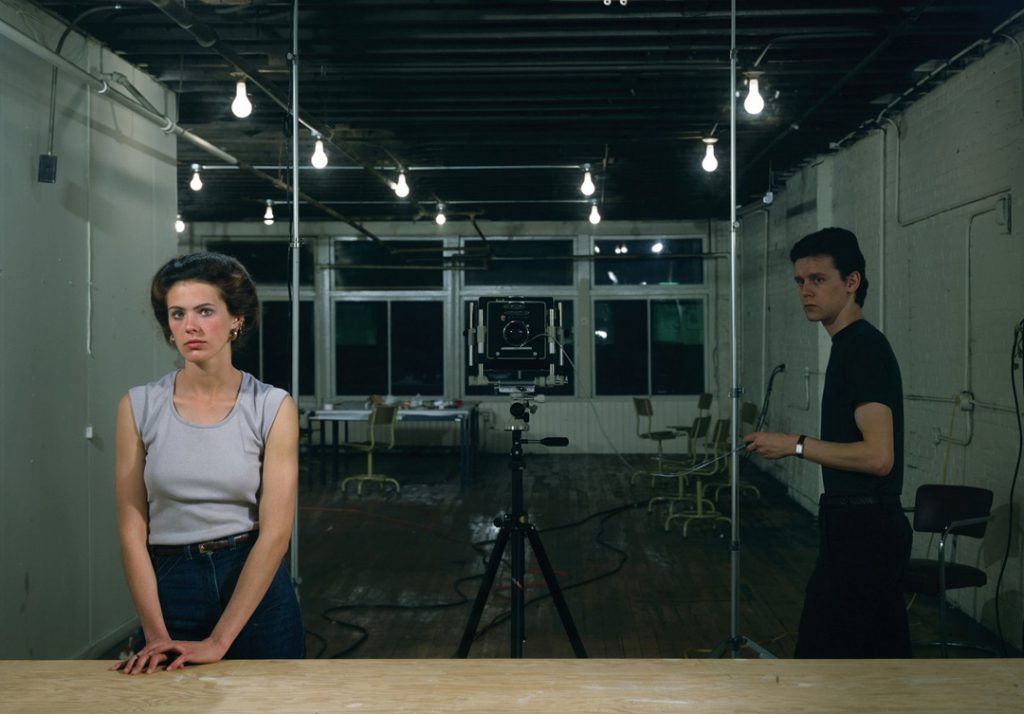 The influence of Manet, whom Jeff Wall studied extensively in academia, is most apparent in his earlier works. But it continues more subtly to this day. Because of the extensive production involved in each image, almost as if it were a movie, they have been characterized as one-frame cinematic productions. Susan Sontag ended a book with a long discussion on one of Walls' works, "Dead Troops Talk", and called his Goya influenced image a source of impeccable power.
Larger Than Life
In his large scale works, he is known to sometimes produce over 100 photographs to achieve what appears to be a single moment in time.
His "back-lit" foray really began as an offshoot of seeing large signs at bus stops. It became the impetus to produce a vision large enough, and sculptural enough to convince a viewer they could walk into the scene.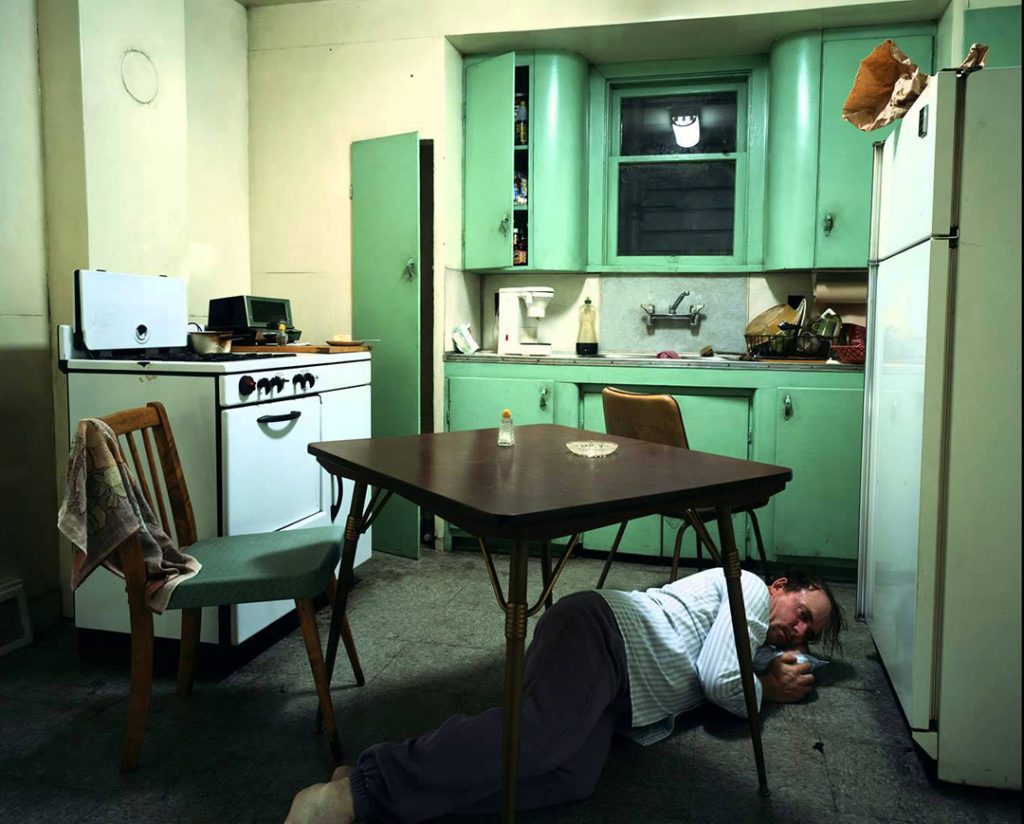 Jeff Wall's "A View from an Apartment" is a large photographic transparency displayed on an electric light-box. Characteristic of Wall's work, this format offers sharp figures in rich saturated colors, made even more intense by the illumination of the image from behind. At almost 5 ½' x 8', the photograph approaches human scale. Again, it's as though the viewer could simply walk into the scene—or that the women in the image might walk out.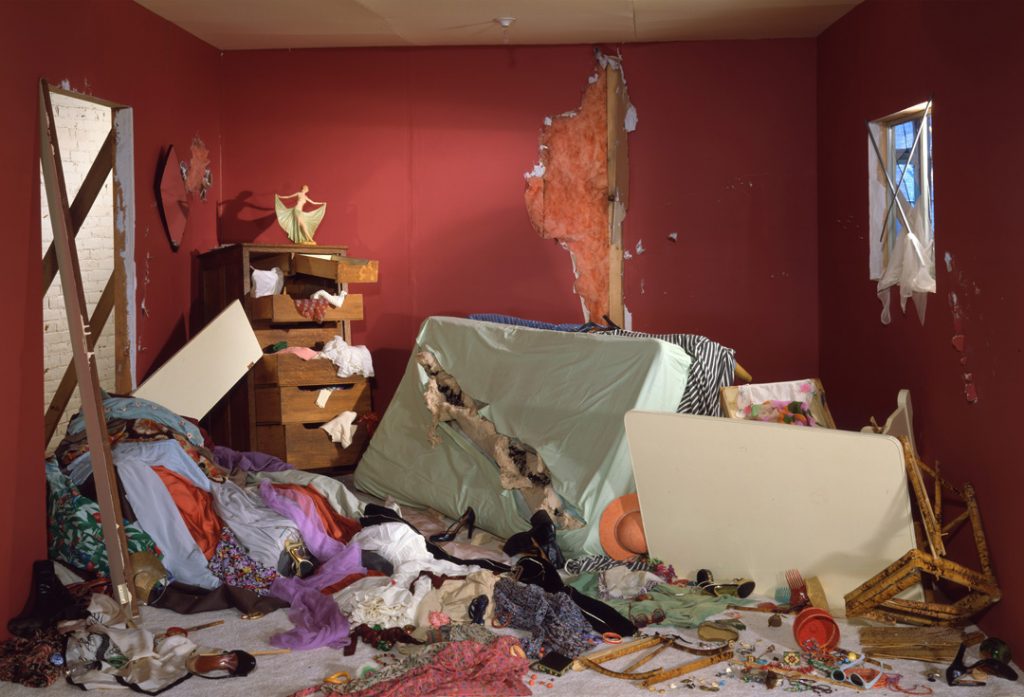 Cinematic Photography
Wall was actually trained as a painter and art academic and became known in the 70's to be on par with Cindy Sherman and others. But though in good photographic company, his aim seemed to be shattering the assumption that the camera never lies. His photographs actually have more in common with painting than photography. But as unorthodox as his output may be, the usage of "film and large format" cameras still keeps at least one foot in the realm of photography. With Jeff Wall you're never sure if you're viewing a painterly composition or straight photography. I vote photography. Linhof 4×5