Hasselblad 500 Series
The Hasselblad 500
. Probably the most revered camera of all time. Sigourney Weaver once commented to Helmut Newton, when referring to his camera, as "this cute little box that produced magic." Well, I guess you could say that. But it was never the camera. It was the human being peering through that popup chimney viewfinder. And, oh, what a gaggle of photographer's they were. Helmut, Bruce Weber, David Bailey,…and pretty much everybody shooting medium format film in the golden era of film.
Sheer Precision
Once you got past the square format, which you either loved or hated, you realized this was a camera that just got out of your way. While the camera itself is Swedish, the lenses were pure German in every respect. Zeiss. Both components were sheer precision of the highest order. And if an image was no good,…your camera excuses went straight out the door.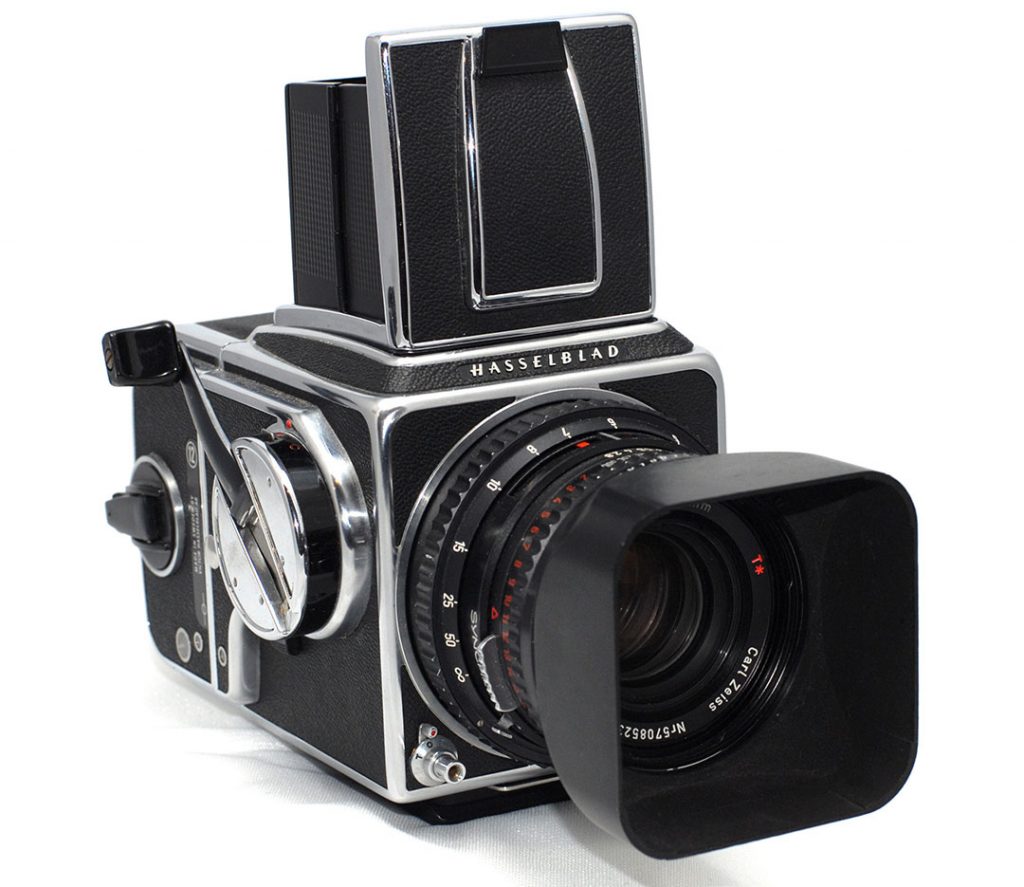 I didn't have much money when I got my first Hasselblad. It was bought piece meal; A body, then a back,…and finally a an 80mm Zeiss lens with the awesome T* coating. I had a Mamiya 330 at the time, so I was fine with the square format. And since my hero, Helmut Newton used a Hasselblad, I had to have one. I thought it would be an improvement over the Mamiya. And, of course, it was a true SLR. But the feel and precision of this mechanical wonder was way more than I expected. I think I wet my pants on the first time I heard that shutter/mirror "Ka-Klunk".
Ka-Klunk
When I think back, I think the whole experience is a guy thing. I'm sure it has something to do with testosterone. But even my women photographer friends have told me they feel a deep satisfaction with every click of the shutter. I'm sure there's a YouTube video that demonstrates the "Ka-Klunk".Turn the audio up.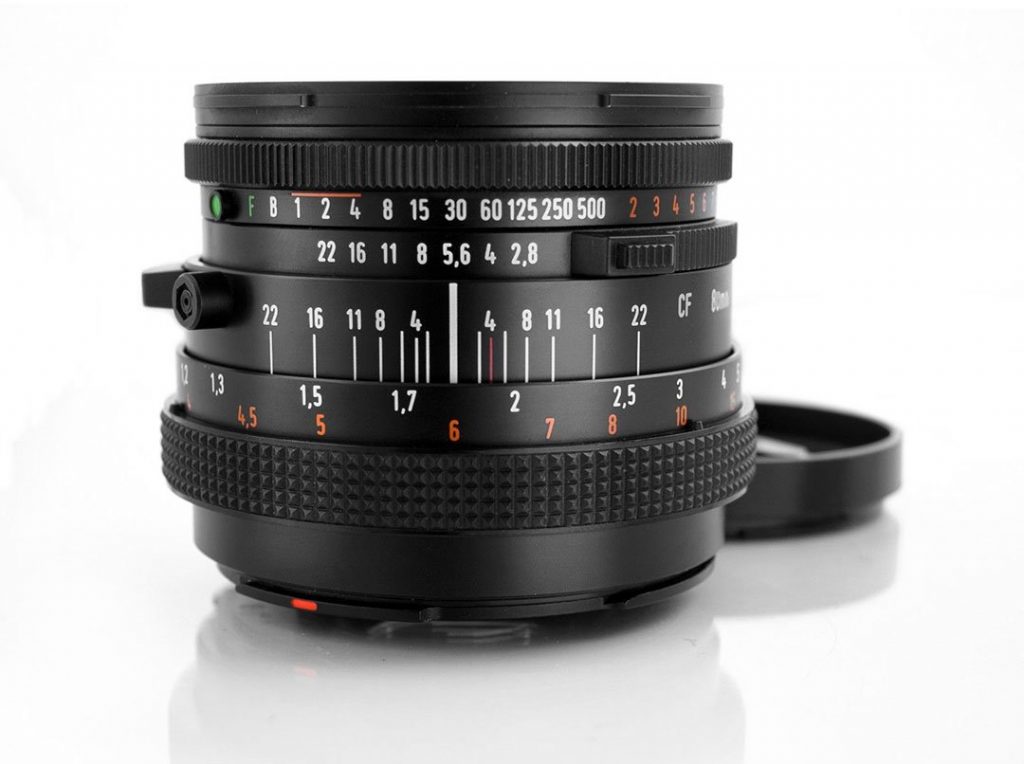 I never invested in any of the very expensive add-ons. You can go crazy with the Hasselblad system. 45 deg metered finders, 90 deg finders, 3rd party and Hassy viewfinder screens, 220 backs, 120 backs, Polaroid backs,…on and on. Don't even get me started on macro tubes and teleconverters and,…more. The only thing I sprung for was the Polaroid back.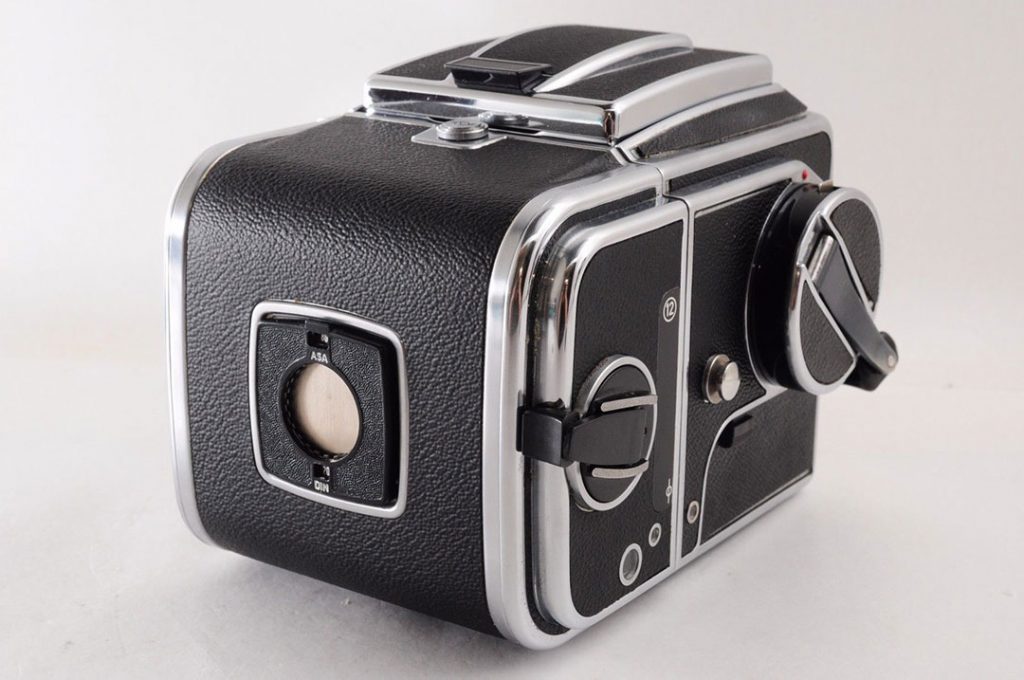 The camera itself is pretty light. A bit over 3 lbs with an 80mm lens attached. Certainly lighter than my F4s with 50mm attached. Which comes in at almost 4 lbs. (batteries are heavy) But it ain't no Leica M. And, yes, it makes a sharper print than Leica. But that isn't really a fair comparison. It will blow away any 35mm. Not only is the lens unbelievably razor sharp, but the negative is quite a bit larger. I could say the same thing about a 4×5 camera in comparison to a Hasselblad. Ya picks your poison and shoot.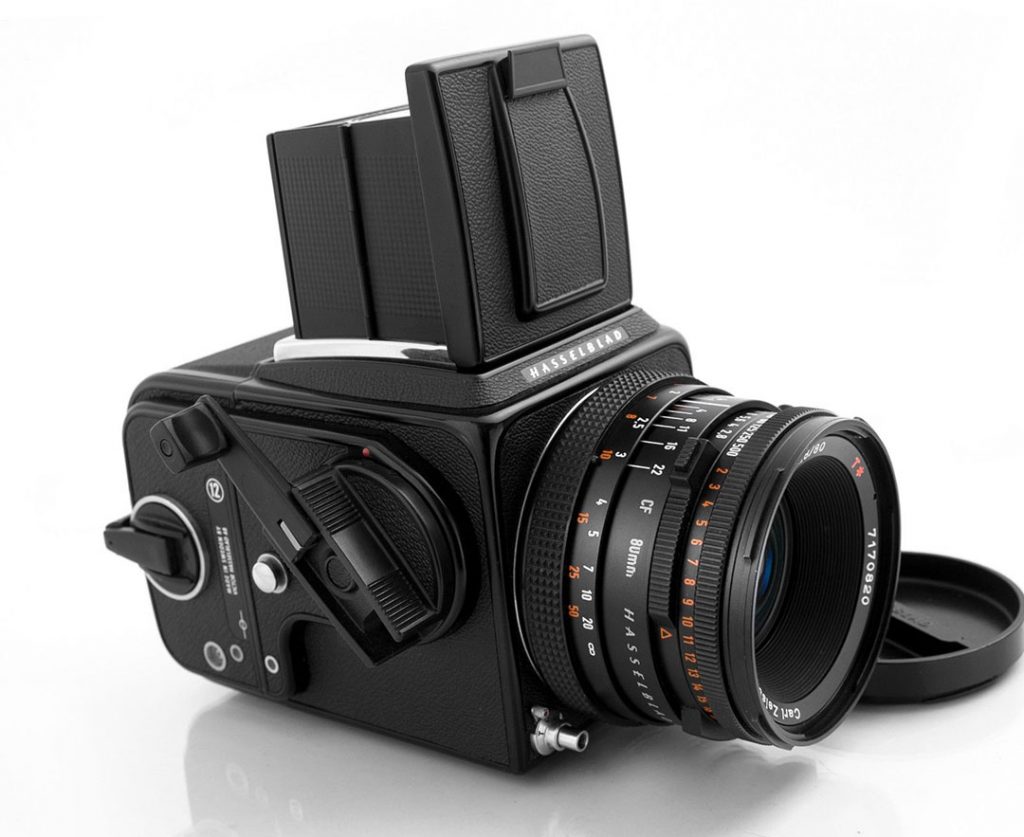 OK. The bad. Which isn't really "bad". It's just the 'Hassy' mystique.
Not the best ergonomics. If you're shooting without a tripod, hand holding is awkward.
No built in meter of any kind.
Manual focus. (but it is easy and precise)
Only a PC Sync for strobe or flash. (forget TTL)
If you shoot at slower shutter speeds, you need a tripod. Mirror slap also contributes to vibration.
Maximum shutter speed of 1/500 sec.
Even now, accessories not cheap.
Can be slow to operate if you 'ain't got that groove'. Which will come with practice.
Did I talk you out of it yet? But,…
Images are beyond stunning.
The "system" is ever expandable.
Shoots 120, (A12 back), 220, (A24 back), film in 6×6 cm, and also 645 with an A16 back. Plus Polaroid backs.
Lots of metered and unmetered prism finders.
Wide choice of lenses for a Medium format camera.
Actually, pretty simple in use.
Syncs with flash/strobe at every speed.
And, yes, you can put a 'digital back' on.
The only major difference I see between the 'C' and the 'CM' is a changeable screen. The 501 CM was produced in 1997 with a Gliding Mirror System that gave a clearer/brighter viewfinder.
Hasselblad eventually went to the 'H' system, which became 645 and used Fujinon lenses. And I moved back to 35mm. But the Hasselblad experience was one I wanted to say I shared with the greats. From the Mapplethorpes to Webers. Find Hasselblad 500  or read The Hasselblad Manual by Ernst Wildi
  for everything you wanted to know about the Hasselblad system.

Hasselblad 500 C/M Spec Sheet
Camera type
Single Lens Reflex
Format
120 / 220 rollfilm, 70mm reel, pack film.
Manufacturer
Victor Hasselblad AB
Manufacture dates
1970-1994
Viewfinder coverage
100%
Shutter
In lens leaf shutter
Mechanical
B, 1 sec – 1/500 sec
Lenses
Zeiss
Accessories
Metered and unmetered prism finders (40 and 90 degree)
2x Waist level finder (with optional diopter adjustment)
Focusing chimney finder
6×6, 6×4.5, 4.5×6 and 4×4 film backs
120/220/70mm/pack film options
Metered winding knob
Accessory level spirit level
Accessory level cold shoe
Pistol grip
Left handed grip
Metering
EV 4 – 19
ASA 6 – 6400
(with metered prism)
Sync
X-Sync PC connection (all speeds)
Power
None
Weight
Body and 80mm: 3.3 lbs
Body Dimensions
170mm x 109mm x 104mm