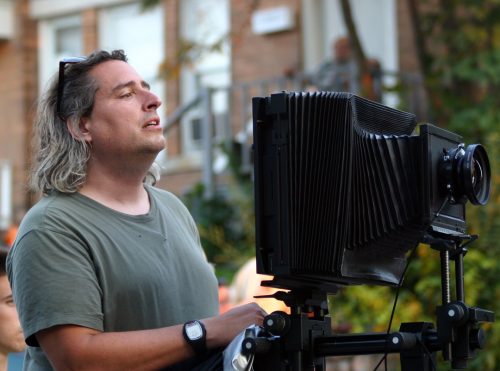 In my mind, Gregory Crewdson is an Edward Hopper painting, made more realistic and  frozen on film.
Gregory Crewdson and a NY State of Mind
Gregory Crewdson was born in 1962 in Brooklyn, NY. His father was a therapist, and Park Slope was a nice neighborhood. But still he was already instilled with that NY savvy/attitude. While a teenager, he was smart and got through school early, but was unsure yet what to do with his life. So, he joined a punk rock band, the Speedies. NYC was a great place to explore avenues of art and music not afforded a teen in the heartlands. Almost prophetically, they released a song called "Let Me Take Your Photo".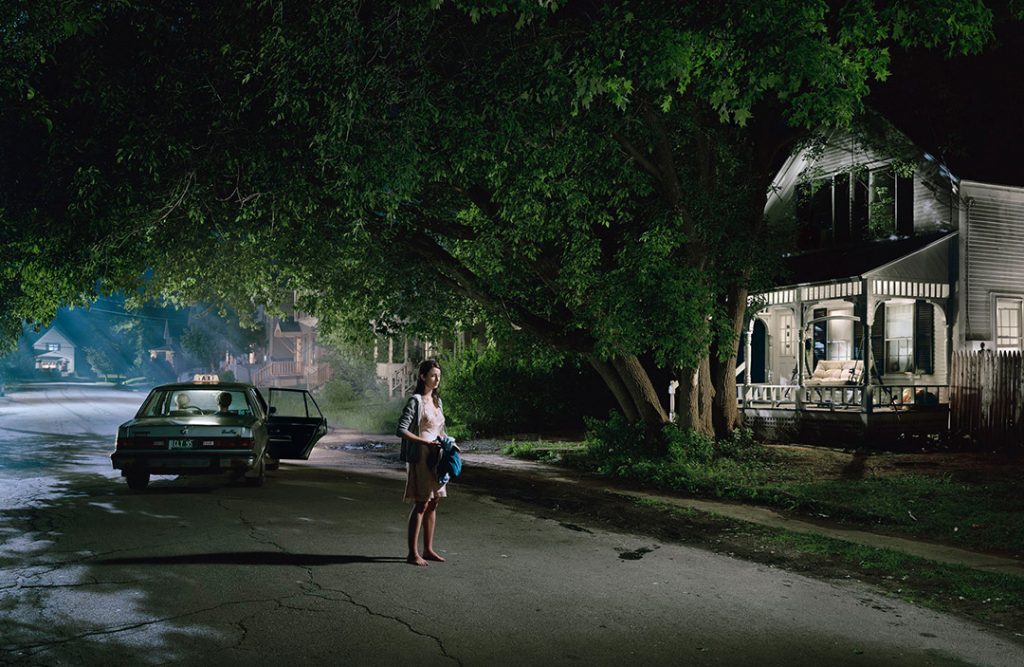 Leaving Punk Behind
I guess everyone eventually leaves 'Punk' behind, one way or another. It was the mid 80's when he finally attended SUNY in upstate NY. His choice of study would be photography, inspired by his Dad dragging him to a Diane Arbus exhibition at MoMA when he was 10. He cites Diane Arbus as an influence, but his other influence, Edward Hopper is more obvious in his cinematic works.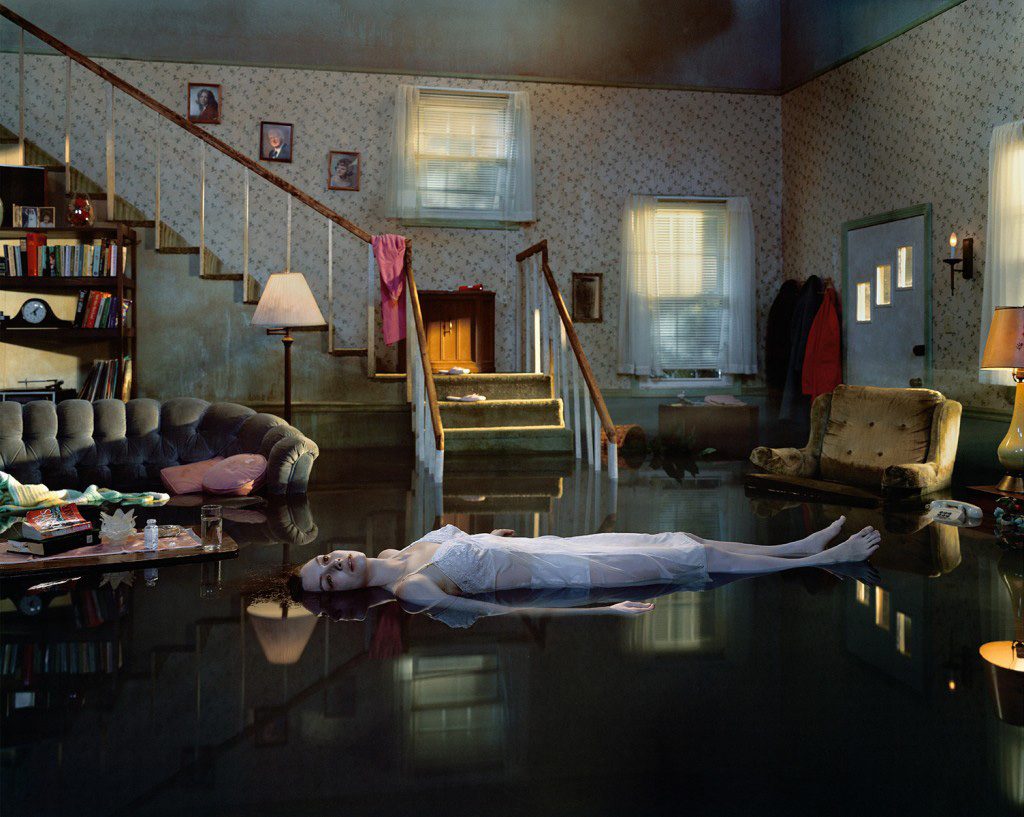 A Masters of Fine Art from Yale University was his next milestone. During his career, he has also taught at many esteemed colleges, including Sarah Lawrence, Cooper Union and Vassar College. He eventually became a professor at Yale University School of Art.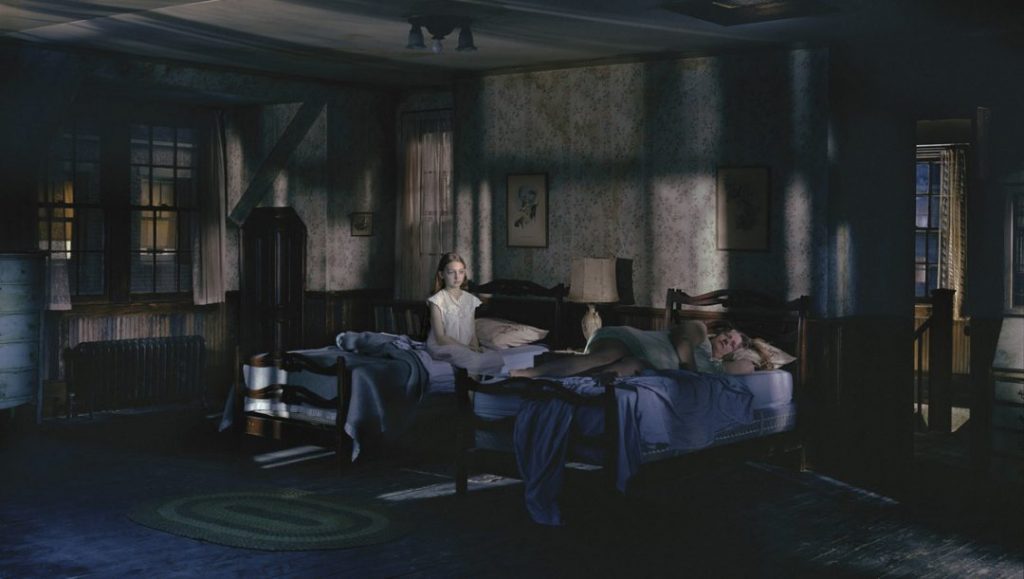 Continuing Story
But this "other job" has not deterred his continued contributions to the photographic art world. What is surprising about his career has been the obvious cinematic influences. This  begs the question; Would directing film  have been a more suitable vehicle for his work? I, for one, am very glad he chose still photography. His vision, attention to detail, and originality of subject matter puts him smack dab at the center of art photography. There are no nuances of commercial or fashion or landscape in the typical sense. His take on small town America is truly the photographic, large scaled equivalent of Edward Hopper,….in spades.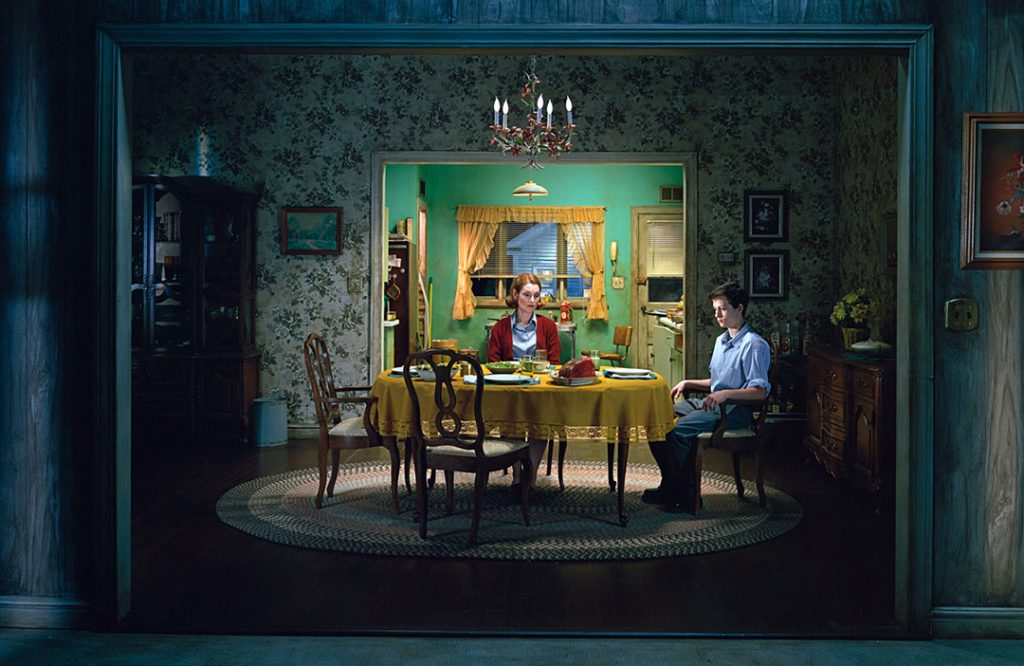 'Sanctuary', was shot at the old film studios outside of Rome. He has actually immortalized the long abandoned film sets, making them the subject of his new work. He has always had a penchant for taking a mundane landscape and transforming it into a still that draws the viewer into an alternate universe,…so familiar yet so far removed from our realities.
Books
Whether you do fashion, weddings, small format or large format,…you must purchase and study at least one of Gregory Crewdsons' books. Inspiration you receive may be applied to any photographic endeavor, and  bring it to a new level. It is rare that I would make such a suggestion, but in this case it is well deserved to emulate in your genre the lighting finesse of a Gregory Crewdson. Books include; Beneath the Roses, Cathedral of Pines, Dream of Life, In a Lonely Place, and more. Find 8×10 Camera