Reflex?
I'll be honest. With all the mint used camera gear out there, and the abandonment of our community by the likes of Nikon and Canon, (despite a growing cadre of users), I was a little reticent about this camera. But on closer examination, the inventor, Laurence Von Thomas, came up with a pretty cool product. That said, why on God's green earth would you name a camera Reflex? Do you know how screwed up that name is when it comes to a Google search? In today's era, I would have thought that would be the first thing you would have put more thought into. (rant over)

Not 25 Years…But Still Good News
As far as the camera goes, it's very nice someone is addressing the ability to have a film camera with the very useful ability to record settings used. Almost like an EXIF file. Almost. There will be an app to view and record those settings on your iPhone thru Bluetooth. Love it. However, I notice this being touted as the "first film camera in 25 years". Uhhh,…no. How soon we forget. The Nikon FM3a was made up until 2006. And Leica still makes the M-A Typ 127, M7 and MP. And, of course, the Nikon F6, which you can still buy new on Ebay
or at B&H. But I digress.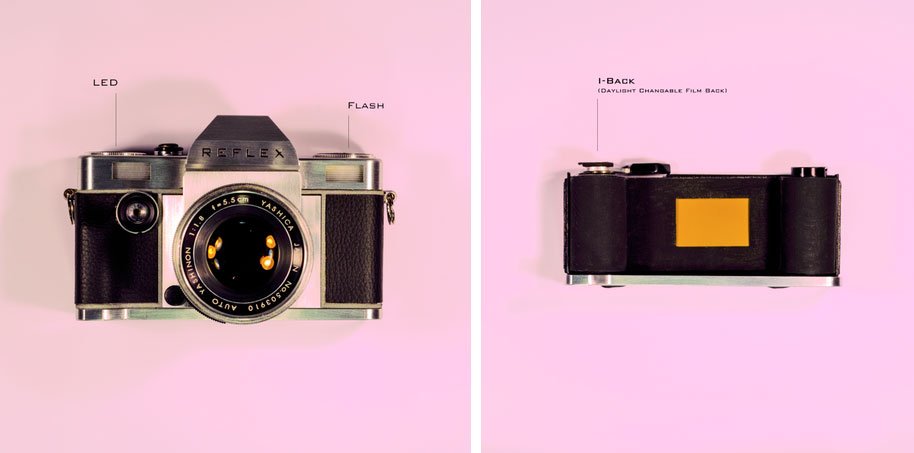 A built in flash and continuous lighting are useful, and it does have a hot shoe. But no sync speed info. And I guess no PC connector on the camera body. Apparently they are partnering with Silberra Film. But since I haven't used that film yet, I could not really comment. Other than to say I would welcome more "film" partnerships. Especially as it pertains to the big players. How accurate, (location of film plane), is the removeable film back? I guess that wouldn't be a problem. Hasn't been for Mamiya or Hasselblad or other medium format cameras, so I guess it's a non-issue. Being able to attach/remove these 'I-Backs' in mid-roll is a really great innovation, to say the least. The only thing I can see as a little "screwy", is the shutter release placement on the front of the camera. Really? Okey dokey.
The Birth of Reflex
Reflex is not officially released yet, but they've apparently met all their Kickstarter goals. I still need to hold one to really assess everything, especially this whole "modular" lens and back 'thingie'. So let's keep our fingers crossed that we have a new Oskar Barnack emerging. If you want to see this project go forward, click on the Kickstarter link below. Honestly,…this is still a maybe project according to Kickstarter. Let's wish them luck and success.
Manufacturer

Reflex

Connectivity

Bluetooth (BLE) enabled

Camera type

Single Lens Reflex (SLR)

DOF Preview

Ye

Image format

35mm film

Body

Magnesium

Viewfinder

Not Known

Lens mount
Reflex I-Plate in M42, Nikon F, Canon FD, Olympus OM, Pentax PK.
Adapters for other brands.
Lenses

Above mounts and others with appropriate adapters. Others? No clue.

Focus

Manual

Shutter

Electronic focal plane 1s – 1/4000th, Time and Bulb

Film Loading

Reflex I-Back – daylight interchangeable film back

ISO

25-6400

Metering
AV + Spot + 4 stops EV

Flash

Built in flash and continuous light. Don't know sync speed.

Power

5v Ion Lithium rechargeable via USB-C

Weight

490g

Dimensions

134mm x 74.5mm x 34mm