These musings are about both the Yashica Mat 124
and Yashica Mat 124G. Although there's not much difference between the two, the main difference a person would note is one has chrome accents and one is black. But,…the 124 is completely metal and the 124G has a small amount of plastic. Things feel a bit more robust on the cheaper 124. However, the 124 stopped being manufactured in 1971. The G went all the way to 1986. Also, I have seen chrome 124G's. There are older Yashica TLR's,…like the Yashica-24 and Yashica-12. But I would stick with the crank versions. Another was actually called Yashica Mat 124B. It had no meter and was made in Brazil. It was only made for 2 years and I believe production stopped in 1983.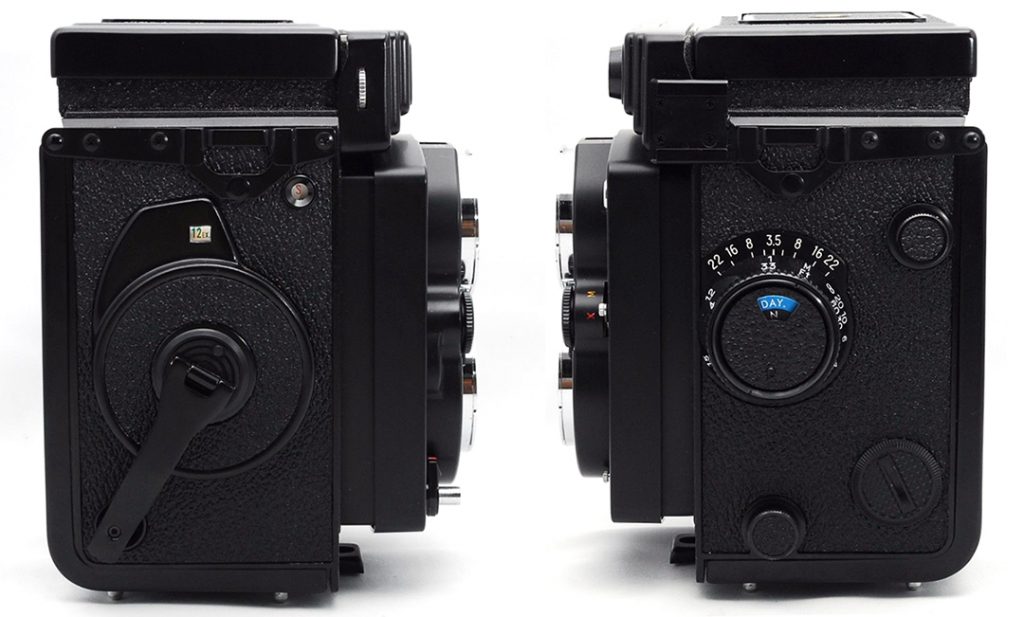 A Spectacular Lens
Both models have the same four-element, 80mm f/3.5 taking lens, with the very sharp and excellent "Yashinon" label. The Mat-124 and Mat-124 G all accept Bay 1 accessories, which matched the Rolleiflex. Both have a ground glass screen, a 3x diopter loupe and a sports finder. Sort of. It is incorporated in the focusing hood. Not like Mamiya or Rolleiflex changable viewfinders. Personally, I wouldn't call it a "sportsfinder", but that's how it's listed in the manual. The shutter is in the lens and of the Copal SV variety. It has shutter speeds of 1 sec. to 1/500 sec., plus B.
These cameras are basically a Japanese copy of a Rolleiflex. While I wouldn't put build quality in the Rolleiflex league,…or even Mamiya C330
… the cameras are solid. When stopped down to f/8 or so, they are easily equivalent to the exceptional Rollei lenses. My only complaint about the G version is prices are going up. Almost like the secret is out,…get yours while you can. The 124 is cheaper. But since production ceased in 1971, finding a mint one is pretty hard.
Yashica Mat 124G & 124 – Sameness
The Yashica Mat 124G pressure plate slides between 12-exposure and 24-exposure settings, (depending on 120 or 220 film). On the 124, it pulls out and rotates. But who shoots 220 anyway? You can't even buy it any longer. So it's a non-issue. The covering is not leather. I think the 124's shipped with leather straps, but the coverings are leatherette. The 124 has a square pattern and the 124G is more like a Nikon F pebble texture.
Of course, like all cameras from that era, it took a 1.35 V mercury battery. Replace with a Wein PX635 ,which is the same voltage. Why some people put in 1.5 V batteries is beyond me. Not that the meter is very accurate, but I would think it would make it less accurate. But remember, the shutter mechanism is mechanical, and is not coupled in any way to the meter. I actually think the Yashica Mat 124B was a good idea. No meter. (but, like I said, was only produced for 2 years) Handheld meters are way more accurate when using this camera.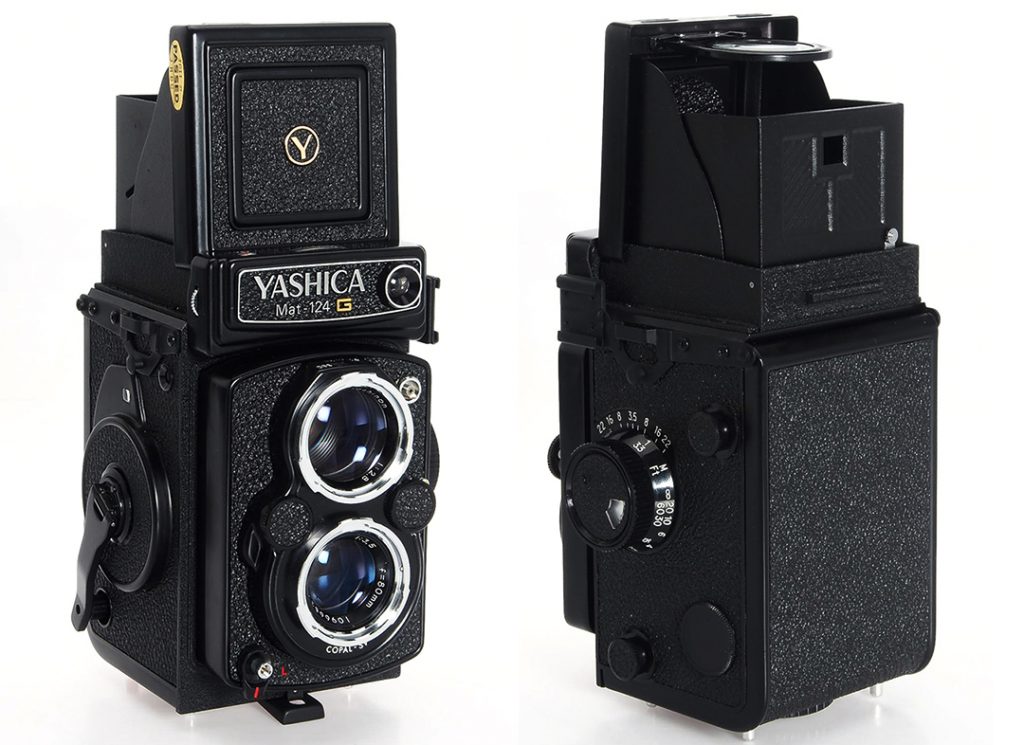 No battery,…No Problem
That said, the camera works fine without a battery. The loading film part doesn't require much explanation. But you can download the manual below or play the 'Quick Start' video if you're confused. The inside of the camera has pretty clear printed instructions. But the real beauty of this camera is the lens. The 80mm f/3.5 lens is part of the camera. The images it produces just stopped down a bit are startling in their clarity and micro-contrast. In digital terms, I think the consensus is pretty universal that it's about a 30-35MP output! Considering the price, it astonishes even the most jaded photographers. While it's the standard Hassy 6×6 format, it takes a little practice if you're use to an SLR. Being a TLR, the image in the viewfinder is 'mirrored'.
The focus knob is on the side, and although it sounds kludgy, it's quite smooth. The flip out handle advances the film, and is quick and easy. Not quite as solid feeling as a Rolleiflex, but certainly as smooth. Each advance after a shutter cock is not quite a full turn. The 2 small dials on the front of the camera control the aperture and shutter. The shutter button itself is buttery smooth. No complaints there. The shutter is super quiet. This is because the shutter is in the lens and there is no mirror slap. Pretty easy to hand hold at 1/30 sec,…or even 1/15 sec.
As apertures go, f/8 to f/16 are really the range I would stick to. I'm sure I'll have some naysayers, but opening up further, it does get a little soft. Additionally, while the lens is multicoated, it's prone to flare. Invest in that little lens hood. It does have pros and cons. Namely;
Pros
Nice big negative.
Very quiet shutter and no mirror slap.
Solid, but not too heavy.
Weighs about the same as a Nikon FM with 50mm lens.
Takes Bay I filters and accessories.
People either think you're the coolest photographer ever,… or you're

Vivian Maier

.
Cons
The ground glass (viewfinder) shows a little less than what is really there.
Lens is prone to flare without hood.
Will easily attach to tripod directly, but little feet on camera prevent larger quick release attachments.
Not modular. No extra viewfinders/lenses. No modular back.
Uncoupled meter.
Considering the recent rise in prices, I myself might opt for a Rolleicord. But that's a very personal decision.
All in all, for a non-modular TLR, an awesome buy. Why they are now increasing in price is curious. But the price still can't be beat. An extremely quiet medium format that will perform beautifully above f/5.6. Simplicity personified.
| | |
| --- | --- |
| Camera Name | Yashicamat 124 & Yashicamat 124G |
| Manufacturer | Yashica |
| Place of Manufacture | Japan |
| Date of Manufacture | 124 – 1968 to 1971, 124G – 1970 to 1986 |
| Focusing System | Twin lens reflex |
| Fixed Lens | Viewing lens: 80mm f/3.5 Yashinon |
| Shutter | COPAL S-V 1 sec to 1/500 sec |
| Metering System | CdS cell – Match Needle Display |
| Flash Mount | Cold-shoe mount plus PC-cable |
| Film type | 120/220 Film |
| Battery type | PX625 (For Meter) |
(Visited 161 times, 1 visits today)