The Olympus Stylus Epic
 in America, (or µ [mju:] elsewhere), was a series of cameras that began their life cycle in 1991. I guess fairly late as far as vintage cameras go. Me,… well, I got mine at Goodwill about 2004. For $10! But, now the secret's out, and $200 would be closer to the price these days for the cherished fixed lens version of the MJU II. Considering what Yashica T4's and Leica Mini's are going for, I guess they're still cheap. I've see later model DLX's go for $800! Of course, the zoom lens versions are much cheaper. So, I will only say this once; DO NOT BUY THE ZOOM MJU's!!! The images from the fixed lens vs. the zoom lens versions are night and day.
Olympus sold about 20 million differing versions over 10 years or so. If you like 'red eye', get the earlier MJU. If not, get the MJU II model. (weatherproof, accurate focus, balanced flash) Also, not that it's important, the M is actually a Greek letter, and MJU is said "pew". Japanese sense of humor, I guess. Anyway, in science it means "micro".
Helmut and Olympus
Helmut Newton used this camera as a carry around snap shooter. As opposed to some sites saying it was his "favorite" camera,… I doubt it. He stuck to medium format for anything serious or work related. (Plaubel Makina 67, Fuji 670,…and , of course, Hasselblads) But for 35mm, the Stylus evolved into quite a camera. Quite futuristic for its' day, and even won numerous awards for design. Opening the lens cover turns the camera on.
Fixed Lens Models
Olympus MJU (Stylus, 3-element 35mm/3.5, 1991)
Olympus MJU LIMITED (metallic silver, 1991)
Olympus MJU PANORAMA (35mm/3.5, 1992)
Olympus MJU II (Stylus Epic, 35mm/2.8, 1997)
Olympus MJU-II (Stylus Epic with DataBack, 35mm/2.8, 1997)
Olympus MJU-II LIMITED (35mm/2.8, in burgundy color 1998) 10 Million Edition,.. Yuck!
A metal model was produced in 2002,…but sadly only came as a zoom.
Olympus µ[mju:]-III were also produced, but were all zoom models. Again, sadly.
The MJU and MJU II overlapped in production. Why? No clue.
As far as zoom models go, Olympus spit them out in the 90's like new colored M&M's. I'll bet there were 30 or so models.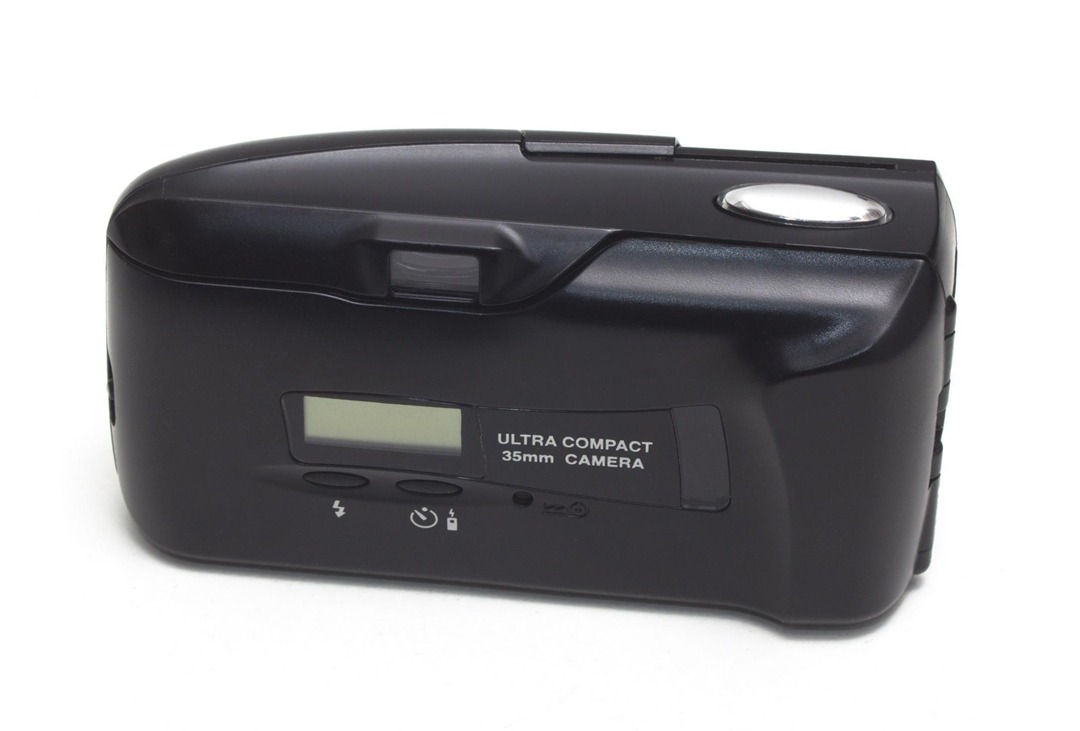 Specs
Lens: 35mm, f/2.8, focusing from 0.35m-infinity. (4 elements in 4 groups).
Active multi-beam autofocus with focus lock.
Film format: 35mm DX-coded film, ISO 50-3200.
Automatic exposure range of EV 1-17, f/2.8, 4s -f/11, 1/1000s. Spot metering available.
Self-timer (12 second delay).
Autowind and rewind.
Integrated colour-balanced flash. Recharges in 3.5 seconds, working range 4.1m at ISO 100.
Flash modes: Auto, red-eye reduction, suppressed, forced/fill-in, night scene (slow synch up to 4 seconds).
LCD with battery check and frame counter.
Time/date stamp (Quartzdate model only).
Optional RC-200 remote control.
Weatherproof (resistant to splashes).
Power: one 3V lithium CR123|CR123A.
Dimensions: 108x59x35mm.
Weight: 135g (without battery).
For the fixed lens models it has a tack sharp 35/2.8 lens attached, a spot meter, and it fits in the palm of your hand. For traveling, it's the camera to have at that price point. Personally, I'd put it up against the Yashica any day. How about a Contax T3
? Well, OK, that little gem is in another league. In build, micro contrast,…and price. One's $200, and one is $1200+. And I've never seen an image out of the Olympus that wasn't clear, precisely focused and had great color and depth. It's just that the T3 is a "holy cow" camera,…even compared to my Nikons. Being a point and shoot camera, it shines when using faster speed films. But that's not a peculiarity of Olympus. It really is giving any P&S a leg up. (in focus, color, etc.) But I don't like working wide open with this type of camera.
This camera lacks enough controls to use in the studio. After all,it is a point & shoot. But for being out and doing a Ryan McGinley thing, or night time party thing,…or even a staged old Terry Richardson thing,…it rocks. Especially as you can walk the streets of Amsterdam or Berlin, pop it out of a coat pocket, and get images that'll bowl you over.
Many professionals have used this beauty to get their 'grab shots', location images, and more, without hauling out the big guns and scaring away the natives. Also, you can turn the flash off and on quickly, adding more versatility to a camera with a very fast, high-quality lens. Trust me,…used well, the images will match, and sometimes exceed your Nikon or Canon. Images from this camera rarely fail to amaze me. But maybe most important,…I don't think this camera has an equal in stealth and sheer imagery at the same price point.
Now, if you're OK with the 'zoom' versions, you can even get a variable diopter! But big caveat: the lenses were probably not even made on the same planet. Just sayin'. However, you can produce some serious art with the 35mm lens version of this camera. But if you just want to take cat pics,…use your iPhone.
(Visited 157 times, 1 visits today)