The Minolta X-700 was the last high specification manual focus body manufactured by Minolta. After that, they hopped on the "autofocus bandwagon". But let me get my anecdotal prejudice out of the way first. My first camera ever was a Minolta X-370
. Yes, I know, not as 'good' as the X-700. But I was a baby. OK, maybe not quite a baby,…but pretty close. And my experience at the time was limited. But after about a year of working with that camera,…the door fell off! While I did take a lot of pictures, I was not particularly rough on the camera. That, unfortunately, soured me on the Minolta brand after that. Despite the X-700 raves of some photographers I liked. After that, Minolta introduced the Maxxum series, with all that "fuzzy logic" and "eye control" stuff. I'm sure they were great,….but, I already had fuzzy logic. (my analog brain)  So, I wasn't all that interested in Minolta stuff. For 35mm, I became a Nikon man.
Minolta and Ren Hang
Fast forward to a couple of years ago, and an emerging film photographer I came to greatly admire was the young Chinese artist, Ren Hang. His choice of weapon? Minolta X-700! It was a state of the art manual SLR camera, easily matching Nikon for it's array of lenses and accessories. It was awarded the "European Camera of the Year" in 1981! Oddly, even with the advent of the Maxxum series, Minolta continued to manufacture it until 1999. Most came in black, but there are a few chrome ones out there. (very rare,….made only for Japan) Why so popular? Well, I can't say for sure, but if I were to guess I would say it was their new, and very accurate "Program Mode". Which meant you could use a very professional camera as the ultimate "point and shoot".
However, the Minolta X-700 was marketed and sold as a professional camera. It included true TTL flash, exposure lock plus interchangeable viewfinder screens. But Minolta "wavered" in its' commitment to compete with Nikon pro cameras. It's relatively slow 1/60 sync speed and cloth shutter seemed to set their target on advanced amateurs. I suppose management felt Nikon, and to a lesser degree Canon, had too big a lead in the pro market, so production costs became paramount.
But the Minolta X-700 had real appeal to many photographers. Well built, program mode, a zillion accessories, and I believe the first direct autoflash metering system. (no more complex manual calculations for macro)
Minolta X-700 Specs
Uses Auto Winder G for 2 frames per second, or with the Minolta Motor Drive 1
for 3.5 frames per second.
Exposure adjustment lever for up to two stops over or under exposure.
Depth of field preview button.
PC connection.
Film "safe-load" indicator.
Audible and visible self timer (LED).
Automatic control of Aperture and Shutter speed in Program mode.
Electronic controlled stepless shutter speeds.
Shutter 1/1000 to 4 seconds for aperture priority or program mode, and 1/1000 to 1 second
"B" shutter for metered manual mode.
Touch-switch meter activation. (separate from shutter release)
Bright acute-matte viewfinder screen.
Viewfinder aperture, camera mode ("M", "P" or "A") and camera recommended shutter speed.
Many interchangeable screens available.
Automatic exposure lock button.
Remote shutter release for both electronic and manual.
Audible and visual slow speed alert when required shutter speed is 1/30 second or less.
TTL center weighted meter.
Meter for measuring off the film exposure during TTL flash operation.
Horizontal traverse silk shutter, enabling maximum sync speed of 1/60 sec.
But was it a perfect camera? No. Does one exist? Probably not. The minimal viewfinder info was one thing lacking. Weirdly, it shows recommended shutter speed, but not your set shutter speed. What? Yet it has a +/- exposure adjustment. And no 'slow sync'. That said, whether you need or want that stuff is very dependent on what and how you shoot. After all, large format photographers don't need motor drives.
Accessories Galore!
Accessories included dedicated TTL flash units, a motor drive, (plus autowinder), a power grip to supplement flash batteries, a data back, a multi function back and a wireless controller! And really some awesome lenses. I am of the opinion that this is where a camera shines,…or not. I'm sure the Rokkor stable of lenses has some stinkers. Every brand does. But there's one lens I should mention here. The Minolta Rokkor 50mm f/1.4. I know everyone loves the very sharp 50mm f/1.7. But the bokeh on the 1.4 is spectacular. Approaching my Nikon 50mm f/1.2. Assuming you're into that sort of thing.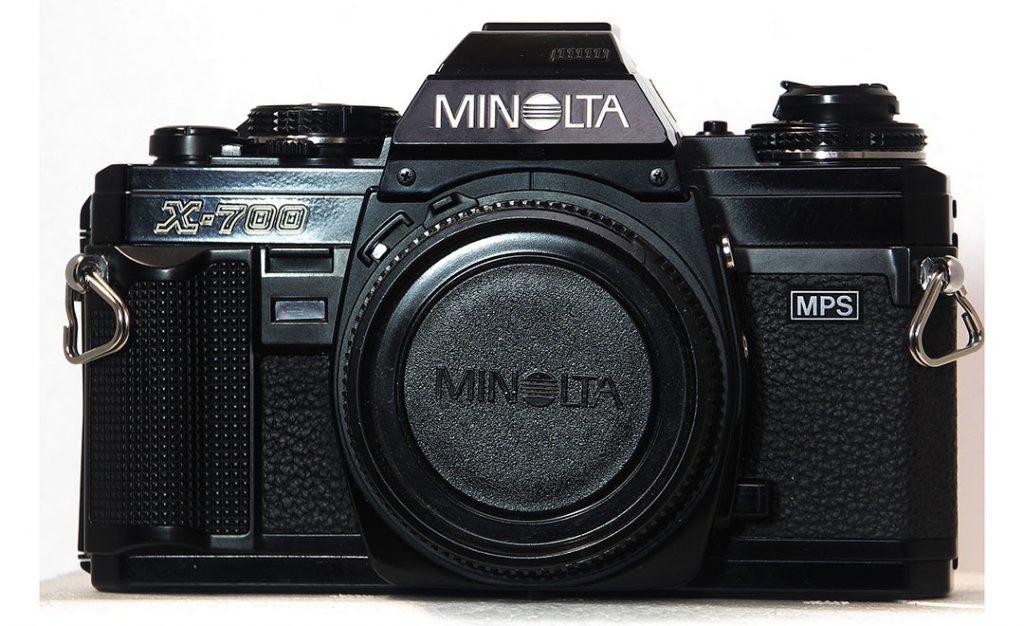 I put a link to an X-700 manual below for those interested in delving deeper into this beauty. I guess I'll have to find it in my heart to forgive my "doorless" X-370.
(Visited 214 times, 1 visits today)